Help maintain a healthy skin & coat, aid joint mobility and support brain & heart health.
Why choose this product?

Salmon Oil is a great all-rounder for your pets' health, keeping them feeling healthy from the inside out. Help maintain a healthy skin & coat, aid joint mobility and support brain & heart health with one simple supplement.

A rich source of omega, 3, 6 & 9, our 100% natural sustainably-sourced Salmon Oil comes in an easy-to-use, no-mess dispensing bottle and pump.
How do I use it?

Simply mix the naturally delicious salmon oil into your pet's food. With no hard pills or tablets to swallow, it couldn't be easier to use. Introduce gradually into your pet's diet.

Daily Amount: 1 pump per 5kg of body weight.

If using the larger 2.5 litre version, please use 1 pump per 10kg of body weight.

Suitable for any breed of dog, cat, horse or ferret over 8 weeks old.

This product is particularly suitable for the following breeds: Golden Retrievers, Boxers, Labradors, Pit Bull Terriers, Spaniels, Bull Terriers, Bichon Frises, German Shepherds, Poodles, Bulldogs, Shar-Peis.

Our products are gentle on tummies, specially formulated for everyday use. For best results, use daily as part of your pet's daily wellness routine.
What's in it?

99.5% Salmon Oil
0.5% Antioxidants

That's it!
Shipping and Delivery

FREE Standard Tracked Delivery (3-5 working days) on all UK orders over £25.00.

For orders under £25.00 there is a flat charge of £3.99 for Standard Tracked Delivery (3-5 working days).

UK Next Day Tracked Delivery (1-2 working days) has a fee of £4.99.
View full details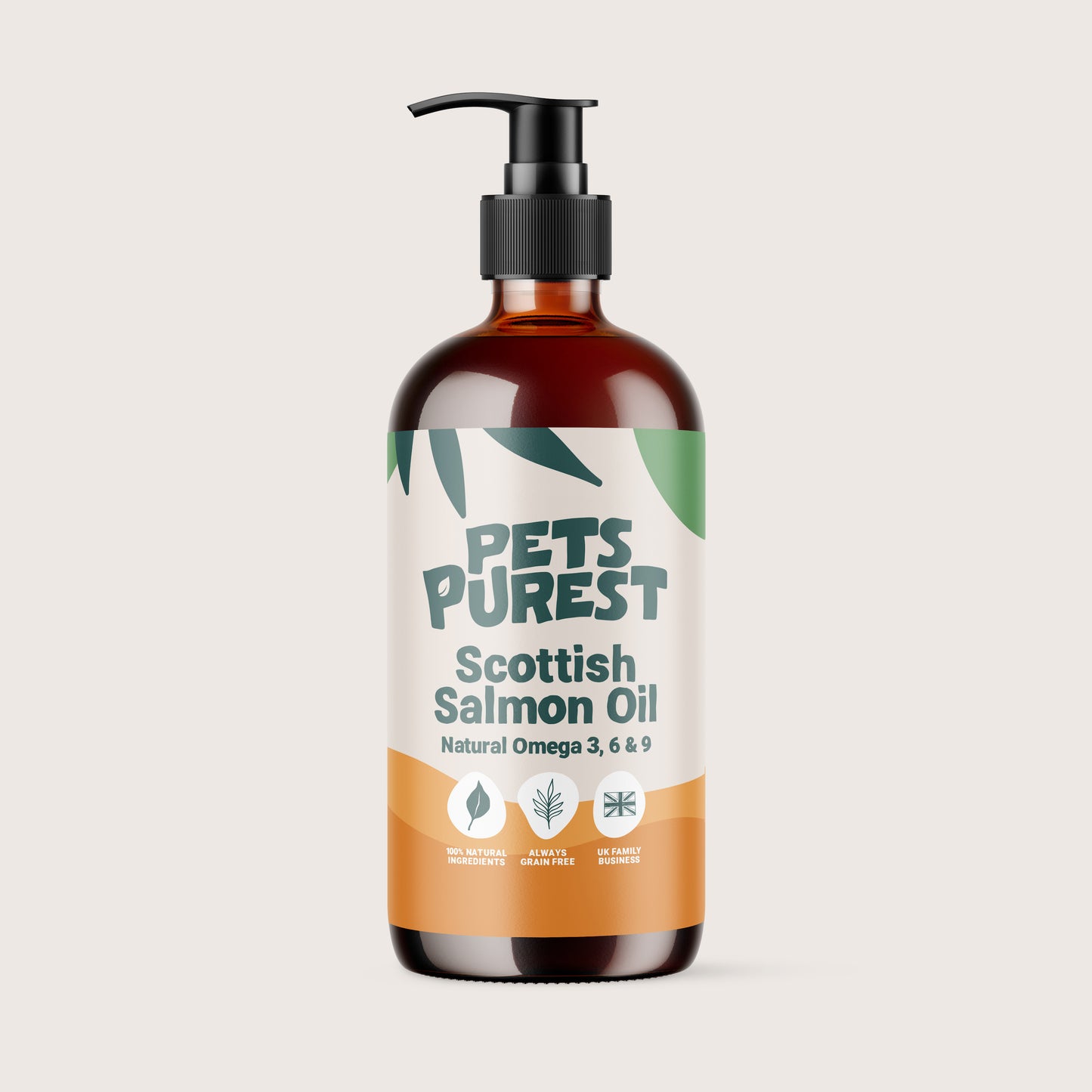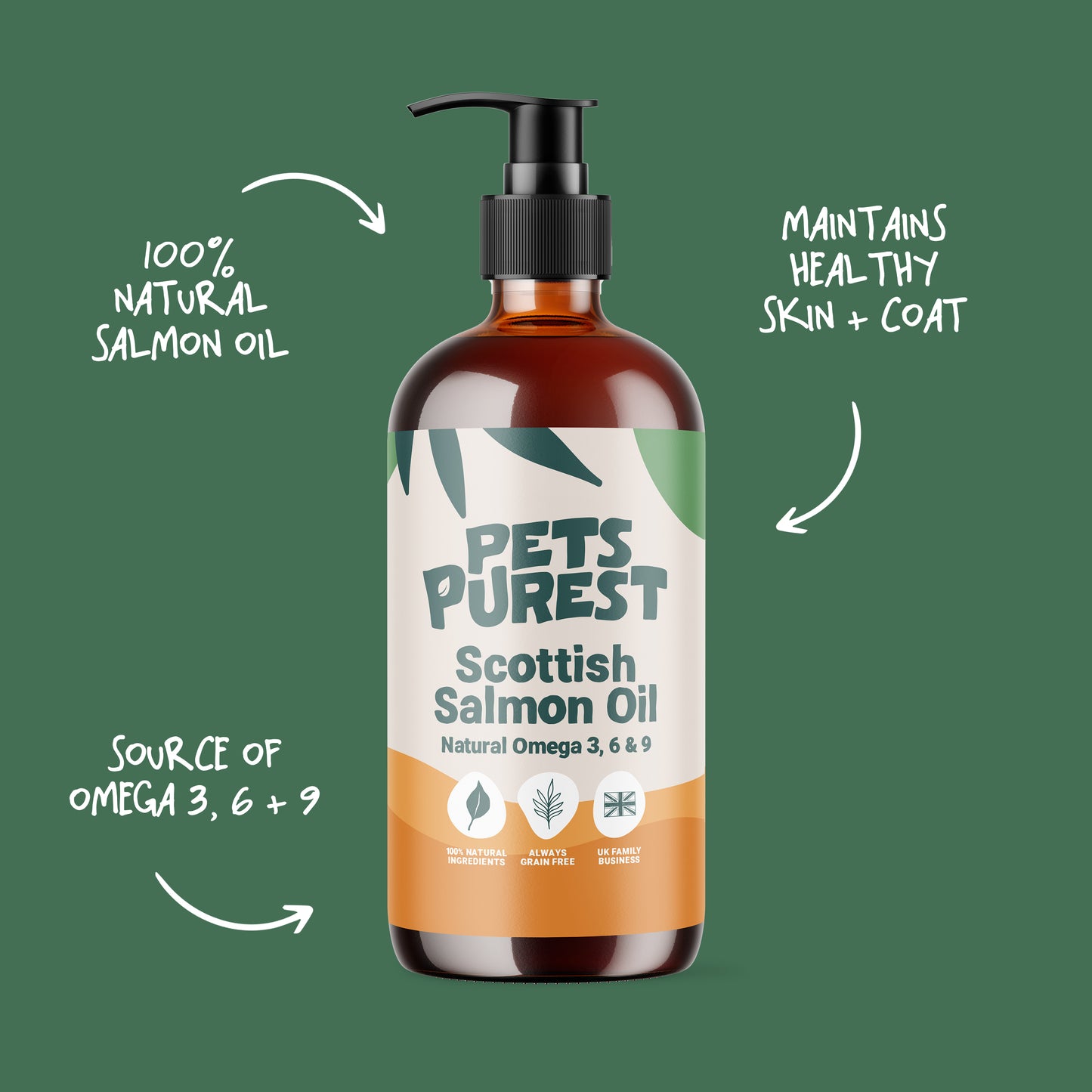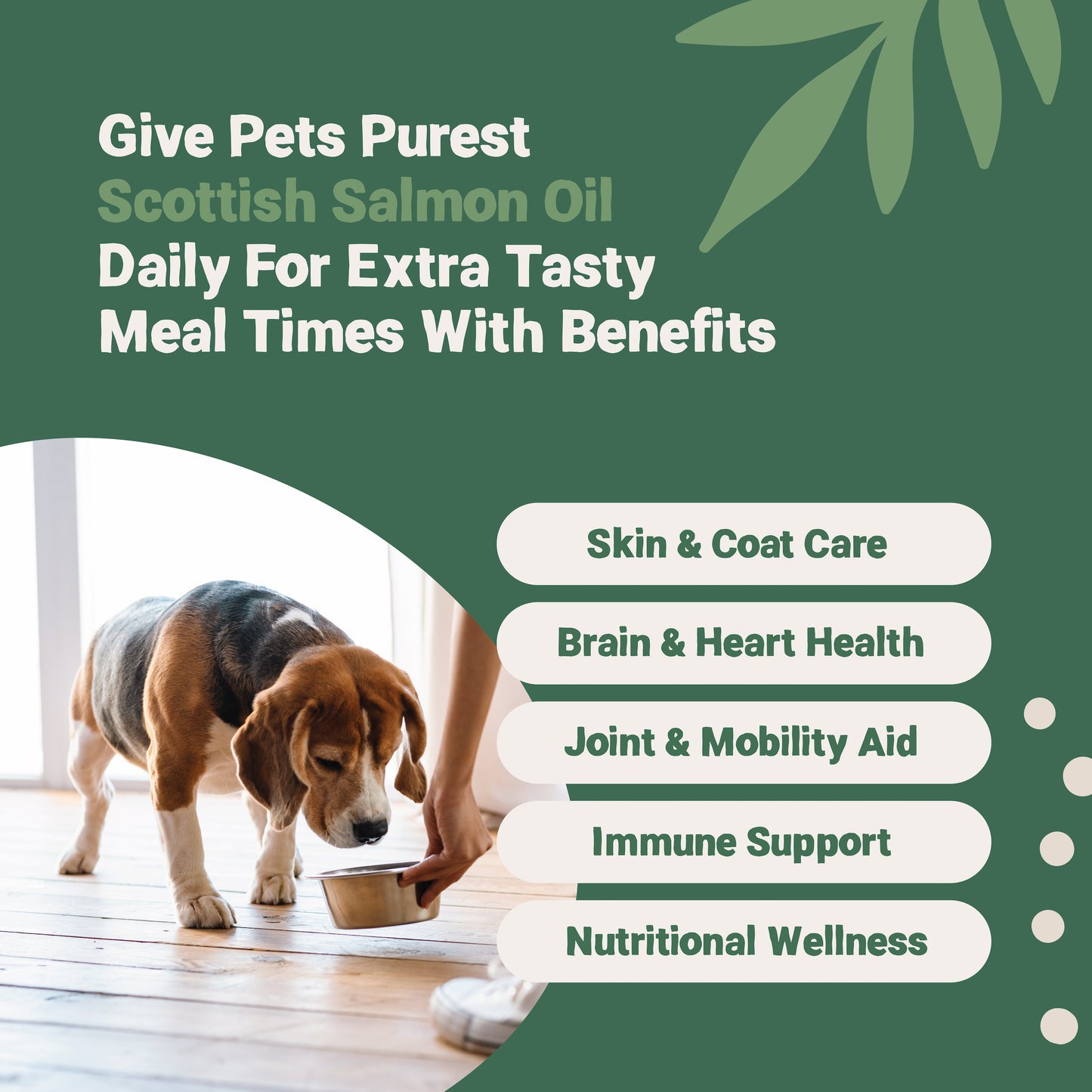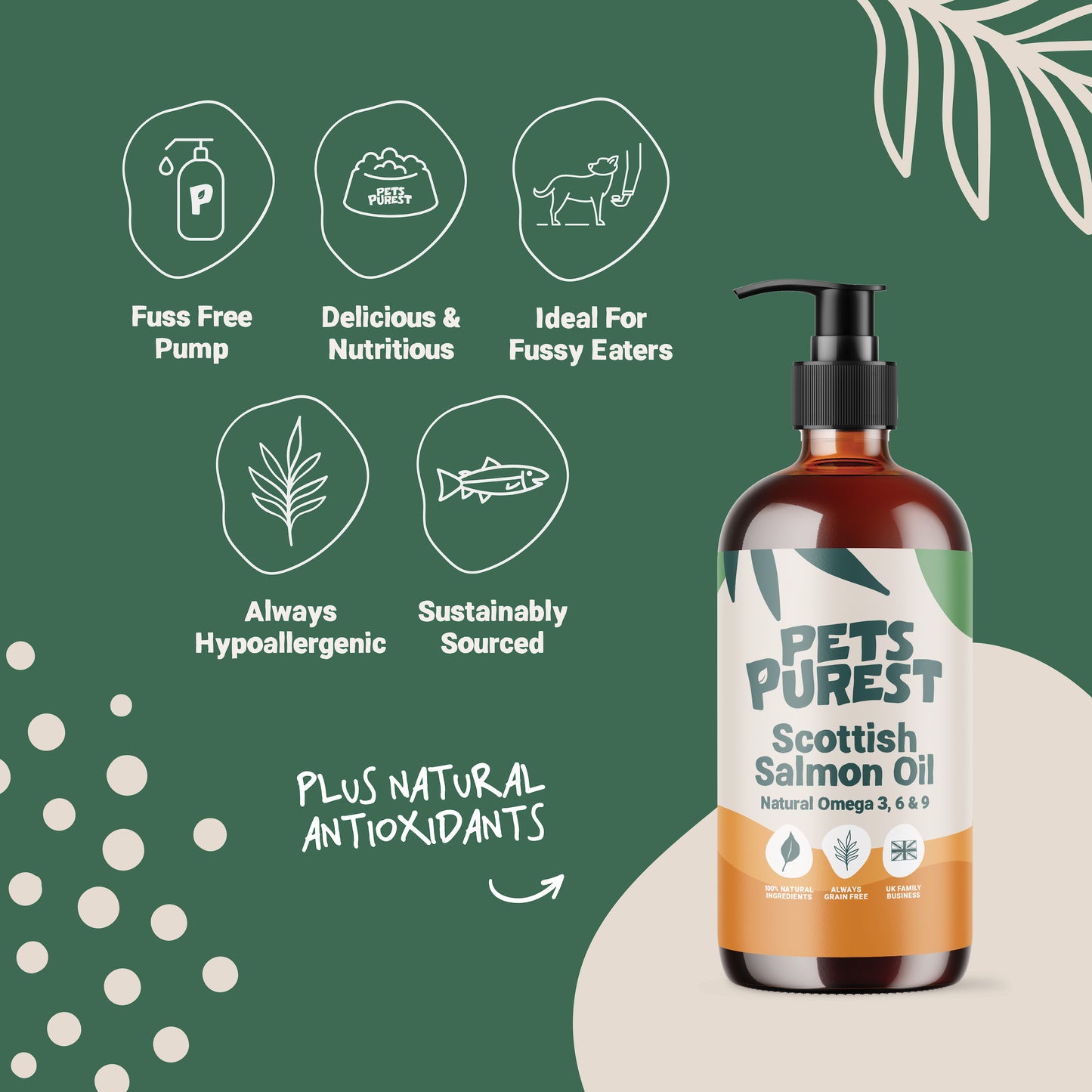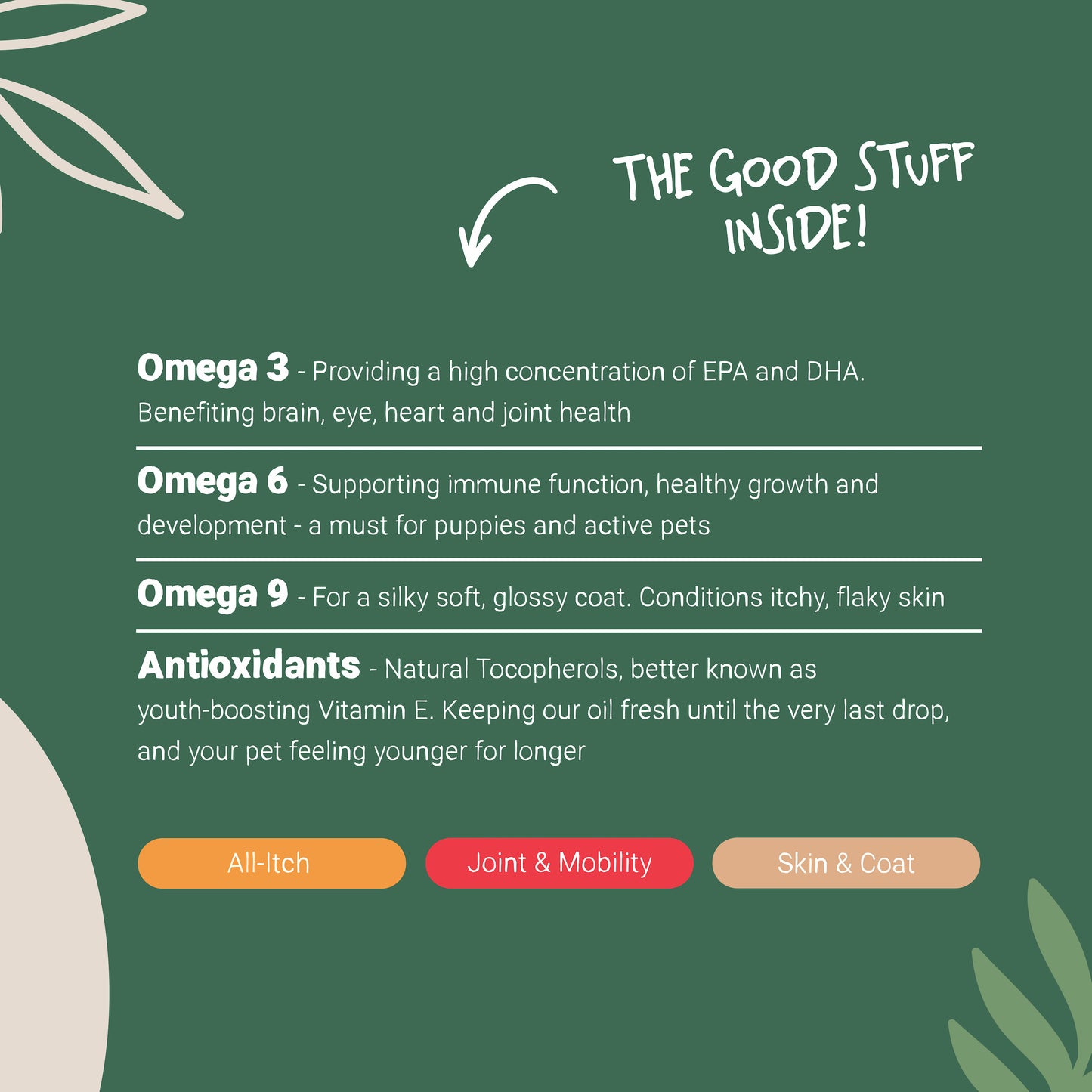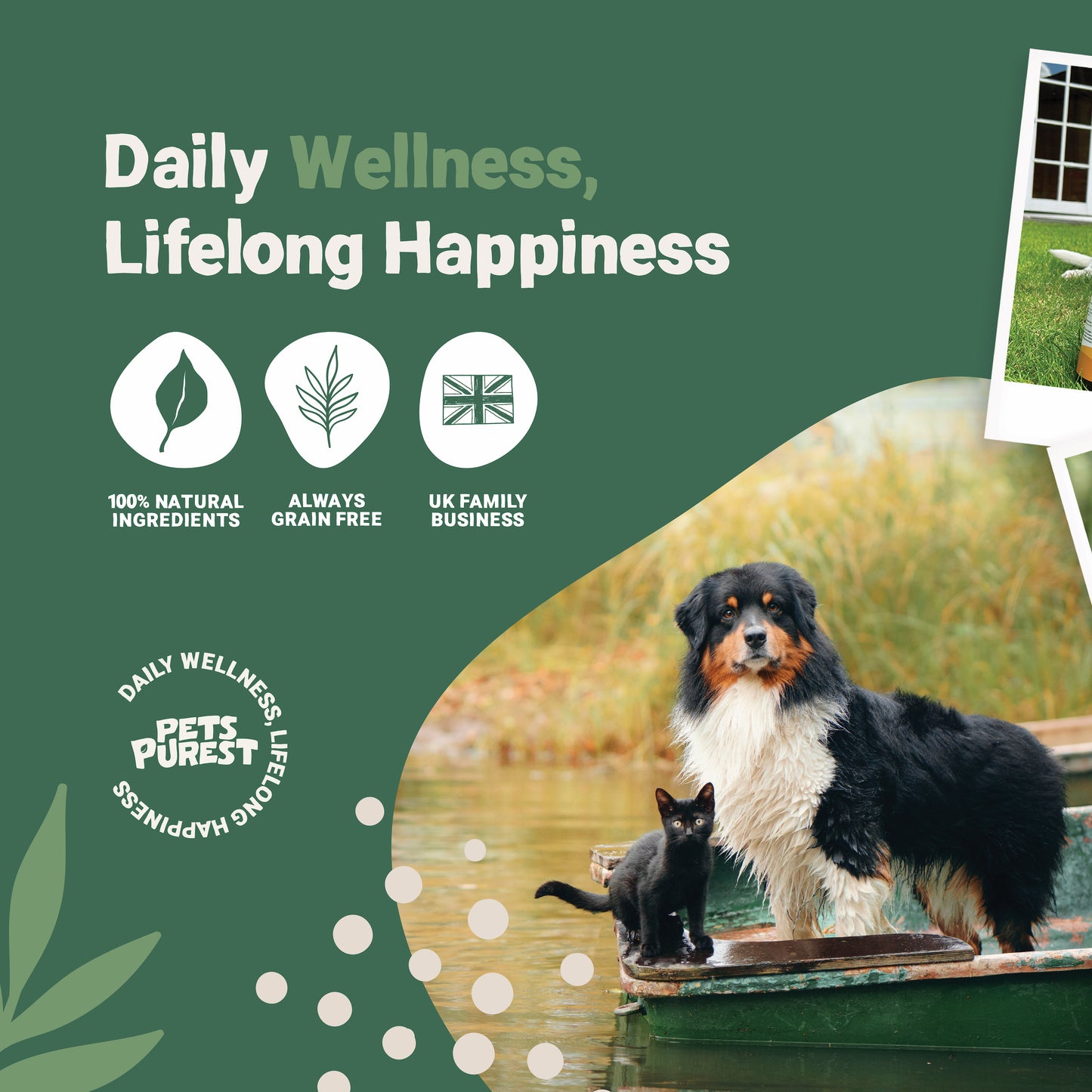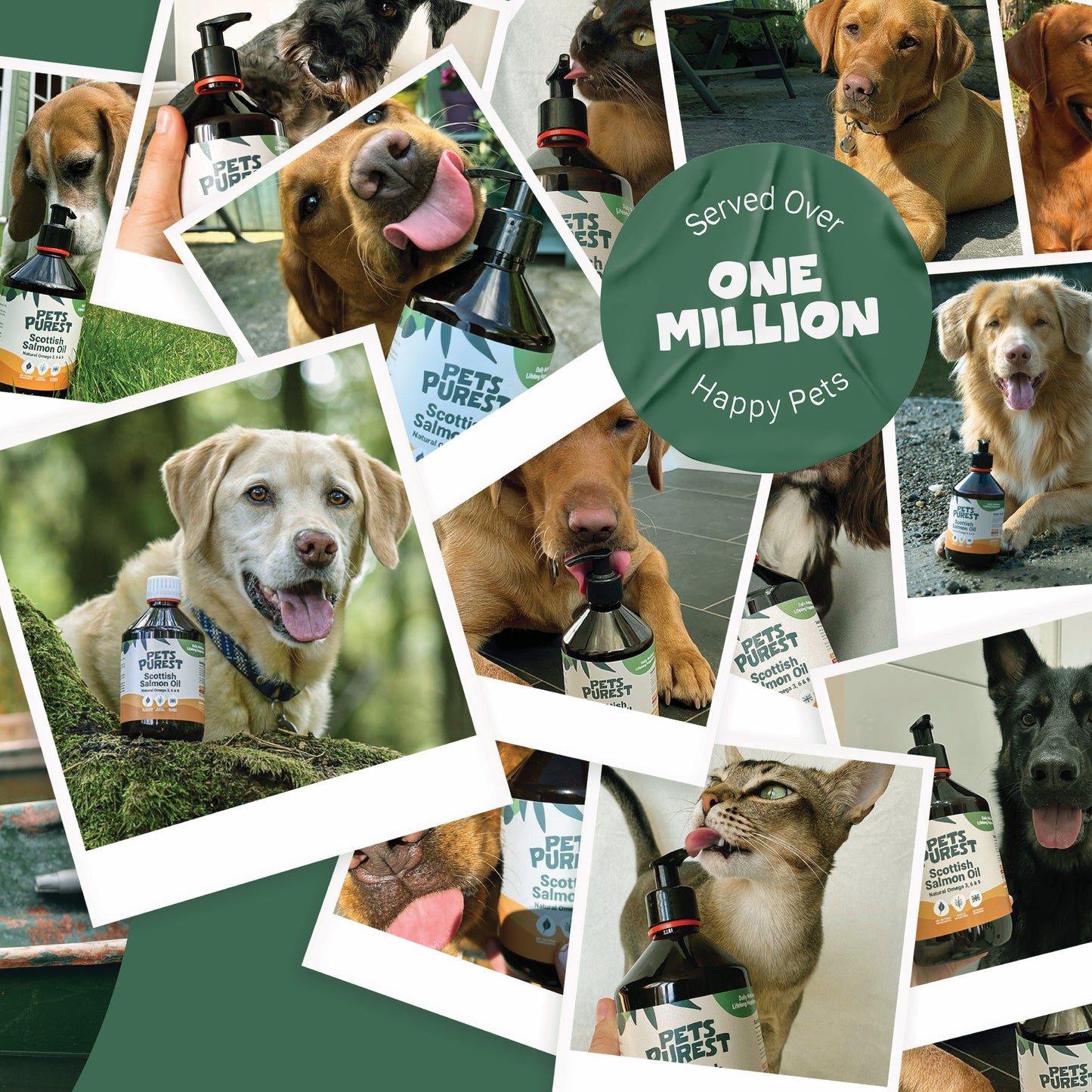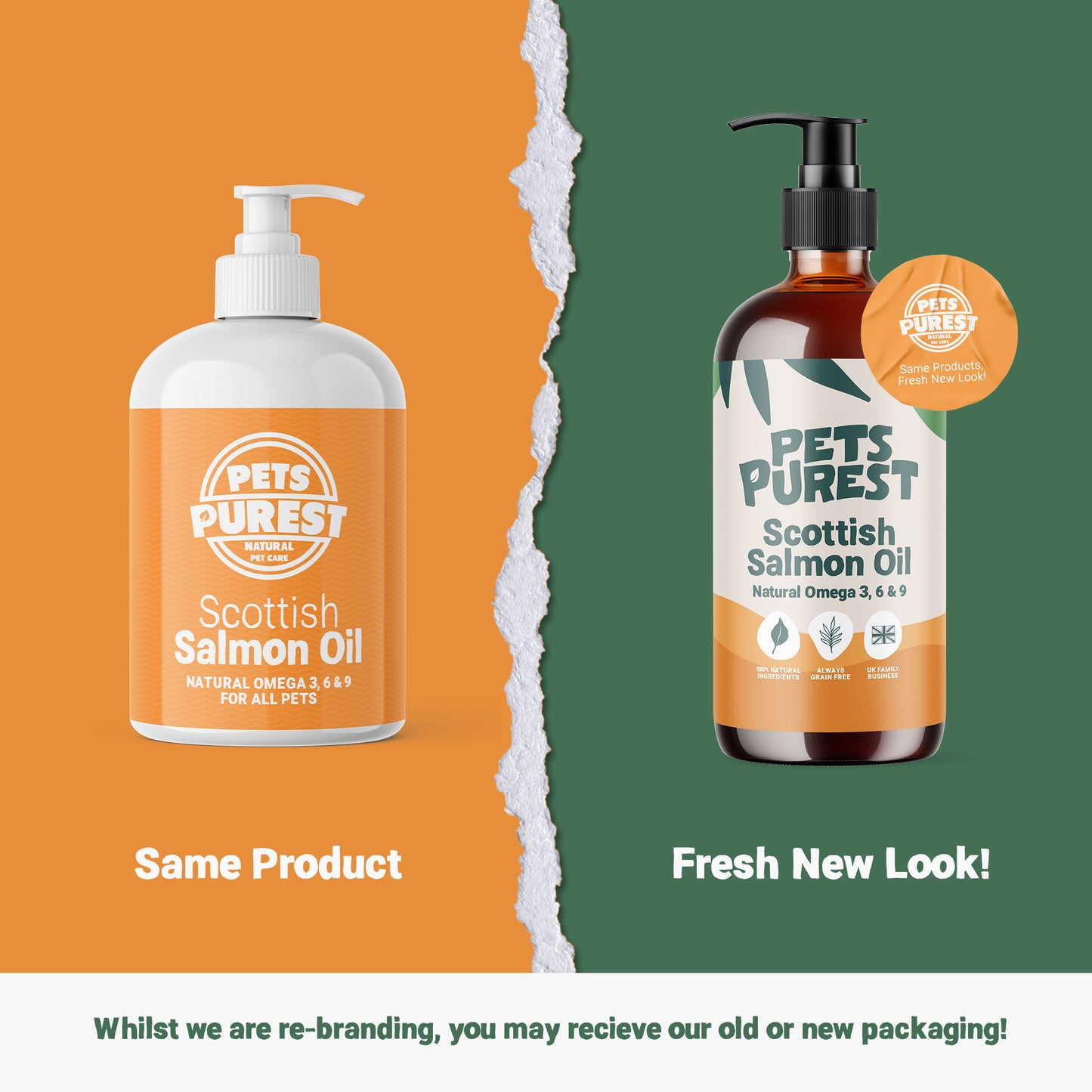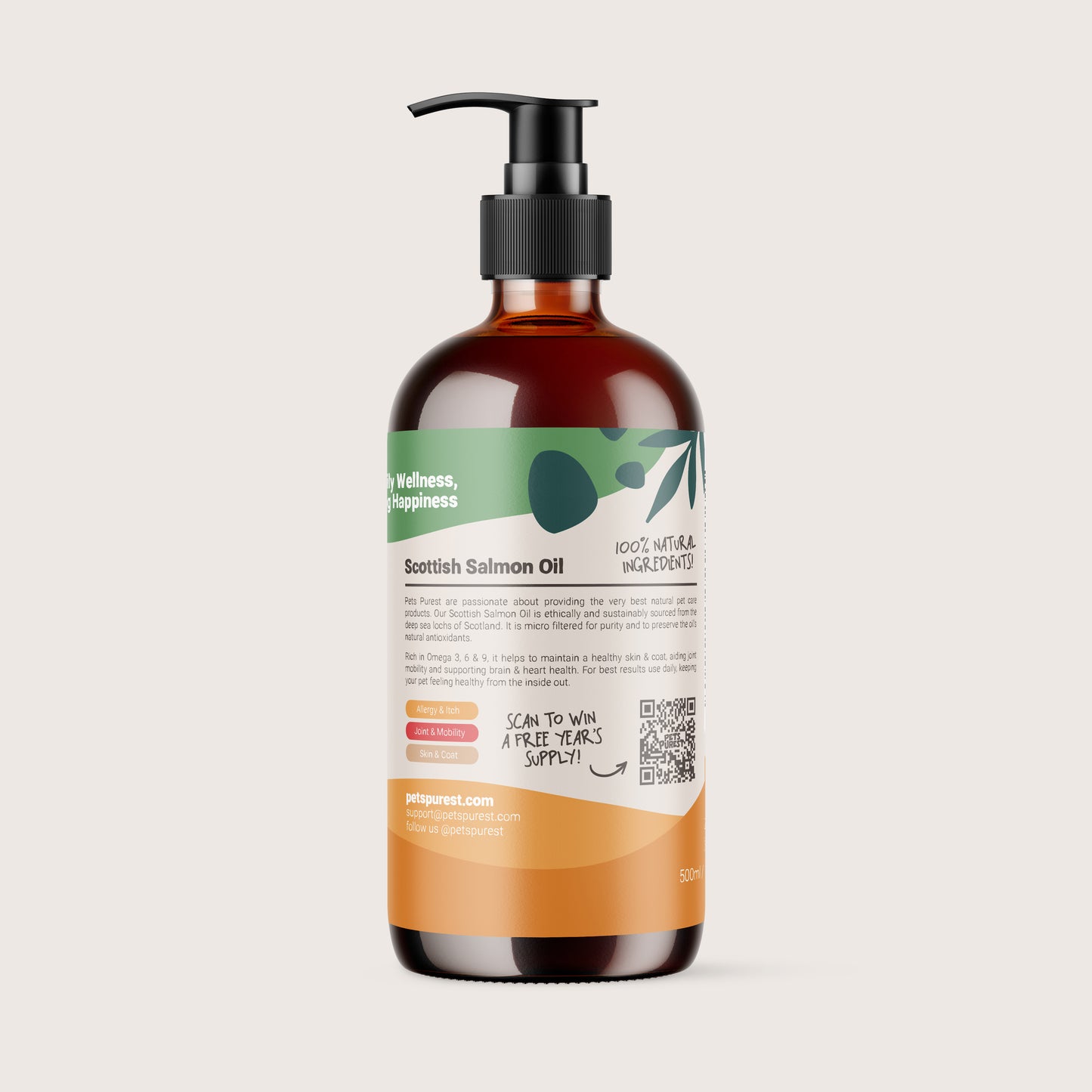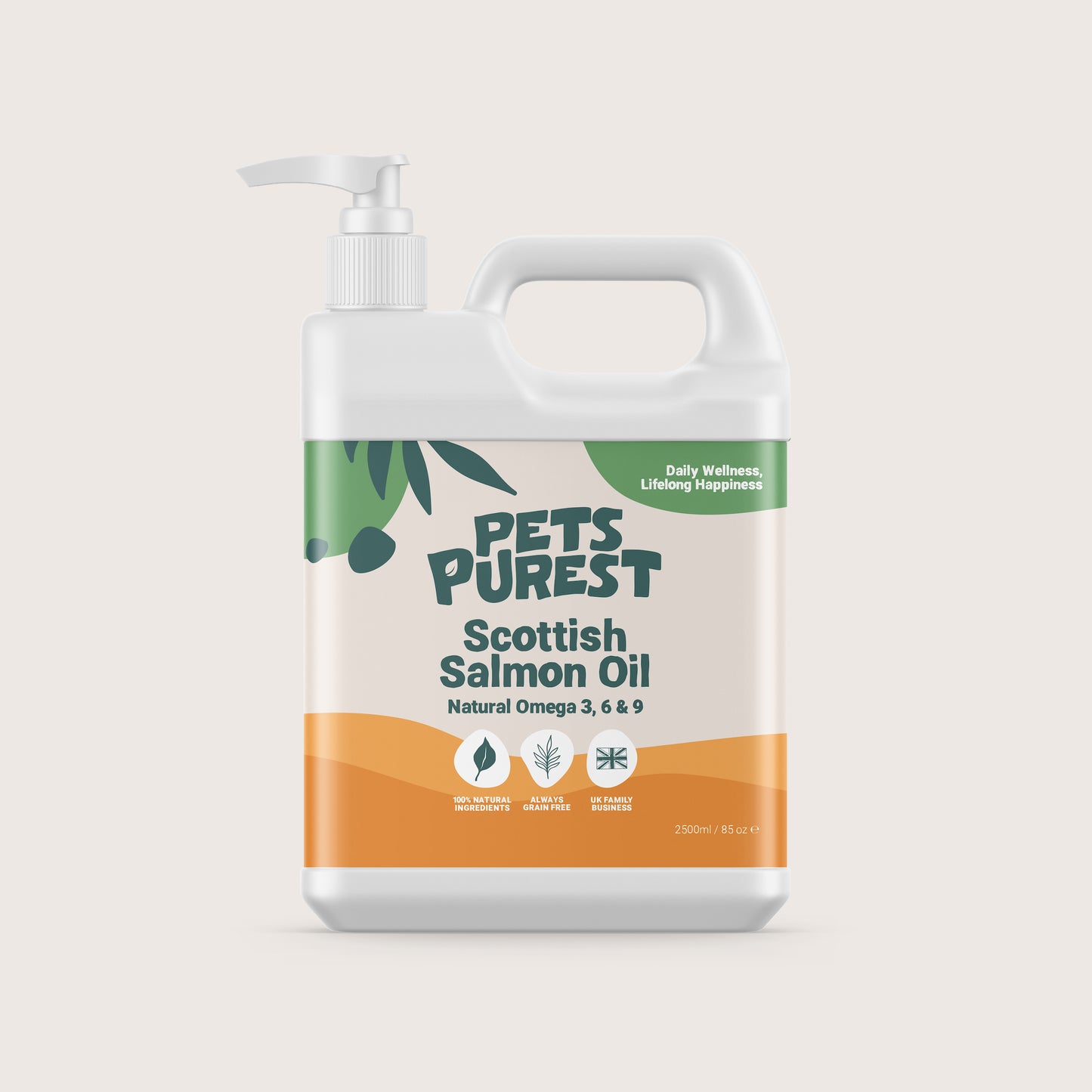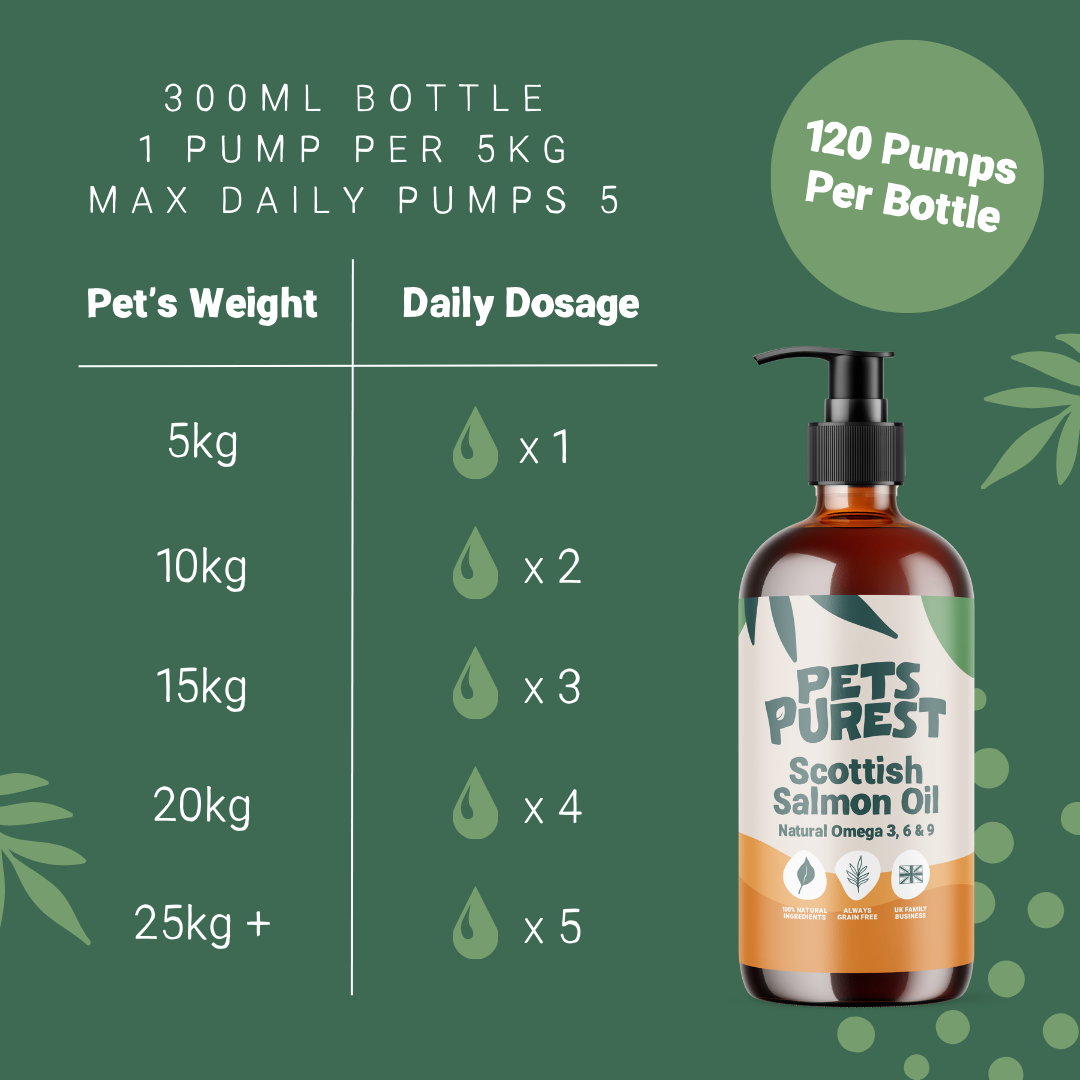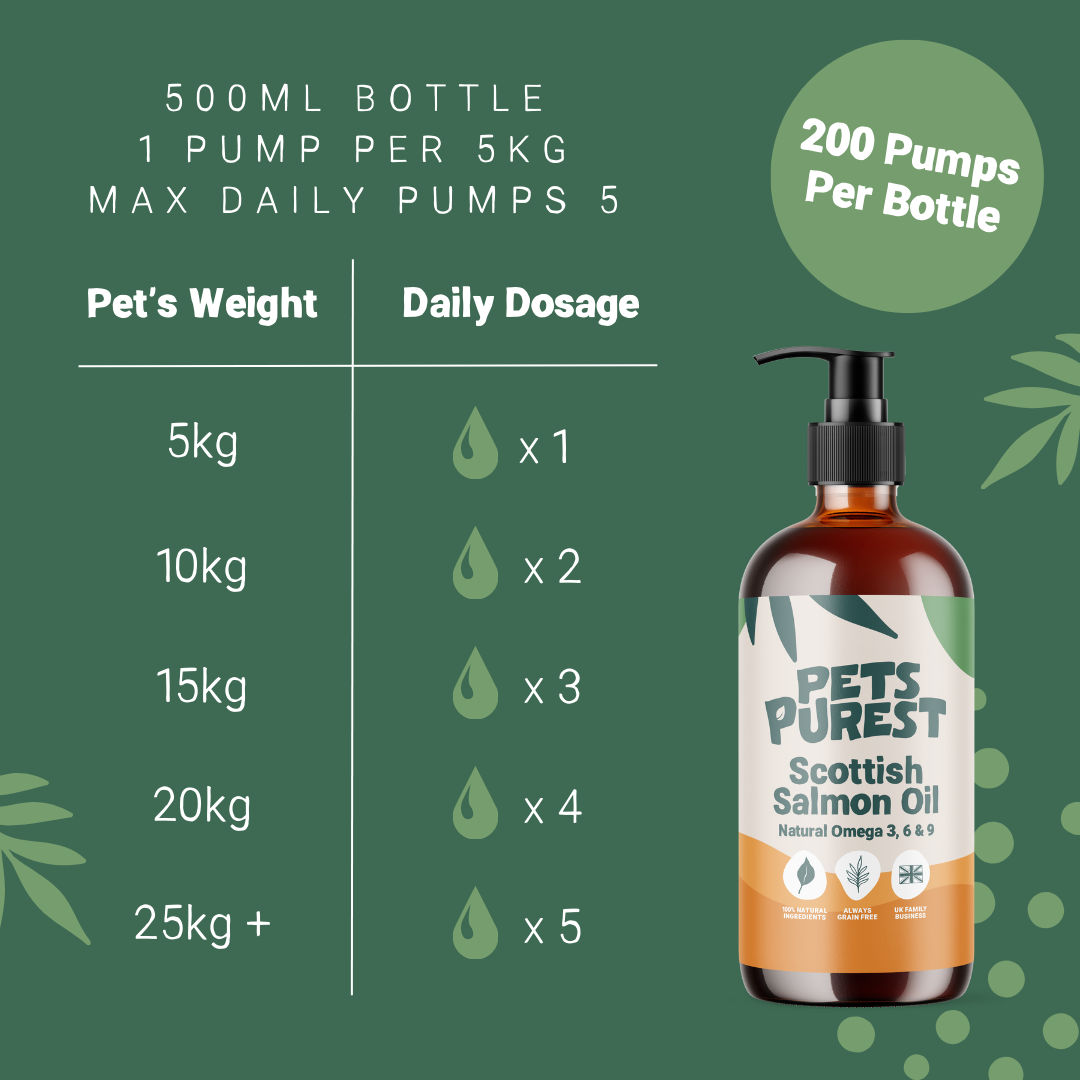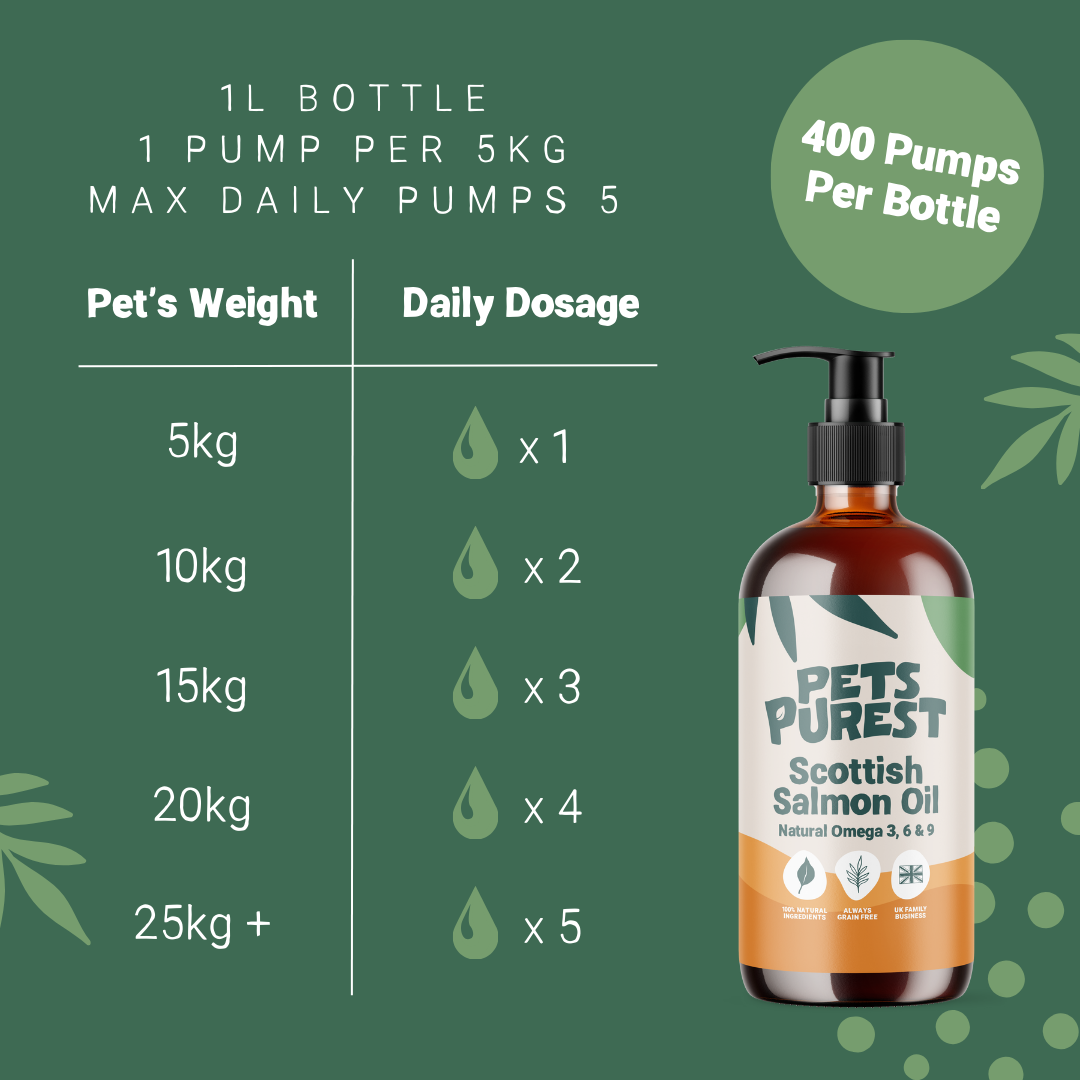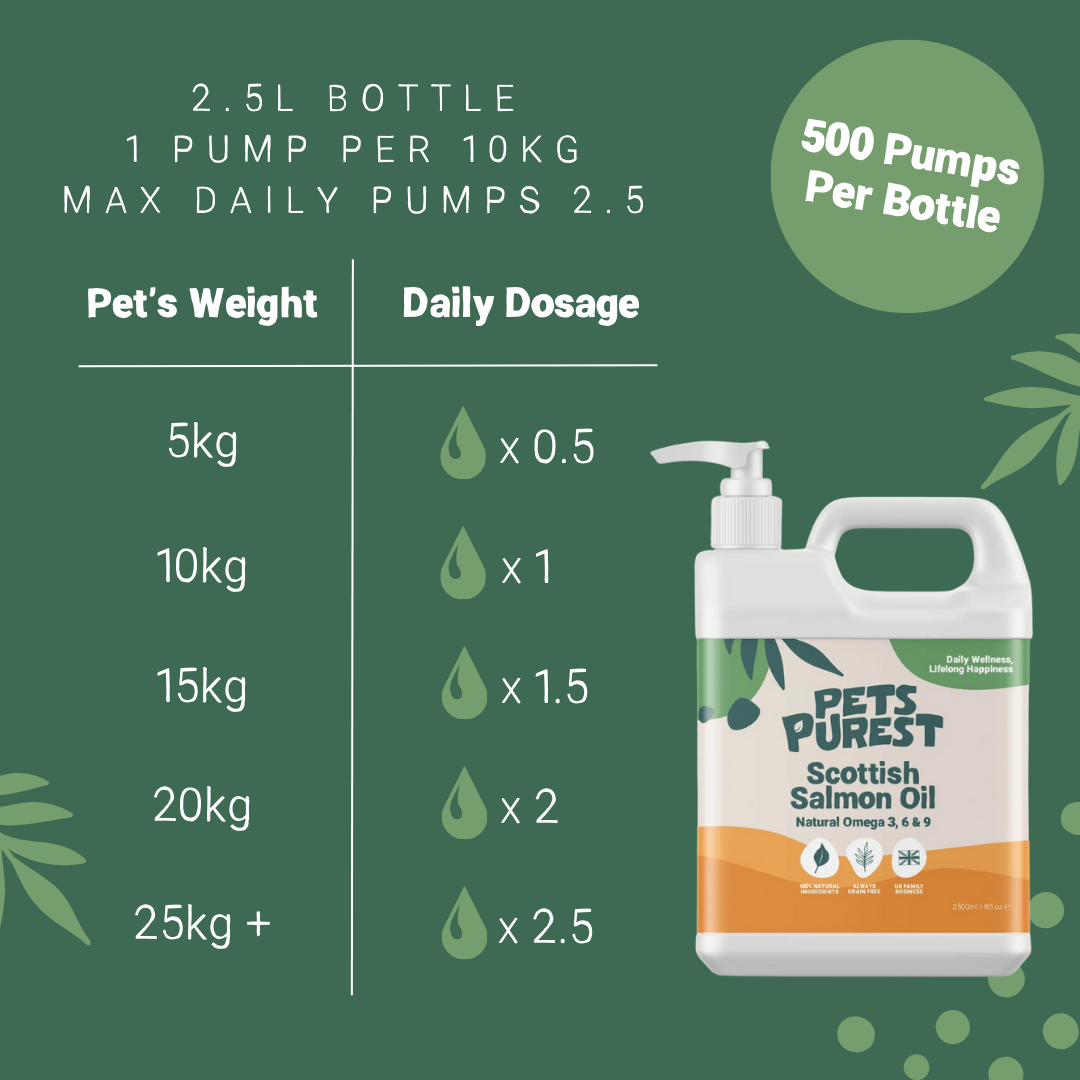 Collapsible content
Scottish Salmon Oil

Our Salmon Oil is ethically sourced from sustainable Scottish salmon, reared in deep sea lochs; free from any nasty preservatives or artificial additives. The oil is slowly extracted to keep it packed with powerful antioxidants and rich in Omega 3 and 6 fatty acids.
Omega 3, 6 & 9

Omega 3, 6 & 9 fatty acids offer a range of health benefits. They promote brain, heart and joint health, whilst also supporting the immune system.
100% Natural, No Compromises

We provide a range of 100% natural treats, supplements and hygiene products to help keep pets feeling healthy from the inside out!

Absolutely Amazing!!!

My dog has suffered with his anal glands for around 8 months now. We have tried a lot with no joy, until I came across Pets Purest! - Lauren (June 2023)

Over One Million Happy Pets

We're passionate about pet wellbeing and our promise is to support pet owners (and their pets) on a journey of daily wellness and lifelong happiness!
Frequently Asked Questions
Do you think you could use this on cats dry skin too?


As the product is 100% natural there is no reason why you could not use this on the skin as an oil - it will do no harm so worth trying.

However, there is a smell of fish oil and also your cat may just lick it off, but again, there is no harm in trying
What are the brown particles?

They are just proteins in the oil.

Is there any ethanol?

There is no ethanol in this product.

What makes our products unique?

We show clearly what ingredients we include across our entire range, making it simple for pet owners to understand exactly what the product is and does.