Gives your pet's immune system a delicious daily boost, improving their overall health and wellbeing.

Why choose this product?

Our Multivitamin Supplement Treats give your pet a delicious daily boost, improving their overall health and wellbeing. Most dry dog food lacks essential nutrients lost in manufacturing processes, but with these 100% natural treats you can add those crucial vitamins and minerals back into your dog's diet.

For more fast-acting relief, pair with our Immunity Drops. Use alongside any of our other products for a wellness boost.

How do I use it?

Simply add into your pet's daily routine. With no tough pills or tablets to swallow, they couldn't be easier to use. Ensure that the supplemental treats given do not exceed 10% of your dog's daily energy intake.

Daily Amount: 1 treat per 10kg of body weight daily.

Suitable for all ages, sizes and breeds of dog.

Our products are gentle on tummies, specially formulated for everyday use. For best results, use daily as part of your pet's daily wellness routine.
What's in it?

Wild Whole Sprats
Coconut Flakes and Flour
Yeast Metabolites - Saccharomyces Cerevisiae

Dietetic additives:
Vitamin A 49600 IU
Vitamin D3 12200 IU
Colloidal Silica 73.6g,
Vitamin E 80mg
Panthenol 60mg
Vitamin B1•HCl 50mg
Folic Acid 44mg
Vitamin B2 40mg
Vitamin B6•HCl 40mg
Carnitine 19mg
Copper(II) Glycinate•H2O 19mg
Manganese Glycinate•H2O 19mg
Zinc Glycinate•H2O 19mg
Biotin 0.5mg
Vitamin B12 196mcg
Antioxidants: Tocopherols-rich extract of natural origin.

That's it!
Shipping and Delivery

FREE Standard Tracked Delivery (3-5 working days) on all UK orders over £25.00.

For orders under £25.00 there is a flat charge of £3.99 for Standard Tracked Delivery (3-5 working days).

UK Next Day Tracked Delivery (1-2 working days) has a fee of £4.99.
View full details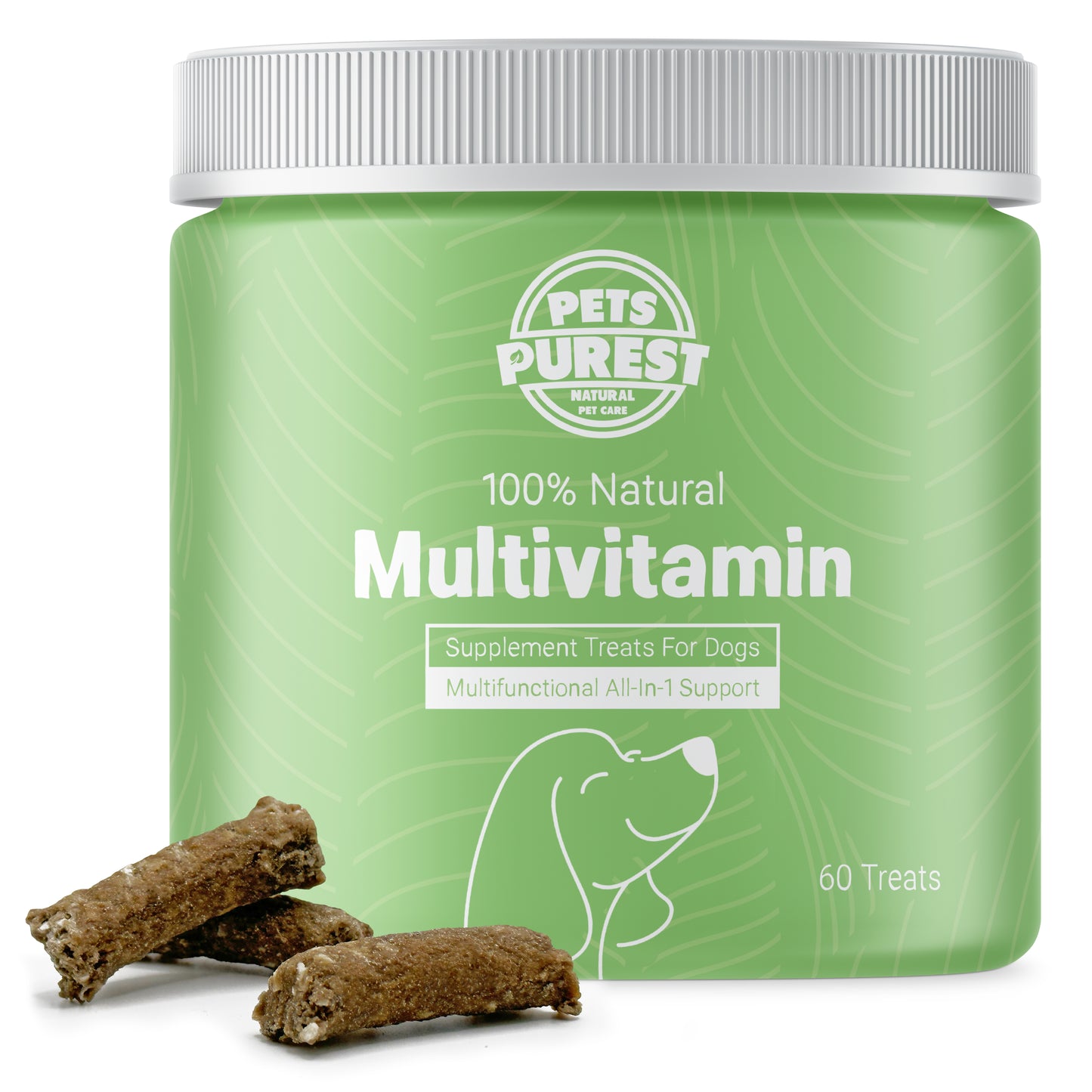 Collapsible content
Whole wild sprats

Sprats contain Omega 3s which have been shown to boost cognitive function and help reduce stress and anxiety. They also help improve joint and heart health, lower cholesterol, and are naturally high in protein, which is an essential component of a dog's diet.
Coconut flakes and flour

Coconut aids digestion, promotes healthy skin and coats, and is good for eye health. It also improves immune function.
Biotin

Essential for digestion and muscle formation, Biotin also promotes a healthy skin and coat.
Folic acid

Folic acid is essential in the functioning of the metabolism and the cardiovascular system. It's also a great supplement for pregnant and breeding animals.
Copper chelate

This mineral helps keep your pet's blood healthy and improves skin and coat condition.
Zinc chelate

Zinc is essential for cognitive function, skin and eye health, boosts the immune system and can accelerate healing.
Manganese chelate

Manganese promotes good joint health by increasing collagen production.
Hydrolysed protein

Hydrolysed protein reduces and prevents allergic reactions due to food hypersensitivity.
100% Natural, No Compromises

We provide a range of 100% natural treats, supplements and hygiene products to help keep pets feeling healthy from the inside out!

Absolutely Amazing!!!

My dog has suffered with his anal glands for around 8 months now. We have tried a lot with no joy, until I came across Pets Purest! - Lauren (June 2023)

Over One Million Happy Pets

We're passionate about pet wellbeing and our promise is to support pet owners (and their pets) on a journey of daily wellness and lifelong happiness!
Frequently Asked Questions
Why we love what we do?

We pride ourselves on being real people making real products for real pet owners and their pets. Knowing our products enhance the health and happiness of pets is what motivates us to keep doing what we do.
What is the returns policy?

Our returns policy lasts for 30 days. If 30 days have passed since your purchase, we are unable to offer a refund or exchange. To be eligible for a return, your item must be unused and in the same condition as when you received it. Additionally, it must be in the original packaging.
How we got started?

Founded in 2017, our vision was to be the UK's first 100% natural pet supplement brand, providing healthy, natural alternatives to many mass-produced pet products.
What makes our products unique?

We show clearly what ingredients we include across our entire range, making it simple for pet owners to understand exactly what the product is and does.