Why choose this product?

Cleanse and soothe itchy, smelly and gunky ears with our 100% Natural Ear Wash. Free from artificial chemicals, it is gentle on skin and completely safe to use daily to clean even the most sensitive of ears. Gentle but effective, you should see results in just 3 days.
How do I use it?

Simply apply directly into your pet's ear canal. Once liquid is visible, massage the base of the ear, then use a cotton wool pad to wipe away excess dirt (your pet may shake to dislodge excess dirt and wax). Extremely carefully, use an earbud to wipe around the ear and remove any leftover debris.

DO NOT INSERT EARBUDS INTO THE EAR CANAL. CONSULT A VET IF SYMPTOMS CONTINUE AFTER 3 DAYS.

Suitable for any size and breed of dog, cat, horse, ferret, rabbit, reptile, or bird over 8 weeks old.

This product is particularly suitable for dog breeds with long fur and long hanging ears, including Beagles, Chinese Shar-Peis, Basset Hounds, Golden Retrievers, Labradoodles and Cocker Spaniels.

Our products are gentle on skin, specially formulated for everyday use. For best results, use regularly as part of your pet's wellness routine.
What's in it?

Purified water
Aloe vera
Calendula
Myrrh
Lavender water

That's it!
Shipping and Delivery

FREE Standard Tracked Delivery (3-5 working days) on all UK orders over £25.00.

For orders under £25.00 there is a flat charge of £3.99 for Standard Tracked Delivery (3-5 working days).

UK Next Day Tracked Delivery (1-2 working days) has a fee of £4.99.
View full details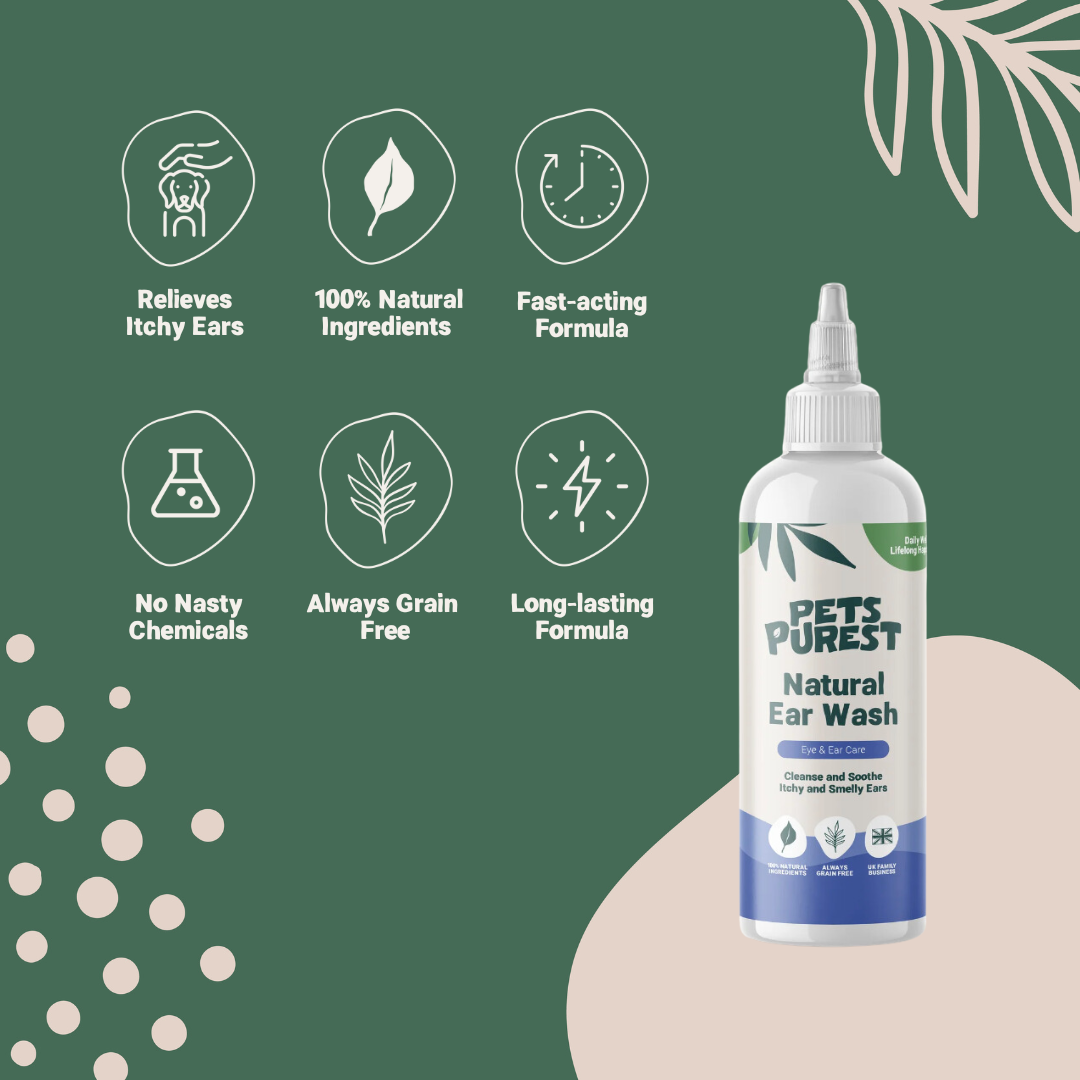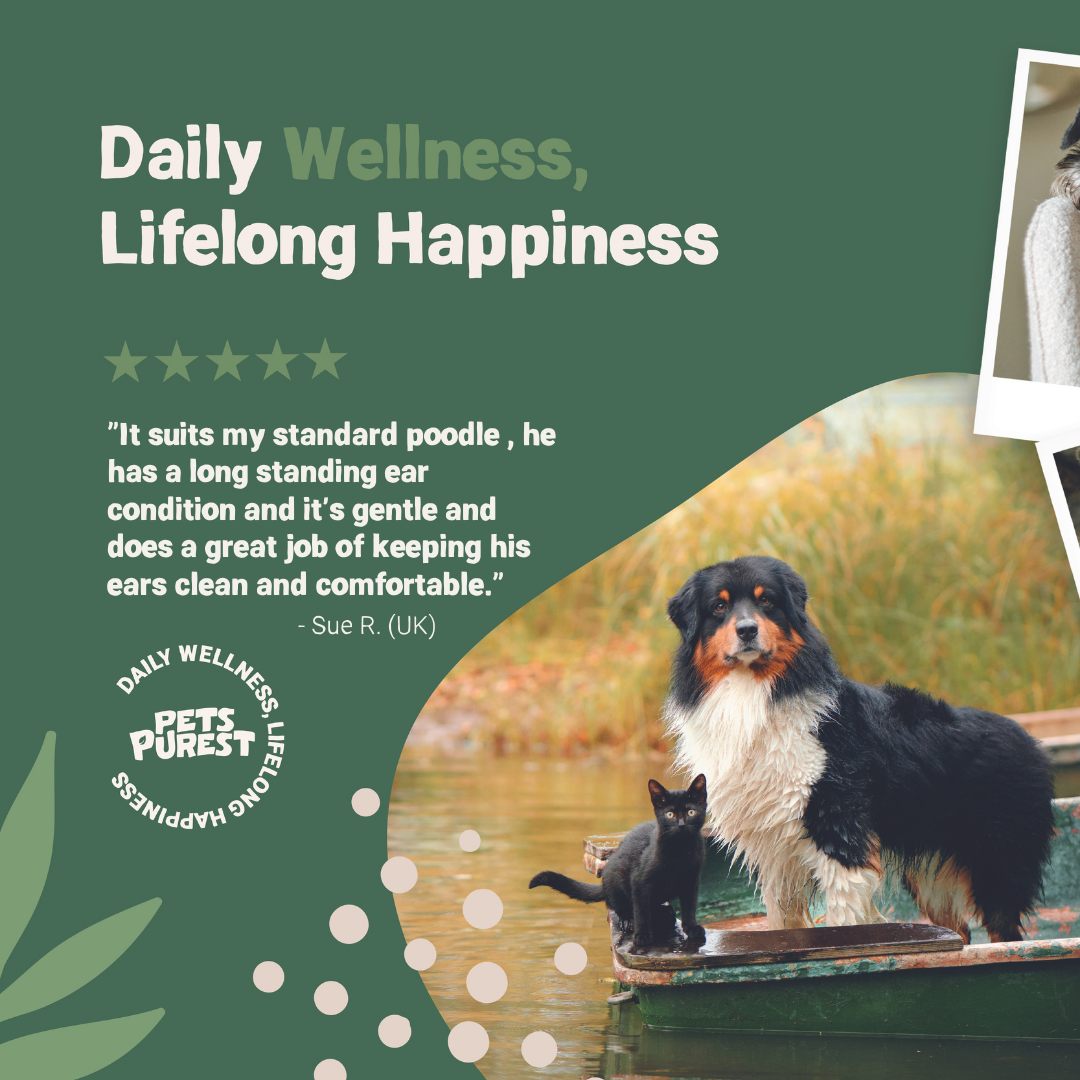 pdp-benefits

Reduce Bacterial Build Up

pdp-benefits

Clears Gunk & Reduces Odour
Collapsible content
Aloe Vera

Aloe Vera reduces inflammation and dryness, speeding-up healing. Its cooling effect also helps to relieve swelling. It also has antimicrobial properties, helping to prevent infection.
Calendula

Calendula Water is rich in beta-carotene, which can improve vision, prevent cataract formation and fight off disease.
Myrrh

Myrrh helps to eliminate any unwanted smells from the ear, possessing antibacterial and anti-inflammatory properties.
Lavender Water

A natural analgesic, Lavender Water helps relieve the pain caused by ear inflammation.
Purified Water

Free of chemicals that can cause irritation when used to cleanse around the eyes.
100% Natural, No Compromises

We provide a range of 100% natural treats, supplements and hygiene products to help keep pets feeling healthy from the inside out!

Absolutely Amazing!!!

My dog has suffered with his anal glands for around 8 months now. We have tried a lot with no joy, until I came across Pets Purest! - Lauren (June 2023)

Over One Million Happy Pets

We're passionate about pet wellbeing and our promise is to support pet owners (and their pets) on a journey of daily wellness and lifelong happiness!
Frequently Asked Questions
Does this have a scent/fragrance?

There is no added fragrance only the 100% natural ingredients which are all active ingredients. There is a mild aroma which comes from the lavender water.
Is this suitable for rabbits?

Yes, Ear Pro is suitable for rabbits.
Is it suitable for ferrets?

Yes, It's suitable for ferrets.
What makes our products unique?

We show clearly what ingredients we include across our entire range, making it simple for pet owners to understand exactly what the product is and does.