Our 100% Natural Digestive Treats are ideal for sensitive tummies. Know exactly what you are feeding your pet with these 100% natural delicious and nutritious treats.
Why choose this product?

Our recipe is healthy and simple, containing high levels of fresh protein mixed with active ingredients to improve gut function. Prebiotics, Probiotics & Fibre promote healthy gut movement and the growth of good bacteria. Good digestion is crucial for a pet's health so they can obtain all the nutrients they need from their food.

Our treats are hypoallergenic, grain, gluten & lactose-free and produced using a traditional chemical-free air-drying process meaning they are perfect for any diet.

Know exactly what you are feeding your pet with these 100% natural delicious and nutritious treats.
How do I use it?

For use as a complementary pet food as a treat or reward. Treats should not exceed more than 10% of your pet's diet as treats. Ensure fresh drinking water is always available. Supervision of your pet is recommended, preferably in a stain resistant area.

What's in it?

40% Duck
24% Chicken
13% Sweet Potato
Potato
Peas
Camomile
Lavender
Vegetable Protein
Minerals
Vitamins
Chicken Gravy
Nucleotides
Cellulose
Omega 3 supplement
Fructooligosaccharides
Beta Glucans
Mannooligosaccharides

That's it!
Shipping and Delivery

FREE Standard Tracked Delivery (3-5 working days) on all UK orders over £25.00.

For orders under £25.00 there is a flat charge of £3.99 for Standard Tracked Delivery (3-5 working days).

UK Next Day Tracked Delivery (1-2 working days) has a fee of £4.99.
View full details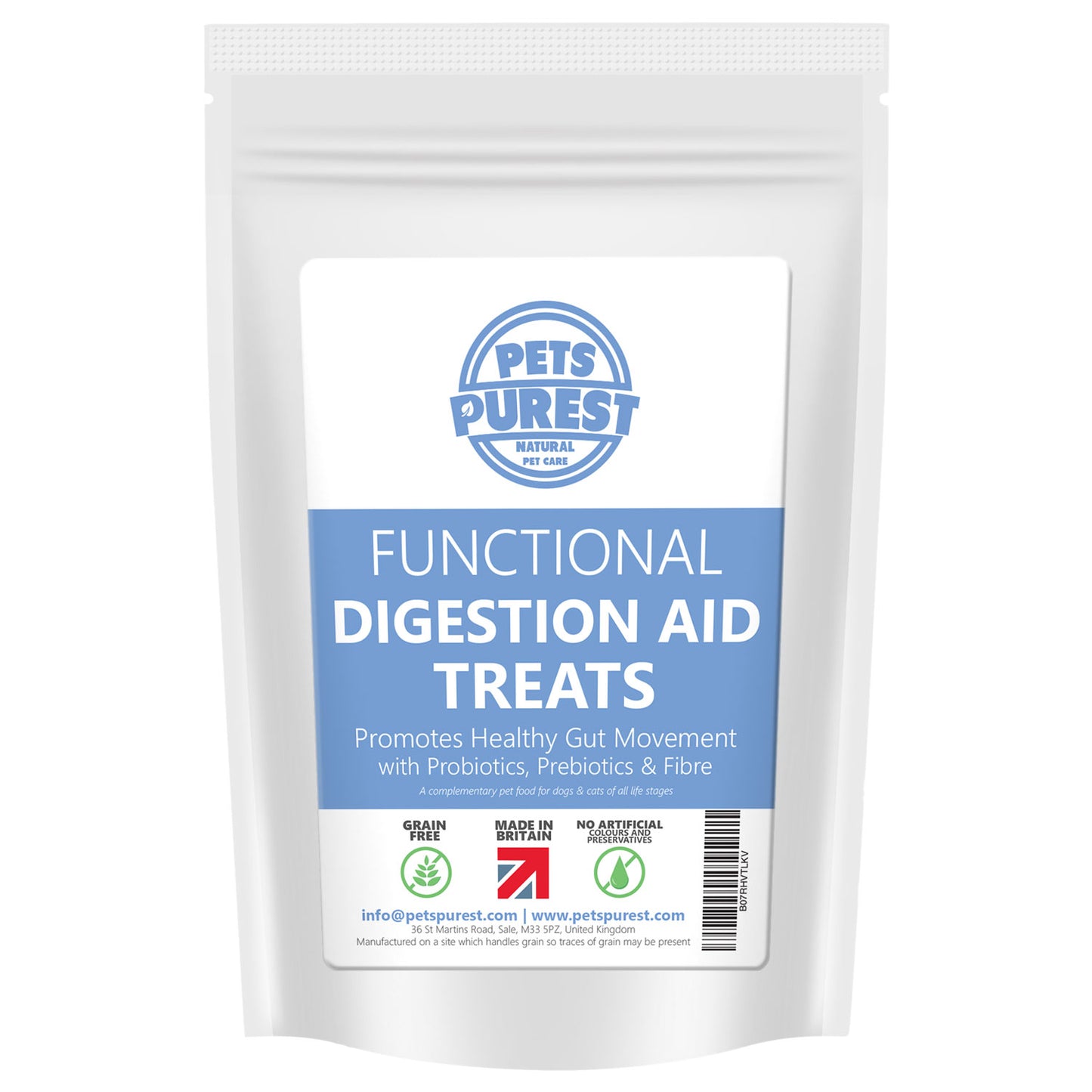 pdp-benefits

Supports Healthy Gut Function

pdp-benefits

Helps Maintain Stool Consistency
100% Natural, No Compromises

We provide a range of 100% natural treats, supplements and hygiene products to help keep pets feeling healthy from the inside out!

Absolutely Amazing!!!

My dog has suffered with his anal glands for around 8 months now. We have tried a lot with no joy, until I came across Pets Purest! - Lauren (June 2023)

Over One Million Happy Pets

We're passionate about pet wellbeing and our promise is to support pet owners (and their pets) on a journey of daily wellness and lifelong happiness!
Frequently Asked Questions
What are the ingredients?

40% Freshly Prepared Duck, 24% Freshly Prepared Chicken, 13% Sweet Potato, Potato, Peas, Vegetable Protein, Minerals, Vitamins, 1% Chicken Gravy, 1% Nucleotides, Cellulose, Omega 3 Supplement, Fructooligosaccharides (FOS 4807 mg/kg), Beta Glucans (3223 mg/kg), Mannooligosaccharides (MOS 1201 mg/kg), Camomile, Lavender.
How many can my pet have at a time?

You can feed anytime as a treat or reward. As many or few as you like.
Remember to ensure a supply of clean, fresh water is available at all times.
How we got started?

Founded in 2017, our vision was to be the UK's first 100% natural pet supplement brand, providing healthy, natural alternatives to many mass-produced pet products.
What makes our products unique?

We show clearly what ingredients we include across our entire range, making it simple for pet owners to understand exactly what the product is and does.