100% Natural Pork & Beef Sausages offer a delicious and nutritious treat, packed with protein to support your dog's general health and wellbeing.
Why choose this product?

Pork & Beef are the only ingredients so our treats are ideal for pets with allergies and any dog on a raw food diet. Our treats are hypoallergenic, grain, gluten & lactose-free and produced using a traditional chemical-free air-drying process meaning they are perfect for any diet.

Know exactly what you are feeding your dog and avoid problems such as itching, digestive pain, obesity and allergic reactions associated with unhealthy treats.
How do I use it?

For use as a complementary pet food for dogs as a treat or reward. Treats should not exceed more than 10% of your dog's diet as treats. Ensure fresh drinking water is always available. Supervision of your pet is recommended, preferably in a stain resistant area.
What's in it?

75% Pork
25% Beef

That's it!
Shipping and Delivery

FREE Standard Tracked Delivery (3-5 working days) on all UK orders over £25.00.

For orders under £25.00 there is a flat charge of £3.99 for Standard Tracked Delivery (3-5 working days).

UK Next Day Tracked Delivery (1-2 working days) has a fee of £4.99.
View full details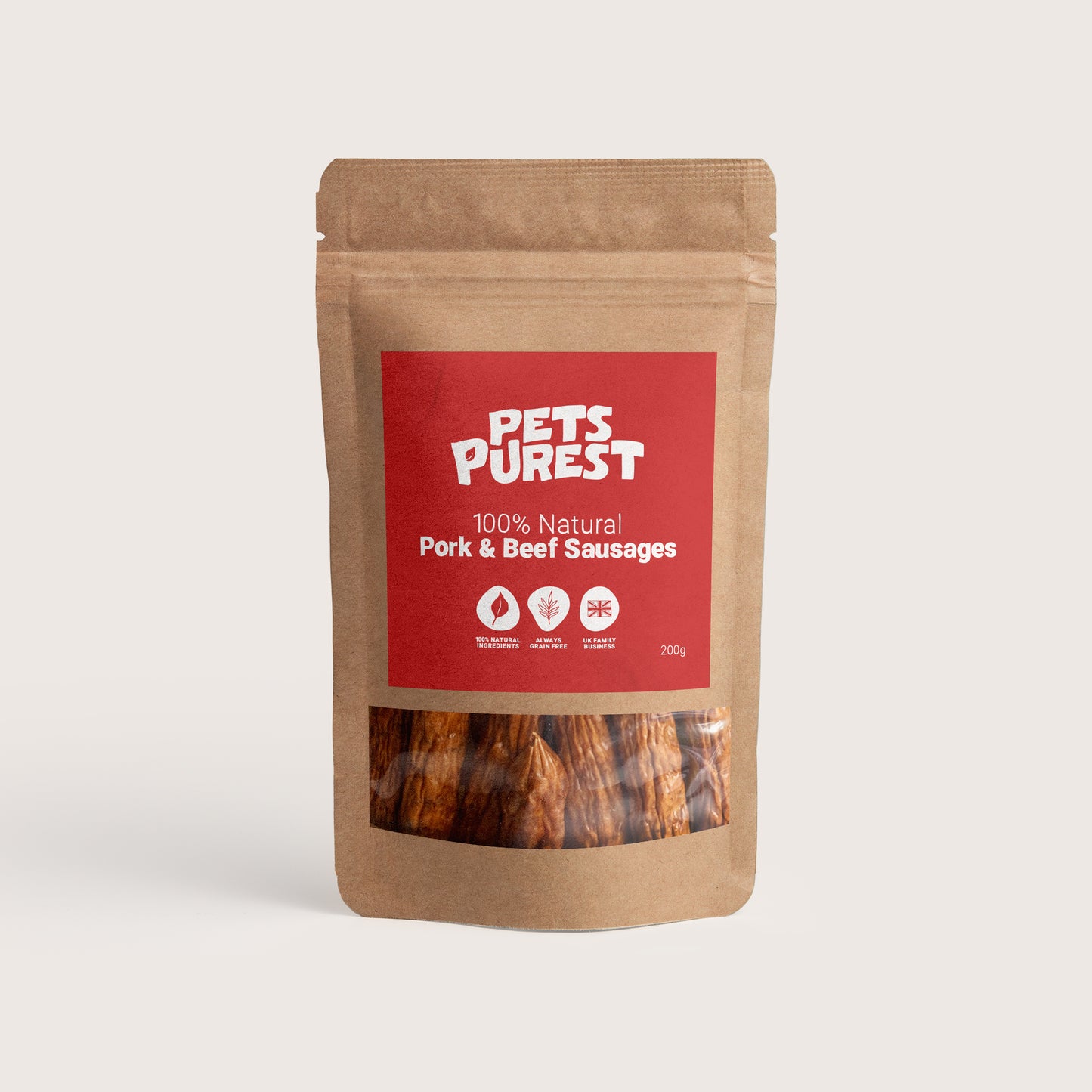 Collapsible content
Pork

Not only does pork have a delicious flavour, it is easily digestible and packed with protein as well as essential vitamins and minerals.

Pork is rich in Vitamin B1 (Thiamine), a vital nutrient for all dogs which help to break down carbohydrates to produce energy.

Adding Pork to your dog's diet helps to ensure they are well nourished and healthy.
Beef

Beef is a tasty source of protein which is packed with essential amino acids to help your dog build muscle and strength.

Beef is abundant in minerals including iron, zinc, selenium and vitamins B12, B3 and B6 which helps to keep your dog's skin and coat looking and feeling great.

The fat content will also help to keep your dog feeling more full, for longer.
100% Natural, No Compromises

We provide a range of 100% natural treats, supplements and hygiene products to help keep pets feeling healthy from the inside out!

Absolutely Amazing!!!

My dog has suffered with his anal glands for around 8 months now. We have tried a lot with no joy, until I came across Pets Purest! - Lauren (June 2023)

Over One Million Happy Pets

We're passionate about pet wellbeing and our promise is to support pet owners (and their pets) on a journey of daily wellness and lifelong happiness!
Frequently Asked Questions
What's the fat content?

Oils & fats make up 36% of the product.
Where has the meat originated from?

We use high quality ingredients from a specially selected EU supplier.
Is there any salt?

There's no salt in the product.
What makes our products unique?

We show clearly what ingredients we include across our entire range, making it simple for pet owners to understand exactly what the product is and does.