Supports the maintenance of your pet's digestive health and maximises their nutrient intake. **NOTE: product was previously called Digestion Pro**
Regular price
Sale price
£14.99
Unit price
per
Sale
Sold out
Why choose this product?

Natural Pre & Probiotic Powder supports the maintenance of your pet's digestive health and maximises their nutrient intake, helping to keep them feeling healthy from the inside out. A great source of fibre, our 100% natural formula helps to keep the balance of good bacteria within your pet's gut.

Regular use will help reduce the risk of constipation, avoid irritating anal gland issues and strengthen your pet's immune system too. Our formula is 100% wheat, grain and gluten free.

Use alongside our Probiotic Supplement treats and Digestion Aid functional treats for better results.
How do I use it?

Simply add to your pet's food. It couldn't be easier to use. If your pet is constipated, dilute with 25ml of water before adding.

Daily Amount: ½ teaspoon

Suitable for any breed of dog, cat, horse or ferret over 8 weeks old. It is not suitable for pregnant or lactating animals.

This product is particularly suitable for dog breeds that commonly develop digestive issues, including Scottish Terriers, Great Danes, Labrador Retrievers, Miniature Schnauzers, Chinese Shar-Peis, Yorkshire Terriers, German Shepherds, Shih Tzus, Irish Setters, Boxers, Poodles, Collies, Dobermans, Akitas, and Weimaraners.

Our products are gentle on tummies, specially formulated for everyday use. For best results, use daily as part of your pet's daily wellness routine.
What's in it?

Natural Prebiotic and Probiotic concentrate
Chicory Inulin
Psyllium Husk Powder

That's it!
Shipping and Delivery

FREE Standard Tracked Delivery (3-5 working days) on all UK orders over £25.00.

For orders under £25.00 there is a flat charge of £3.99 for Standard Tracked Delivery (3-5 working days).

UK Next Day Tracked Delivery (1-2 working days) has a fee of £4.99.
View full details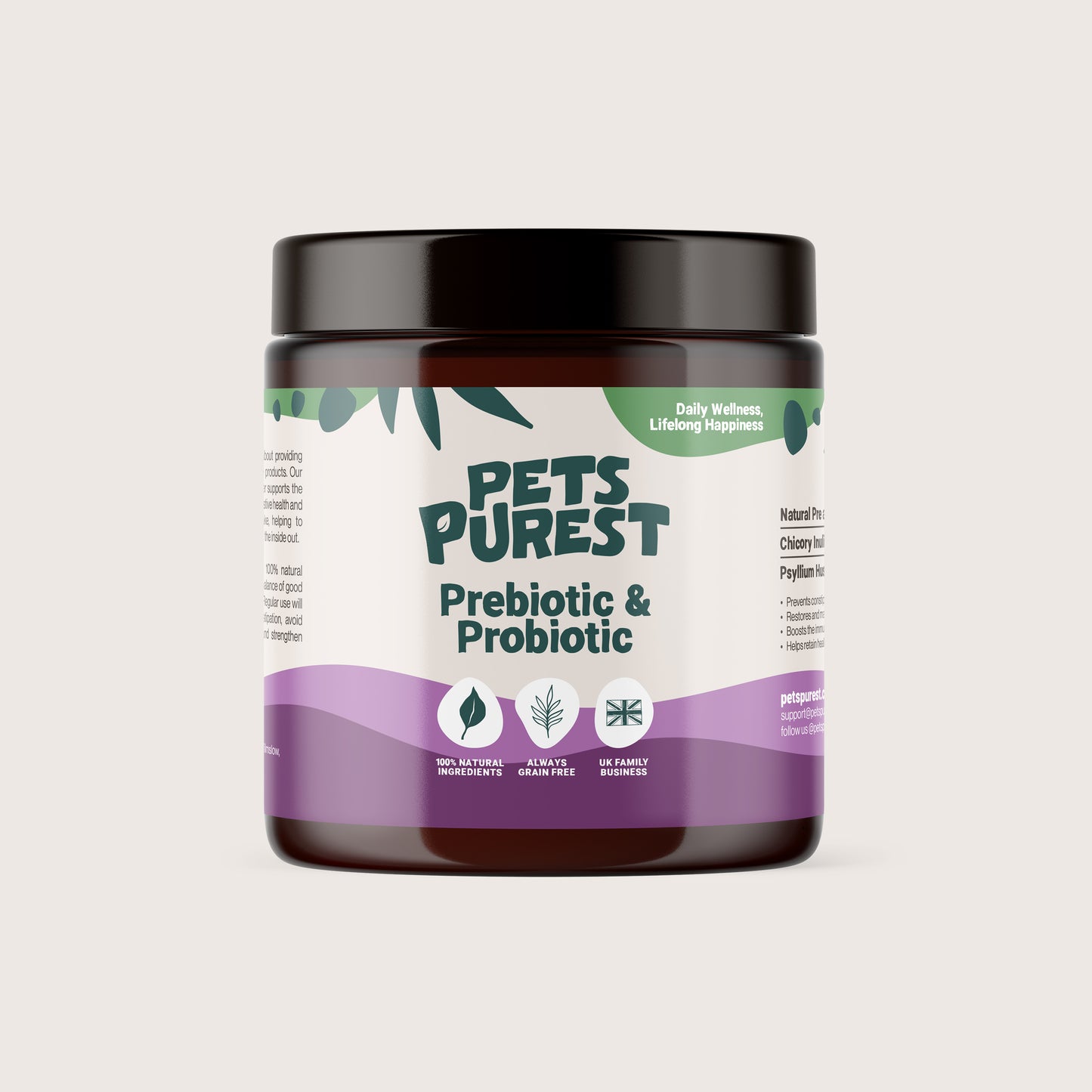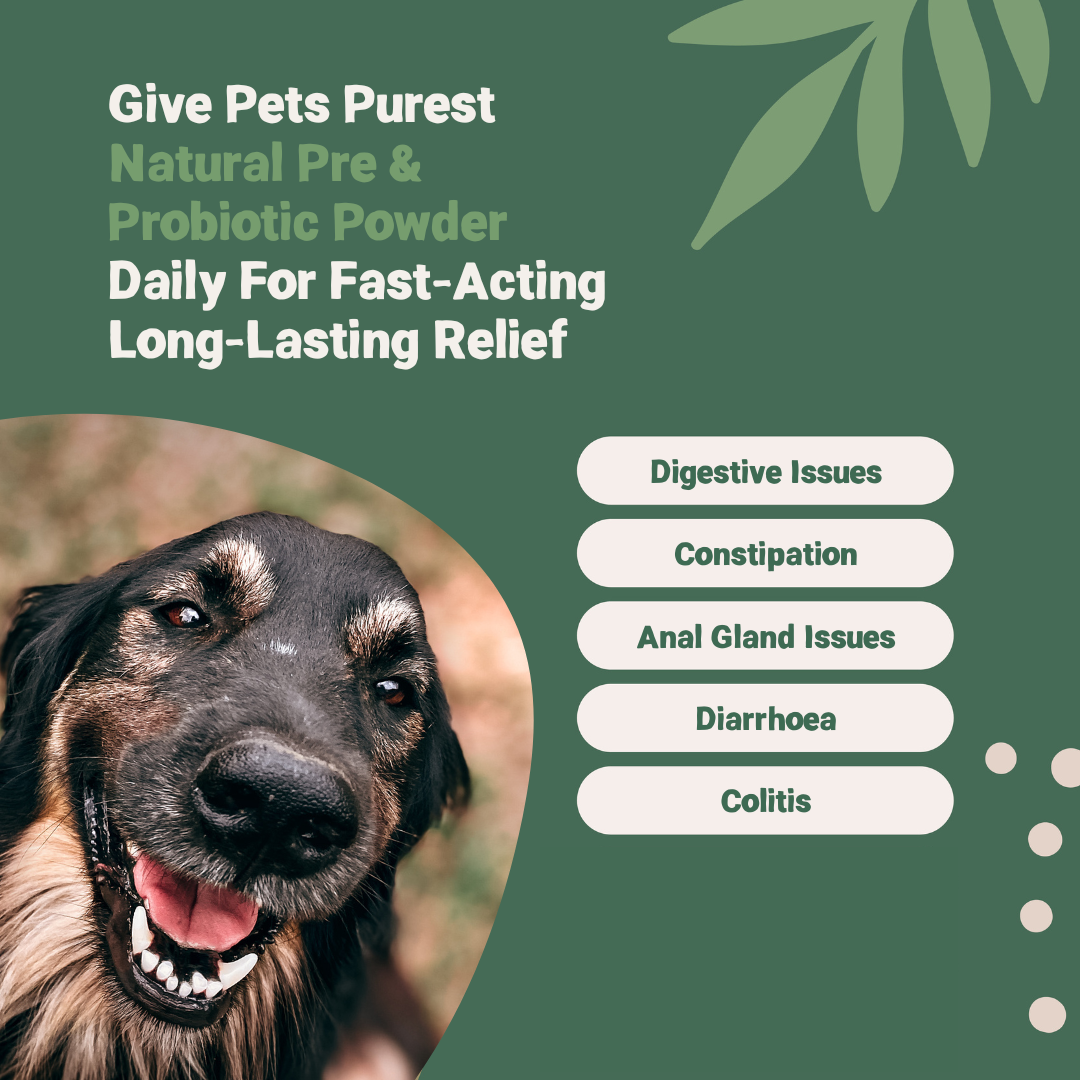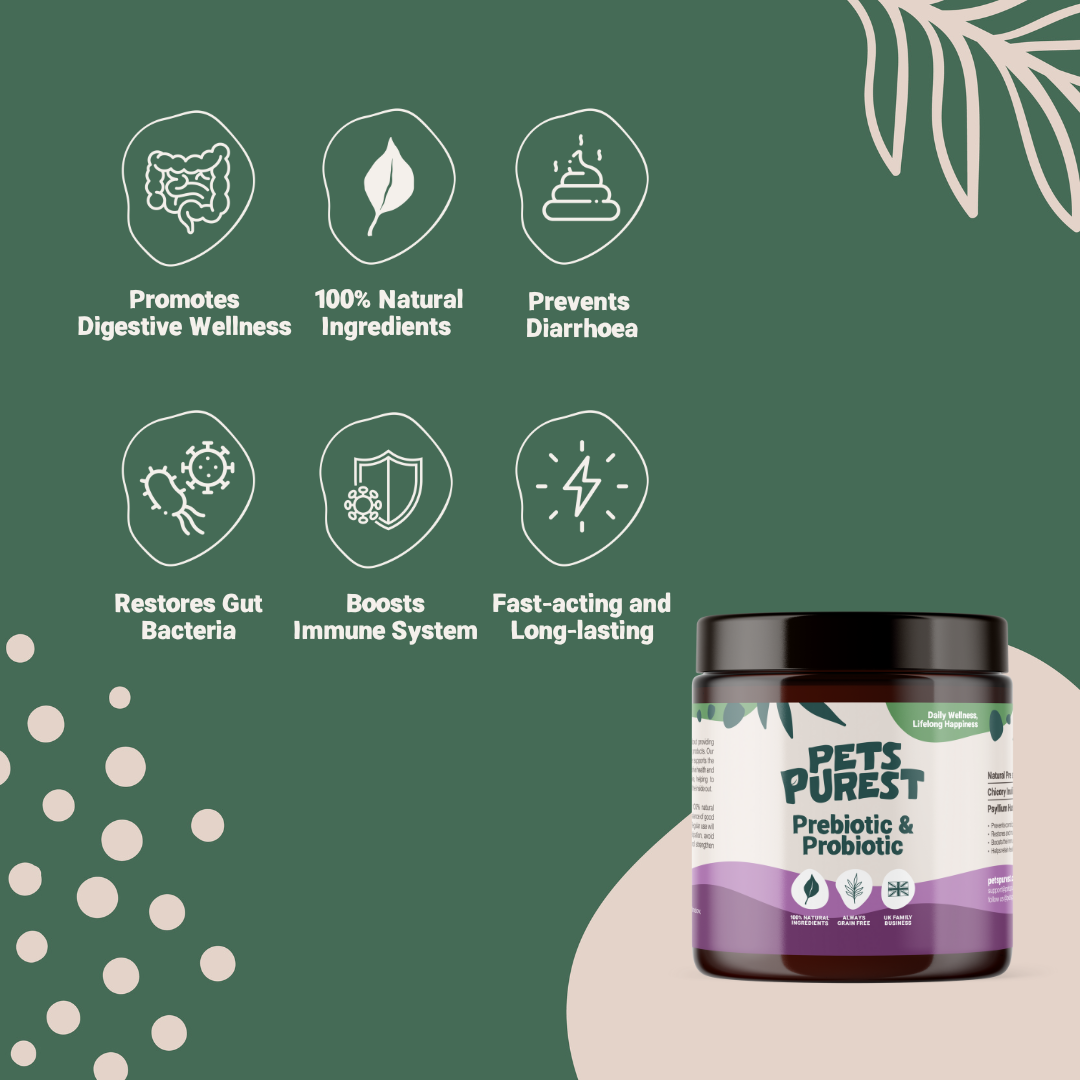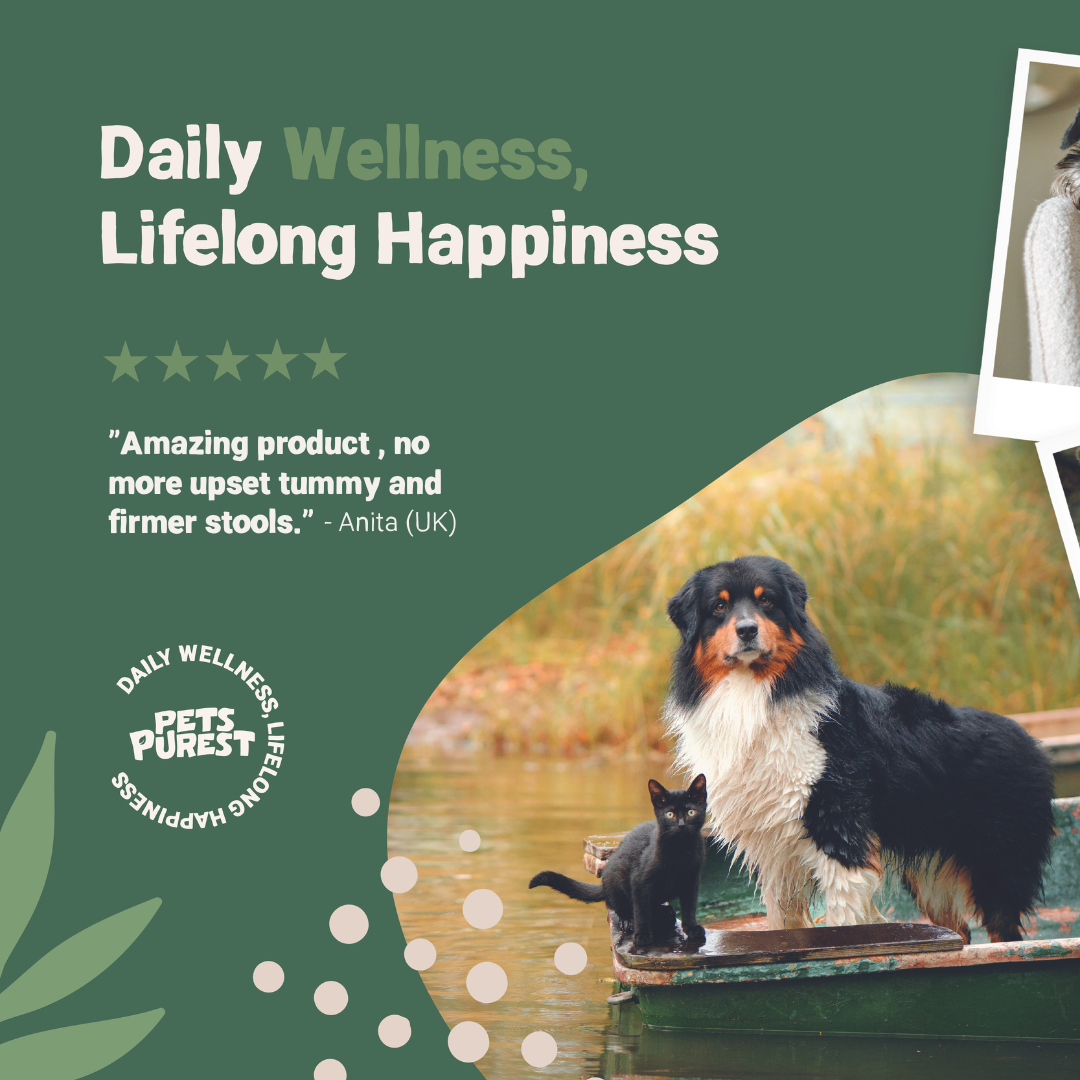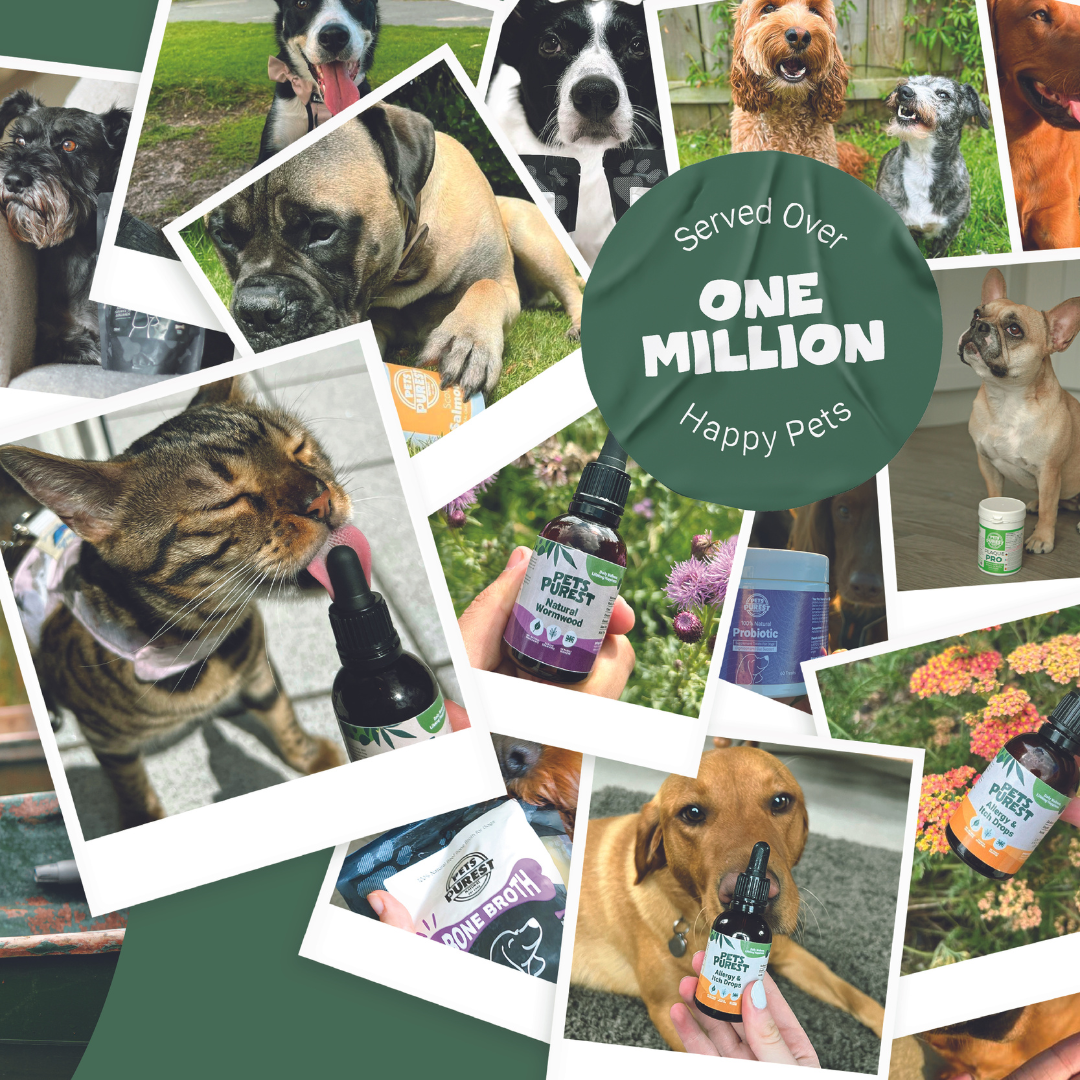 pdp-benefits

Prevents Constipation, Diarrhoea and Gland Issues

pdp-benefits

Retain Healthy Stool Consistency
Collapsible content
Prebiotic and Probiotic Concentrate

Our prebiotic and probiotic formula helps to maintain the natural balance in your pet's digestive system, supporting good bacteria and reducing bad bacteria. We use micro-pearled thermally protected yeast to create the best environment for the good bacteria to thrive and help maintain optimal gut health.
Chicory Inulin

Chicory Inulin is an organic source of prebiotics. It's a cut above other prebiotics you might find on the market due to its complexity. It isn't digested as early as other prebiotics, surviving long enough to feed the good gut bacteria and promote better digestion.
Psyllium Husk Powder

Psyllium is also a prebiotic and a natural source of fibre. It's high in antioxidants and is often used to help relieve constipation and diarrhoea. It's also very beneficial to your pet's gut, as it helps flush waste products out of the body.
100% Natural, No Compromises

We provide a range of 100% natural treats, supplements and hygiene products to help keep pets feeling healthy from the inside out!

Absolutely Amazing!!!

My dog has suffered with his anal glands for around 8 months now. We have tried a lot with no joy, until I came across Pets Purest! - Lauren (June 2023)

Over One Million Happy Pets

We're passionate about pet wellbeing and our promise is to support pet owners (and their pets) on a journey of daily wellness and lifelong happiness!
Frequently Asked Questions
Does this contain fructo-oligosaccharide?

We use a combination of Chicory Inulin prebiotic, and Sc1 Live Yeast Probiotic in our Digestion Pro.

Can this be used for horses?

Yes, this product can be used for horses.

What are the names of the pet-friendly bacteria contained in this product?

It's a Blend of Chicory Inulin prebiotic, and Sc1 Live Yeast Probiotic. Its primary function is to deliver or help assure complete and efficient digestion, maximising nutrient uptake for the benefit of the animal.
What makes our products unique?

We show clearly what ingredients we include across our entire range, making it simple for pet owners to understand exactly what the product is and does.