Support your pet's digestive health with our 100% Natural Wormwood. Never watered down, our unique formula supports optimal gut health and helps to maintain good intestinal hygiene. Not suitable for pets with epilepsy.
Why choose this product?

Never watered down, our Natural Wormwood formula supports optimal gut health and helps to maintain good intestinal hygiene. Our 100% natural formula delivers fast-acting and long-lasting effects, helping to keep your pet healthy from the inside out.
How do I use it?

Simply add to food, water or directly into your pet's mouth. With no hard pills or tablets to swallow, it couldn't be easier to use.

Amount: 1 drop per 1kg of body weight. Maximum 25 drops. Use for 2-3 consecutive days per month as a preventative. If infested give daily for one week, then repeat every 14 days until clear. Do Not exceed the suggested amount.

Suitable for any breed of dog, cat, horse or ferret over 8 weeks old. It is not suitable for pregnant or lactating animals. It is not suitable for pets with epilepsy. For birds/poultry/reptiles add 25 drops per 100ml water.

Our products are gentle on tummies, specially formulated for everyday use. For best results, use daily as part of your pet's daily wellness routine.
What's in it?

Wormwood
Garlic*
Black Walnut
Clove
Cinnamon
Quassia
Aloe Vera
Wild Thyme

That's it!

* You may have heard that garlic is toxic to some pets, however this is only the case in large quantities. Small amounts of garlic extract are completely safe and have many health benefits for our four-legged friends.
Shipping and Delivery

FREE Standard Tracked Delivery (3-5 working days) on all UK orders over £25.00.

For orders under £25.00 there is a flat charge of £3.99 for Standard Tracked Delivery (3-5 working days).

UK Next Day Tracked Delivery (1-2 working days) has a fee of £4.99.
View full details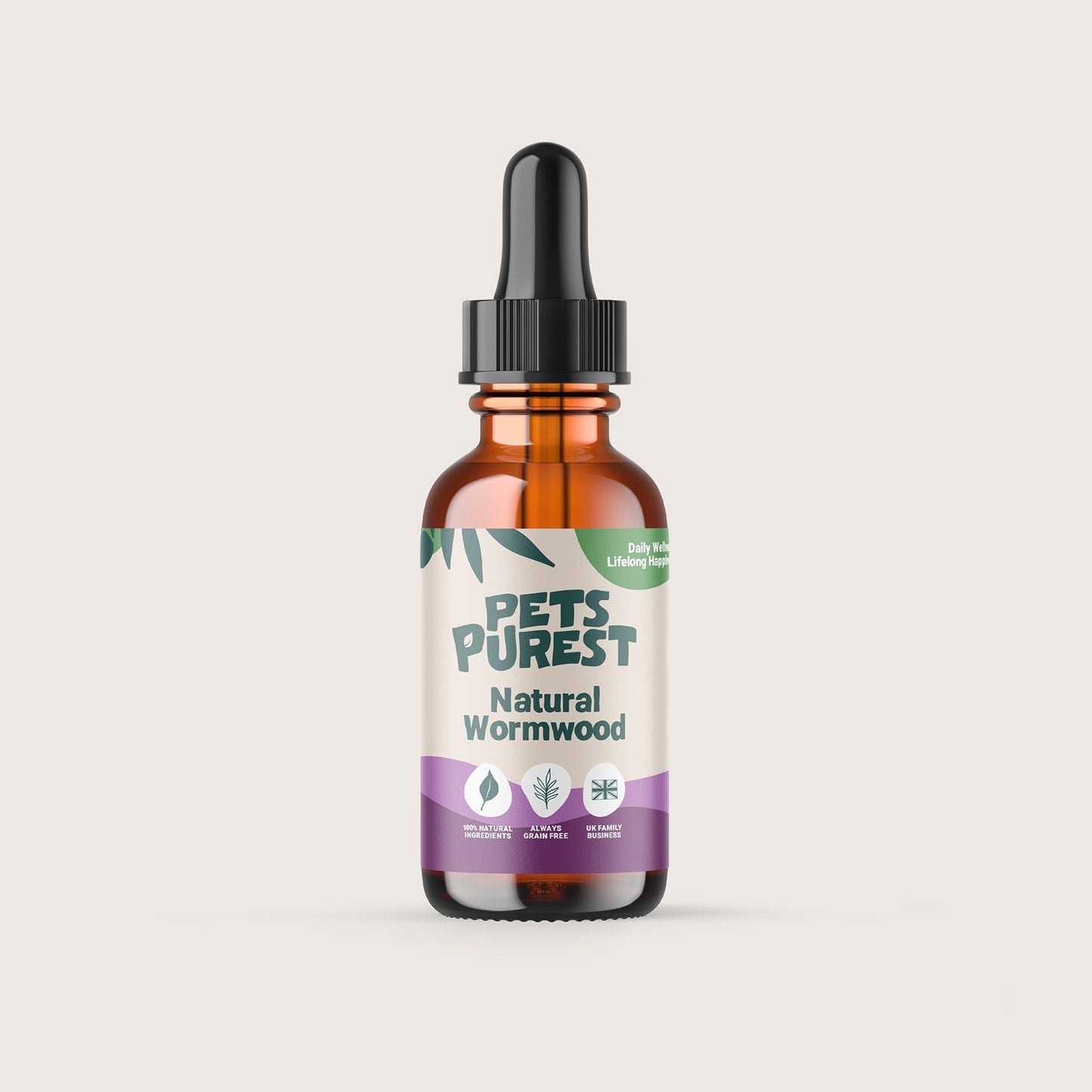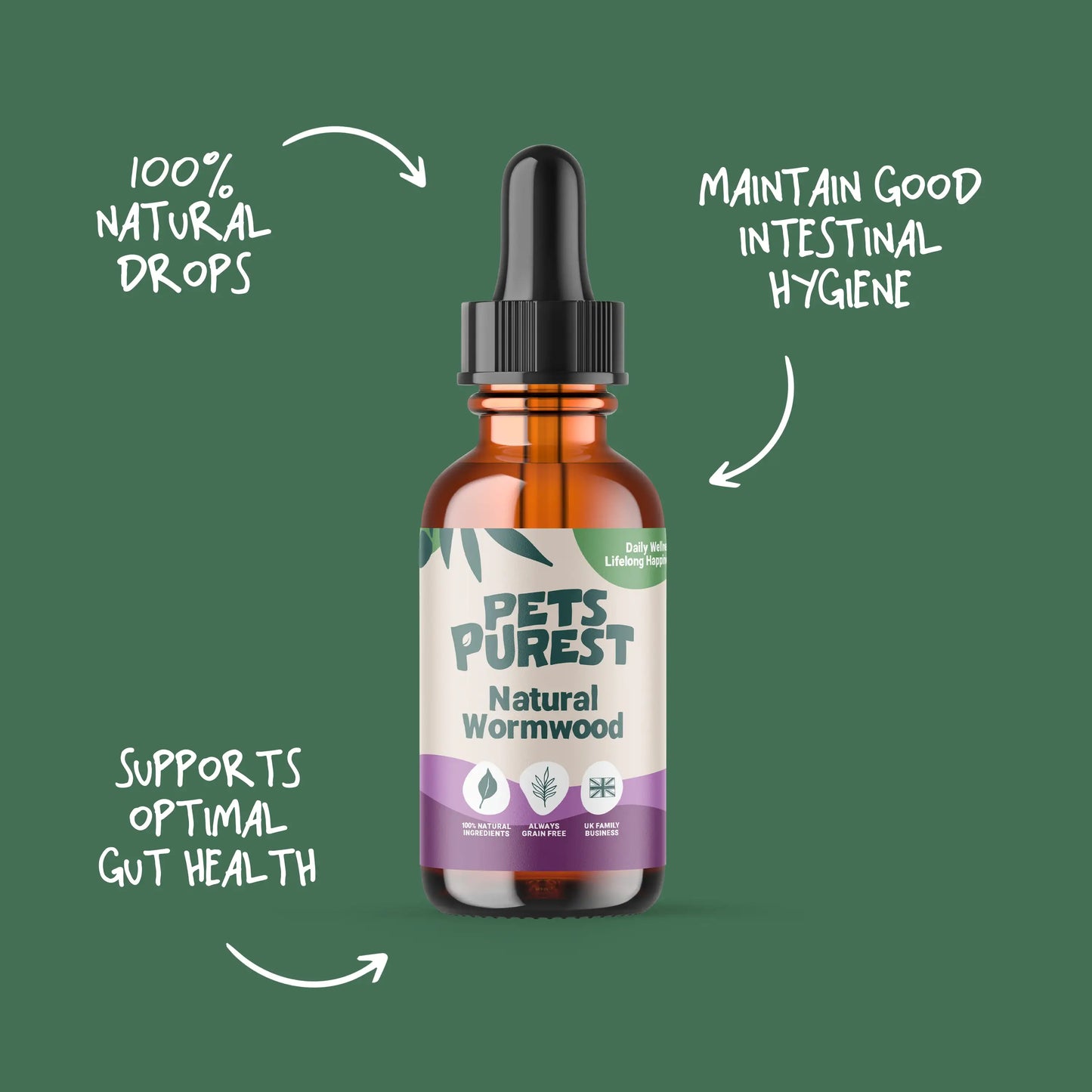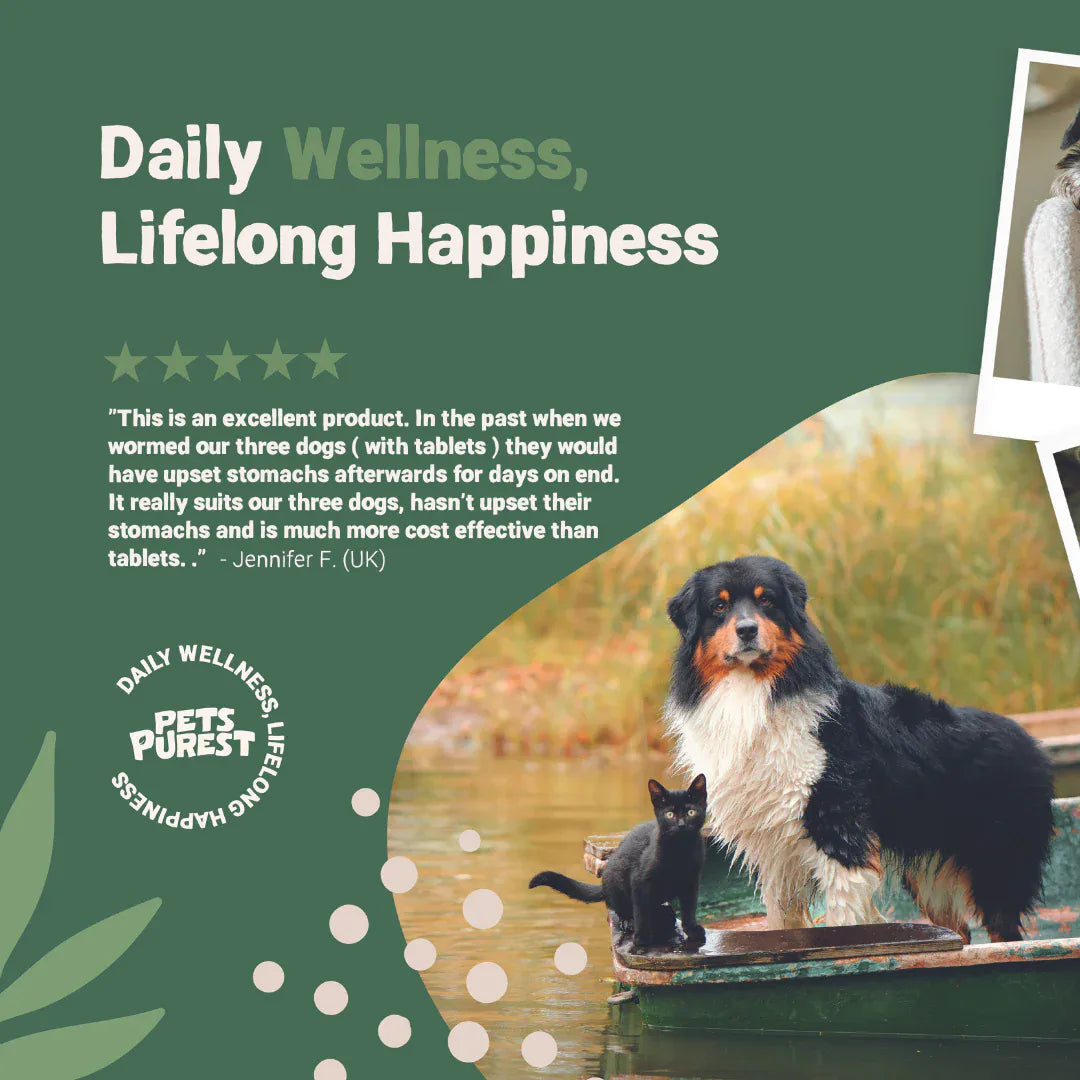 pdp-benefits

Natural Fast-acting Formula

pdp-benefits

Natural Flea & Tick Repellant

pdp-benefits

Supports Optimal Gut Health

pdp-benefits

Maintains Good Intestinal Hygiene
Collapsible content
Wormwood

Wormwood is a powerful natural anthelmintic, containing anti-parasitic properties. It is also known to have anti-inflammatory effects and is great for overall gut health.
Garlic

This misunderstood superfood has amazing benefits for your pet. It is known for its immune boosting qualities and for the role it plays in good heart and gut health. Though it can be toxic when ingested in high amounts, our product has been specially formulated to ensure it is not only safe but also highly effective.
Black Walnut

Black Walnut is another powerful natural anthelmintic, widely used within herbal remedies for many years.
Clove

Cloves are packed full of amazing vitamins and minerals beneficial to your pet's health. They are also known to act as a natural insect repellent.
Cinnamon

Cinnamon doesn't just taste great, it also has anti-inflammatory and antimicrobial properties, helping to promote digestive health.
Quassia

Quassia is a natural anti-parasitic, helping to repel fleas and ticks. It is also known to help soothe gastrointestinal issues, relieve skin irritation and reduce hair loss.
Aloe Vera

Aloe Vera acts as a natural anthelmintic, aids digestion and is great for your pet's coat. Much like Quassia, it is also known to have natural flea and tick repellent properties.
Wild Thyme

This herb is also an anthelmintic, packed full of vitamins and minerals to help aid your pet's digestion.
100% Natural, No Compromises

We provide a range of 100% natural treats, supplements and hygiene products to help keep pets feeling healthy from the inside out!

Absolutely Amazing!!!

My dog has suffered with his anal glands for around 8 months now. We have tried a lot with no joy, until I came across Pets Purest! - Lauren (June 2023)

Over One Million Happy Pets

We're passionate about pet wellbeing and our promise is to support pet owners (and their pets) on a journey of daily wellness and lifelong happiness!
Frequently Asked Questions
What age do kittems have to be?

We recommend using after your kitten is around 6-8 weeks old before using this product.

Ensure to read the label carefully and use the correct dosage for the weight.
How many drops per bottle?

There's approximately 1000 drops per bottle
What are the ingredients?

The 100% natural ingredients are: Wormwood, Garlic, Black Walnut, Clove, Cinnamon, Wild Thyme, Quassia & Aloe Vera
What makes our products unique?

We show clearly what ingredients we include across our entire range, making it simple for pet owners to understand exactly what the product is and does.