Provides fast-acting and long-lasting effective relief from itching, irritation and watery eyes. 
Why choose this product?

Our non-drowsy Natural Allergy & Itch Drops provide fast-acting and long-lasting effective relief from itching, irritation and watery eyes. Our 100% natural formula contains an antihistamine to rapidly relieve allergic reactions and help to reduce inflammation.

Use alongside our Allergy and Itch Supplement Treats for even better results.
How do I use it?

Simply add to food, water or directly into your pet's mouth. With no hard pills or tablets to swallow, it couldn't be easier to use.

Daily Amount: 1 drops per 1kg of body weight. Max 25 drops

Suitable for any breed of dog, cat, horse or ferret over 8 weeks old. It is not suitable for pregnant or lactating animals.

This product is particularly suitable for dogs breeds that are predisposed to developing allergies, including Chinese Shar-Peis, Wirehaired Fox Terriers, Golden Retrievers, Dalmatians, Boxers, Boston Terriers, Labrador Retrievers, Lhasa Apsos, Scottish Terriers, Shih Tzus, and West Highland White Terriers.
What's in it?

Skullcap (Scutellaria Baicalensis)
Gingko
Nettle

That's it!
Shipping and Delivery

FREE Standard Tracked Delivery (3-5 working days) on all UK orders over £25.00.

For orders under £25.00 there is a flat charge of £3.99 for Standard Tracked Delivery (3-5 working days).

UK Next Day Tracked Delivery (1-2 working days) has a fee of £4.99.
View full details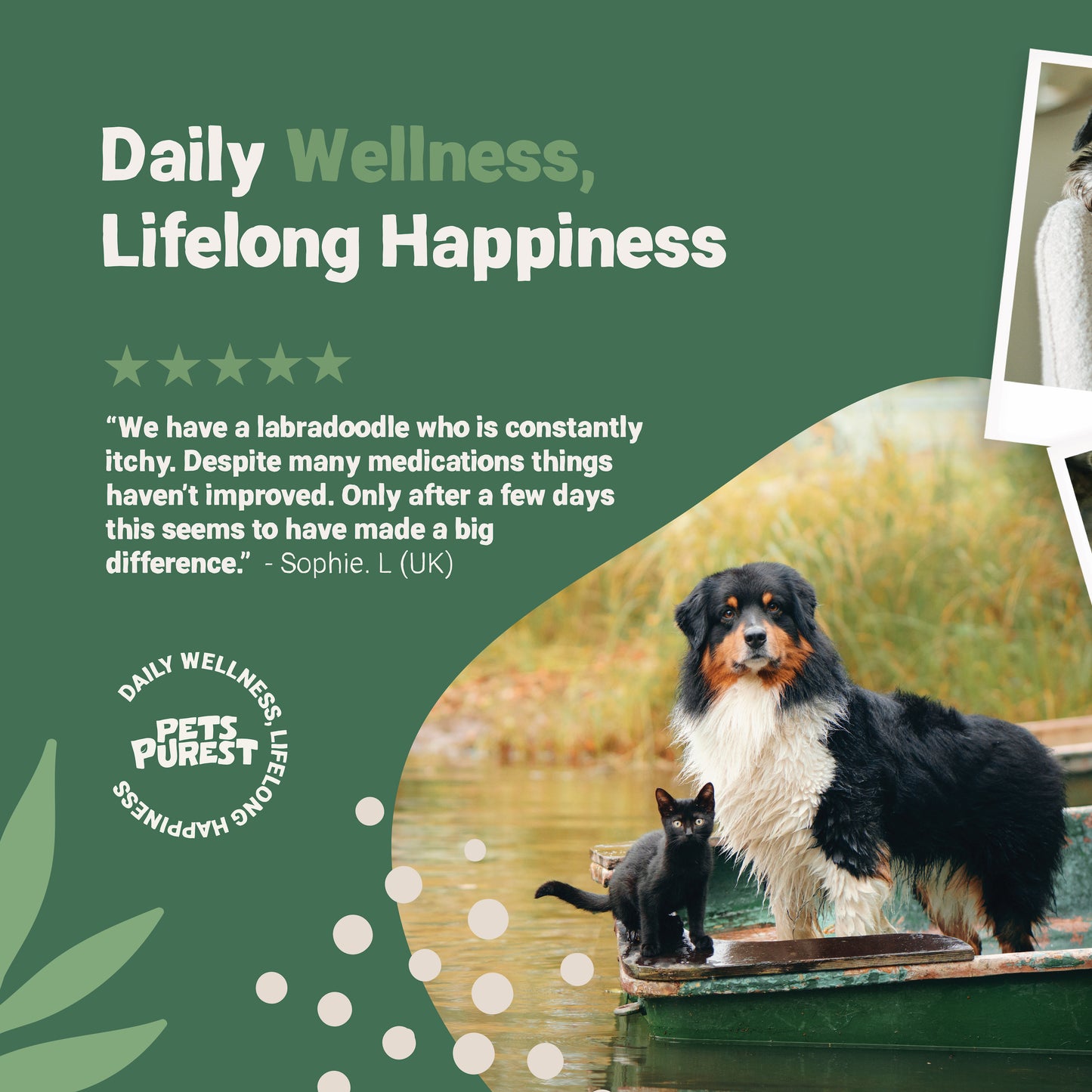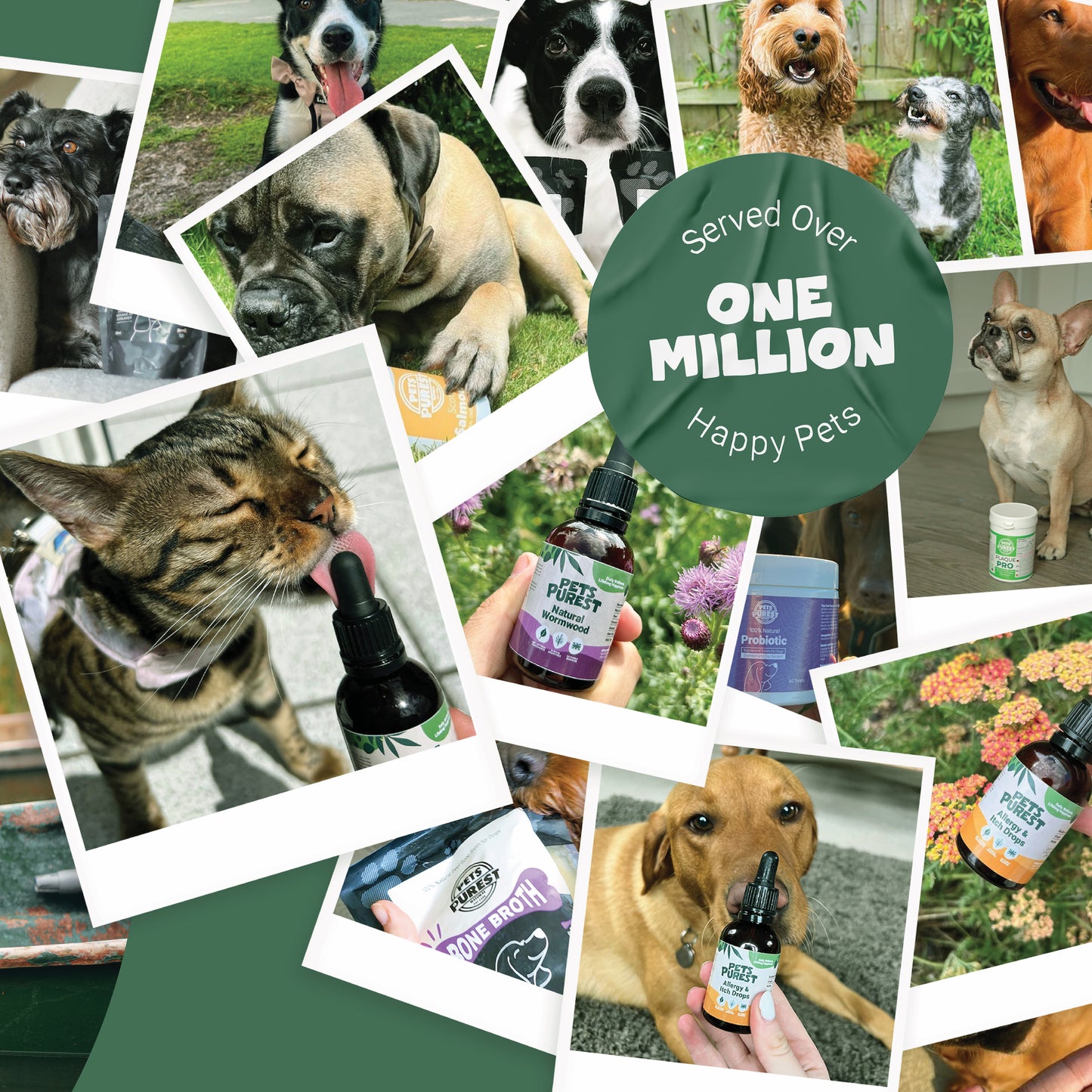 pdp-benefits

Reduces Itching & Irritation

pdp-benefits

100% Natural Non-Drowsy Formula

pdp-benefits

Fast Acting & Long Lasting
Collapsible content
Skullcap (Scutellaria Baicalensis)

Skullcap is known to be a potent anti-inflammatory and natural antihistamine, making it perfect for soothing hot and itchy skin after an allergic reaction. It is a powerhouse herb in traditional Chinese medicine, with many other reported uses; including boosting the immune system, reducing the risk of heart disease, as well as helping to reduce anxiety and insomnia.
Ginkgo

Gingko is an amazing herb that curbs one of the leading triggers of allergies, inflammation, and asthma – PAF, or platelet activating factor. Another favourite of traditional Chinese medicine, it also has a multitude of other uses; including improving circulation and brain function, helping to reduce the effects of Alzheimer's, boosting eye health, improving cardiac function, and even treating some lung conditions.
Nettle

Stinging nettle leaf's best known property is its effectiveness as a natural antihistamine, helping to soothe irritation, reduce inflammation and relieve the symptoms of hay fever. This common weed holds many other benefits for your pets, including boosting their immune system. Nettle has also been used to relieve arthritis, flush waste products out of the system and help to improve the condition of your pet's skin and coat.
100% Natural, No Compromises

We provide a range of 100% natural treats, supplements and hygiene products to help keep pets feeling healthy from the inside out!

Absolutely Amazing!!!

My dog has suffered with his anal glands for around 8 months now. We have tried a lot with no joy, until I came across Pets Purest! - Lauren (June 2023)

Over One Million Happy Pets

We're passionate about pet wellbeing and our promise is to support pet owners (and their pets) on a journey of daily wellness and lifelong happiness!
Frequently Asked Questions
Why we love what we do?

We pride ourselves on being real people making real products for real pet owners and their pets. Knowing our products enhance the health and happiness of pets is what motivates us to keep doing what we do.
How long does a bottle last for one cat?

Depending on your pets size we recommend different dosages and this will effect the length of time the bottle lasts. An Extra Small pet (0-5kg)1-5 drops, bottle will last approx 6 Months, a small pet (5-10kg) 5-7 drops, the bottle should last 4 Months. A medium pet 10-20kg) 7-10 drops a bottle should last 3 Months, a large pet (20kg+) 15 drops a bottle would last 2 Months.
What are the ingredients?

The Allergy Aid ingredients include: Huang Quin, Gingko and Nettle.
What makes our products unique?

We show clearly what ingredients we include across our entire range, making it simple for pet owners to understand exactly what the product is and does.