Repel fleas, ticks and mites with our 100% Natural Flea Spray. Keep your pet (and your home!) flea and tick free with our fast-acting formula. New branding coming soon!
Why choose this product?

Repel fleas, ticks and mites with our 100% Natural Flea Spray. Keep your pet (and your home!) flea and tick free with our fast-acting formula. Free from any artificial chemicals the spray is suitable for regular year-round use, not just during those warmer months when fleas, ticks and lice are more prevalent.
How do I use it?

Simply spray directly around the neck, hindquarters, legs and the base of the tail, ensuring full coverage. During an infestation, the daily amount can be increased if necessary. It may take several weeks to fully eradicate an infestation, so use continually throughout the full life cycle of 3 to 4 weeks. For best results, apply to your pet and your home, particularly soft furnishings, carpets and bedding.

Suggested Amount: 2 to 4 sprays daily

Suitable for any size and breed of dog, cat, horse, rabbit, bird, and ferrets over 8 weeks old. Not suitable for pregnant of lactating animals.

Long haired dog breeds are more prone to picking up fleas, ticks, and lice. Examples of these breeds include Shetland Sheepdogs, Golden Retrievers and Bernese Mountain Dogs.

Our products are gentle on skin, specially formulated for everyday use. For best results, use regularly as part of your pet's wellness routine.
What's in it?

Quassia
Neem
Cider Vinegar
Ceder Oil
Lavender Oil
Citronella Oil
Geranium Oil
Cider Vinegar Oil

That's it!
Shipping and Delivery

FREE Standard Tracked Delivery (3-5 working days) on all UK orders over £25.00.

For orders under £25.00 there is a flat charge of £3.99 for Standard Tracked Delivery (3-5 working days).

UK Next Day Tracked Delivery (1-2 working days) has a fee of £4.99.
View full details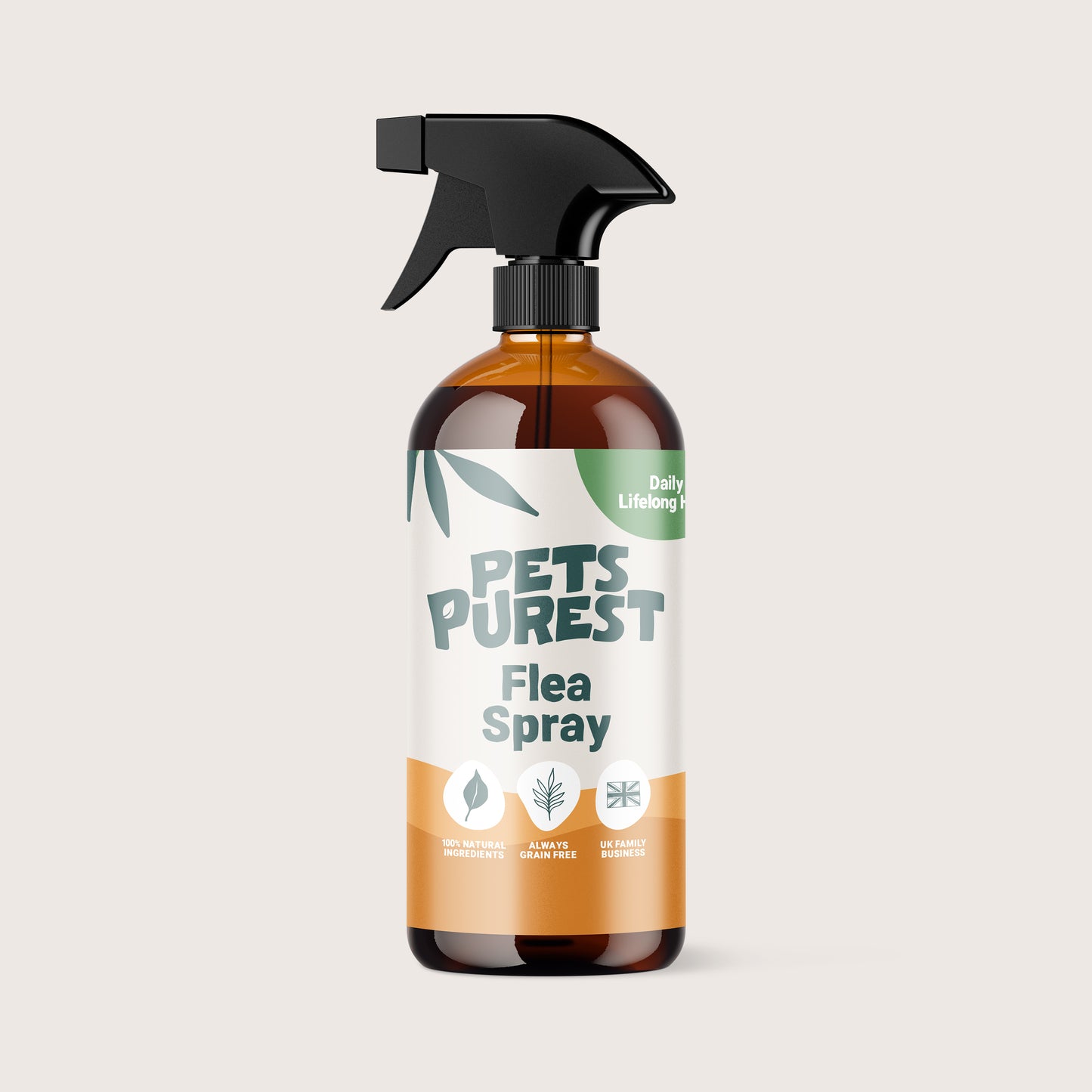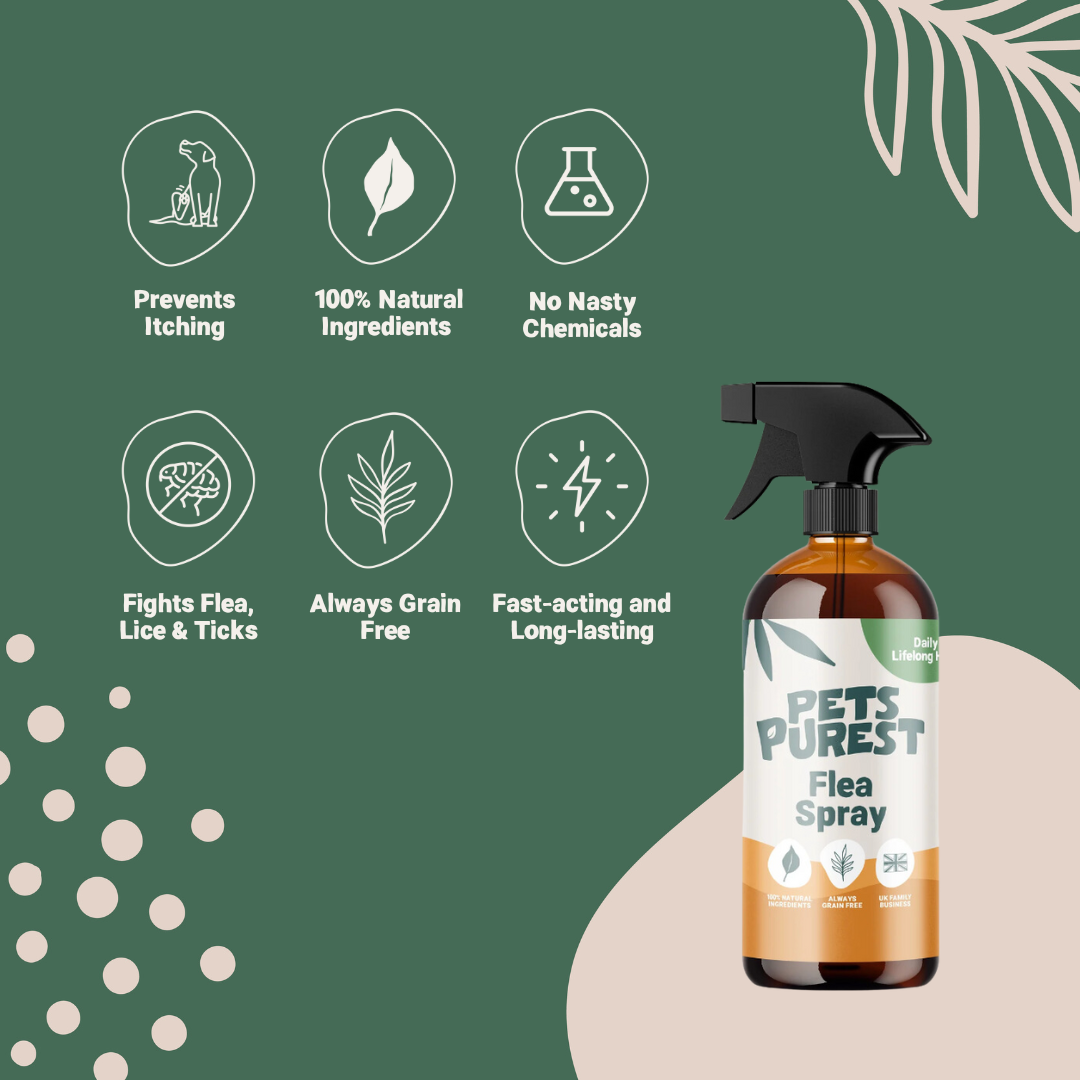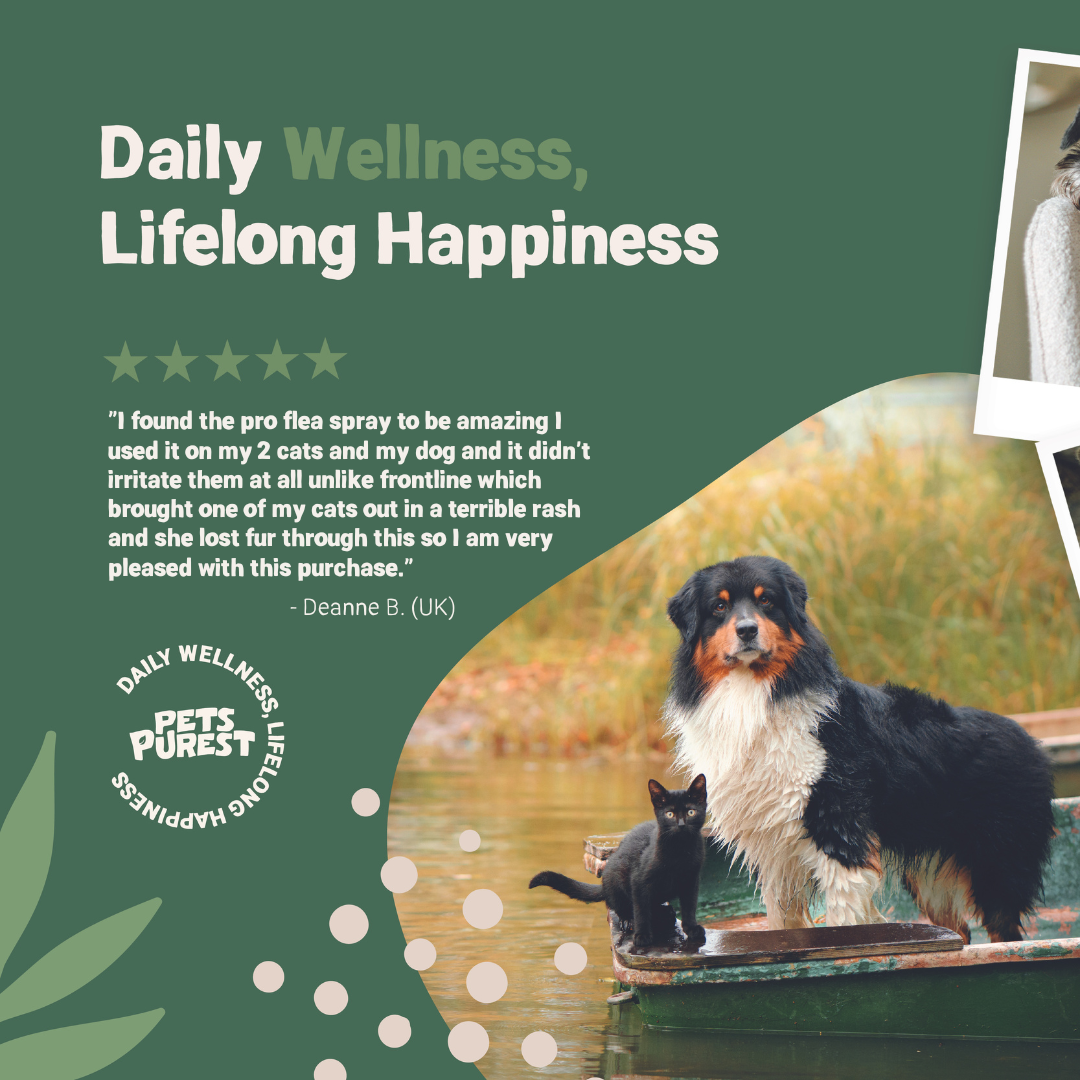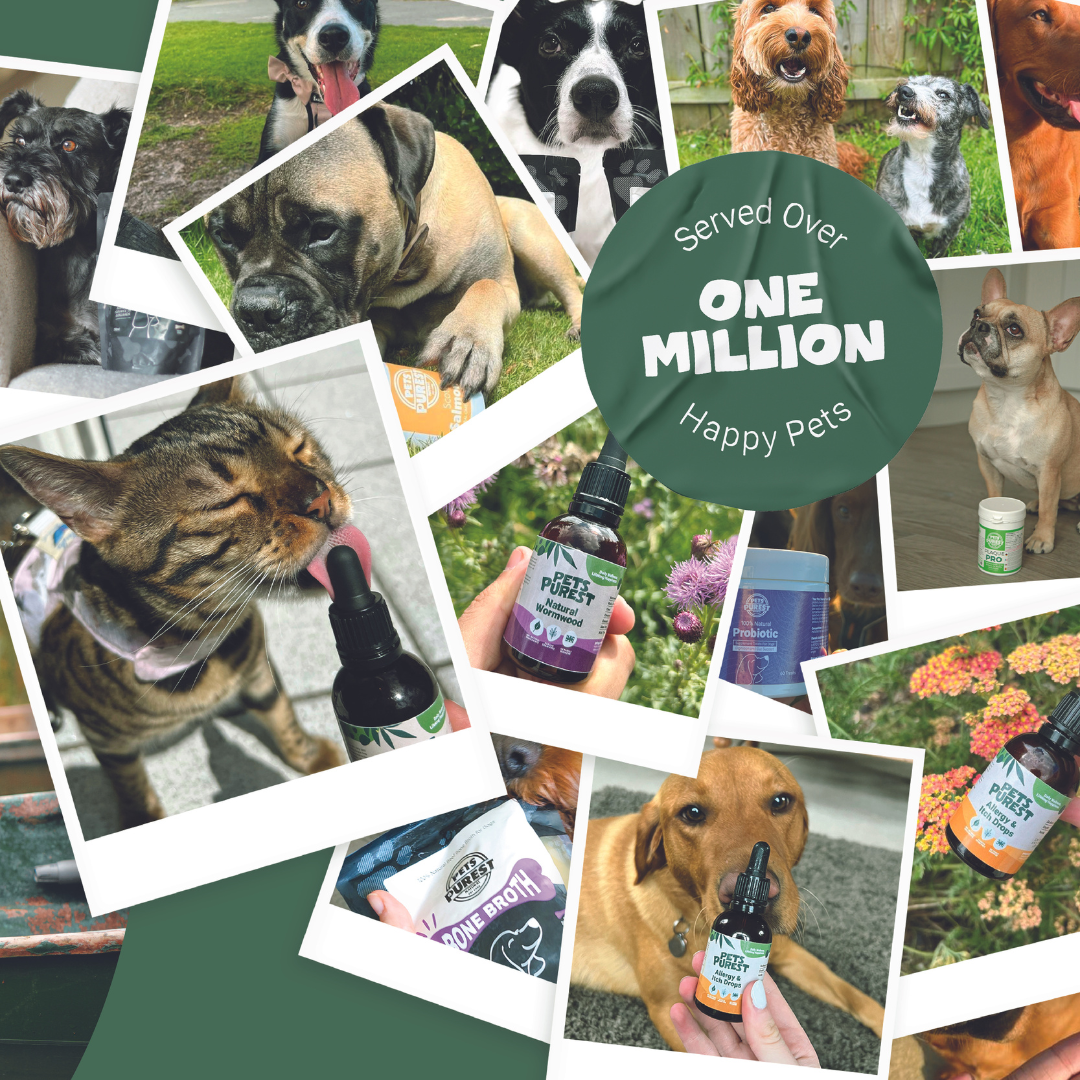 pdp-benefits

Prevent Flea, Tick and Lice Infestations
Collapsible content
Quassia

Contains bitter compounds which naturally repel fleas and other insects.
Neem

Contains compounds which disrupt the flea life cycle, stopping them from reproducing. Alongside natural insecticidal properties, Neem also helps soothe irritated skin and alleviate itching caused by flea bites.
Cider Vinegar

Its acidic nature acts as a natural flea repellent and balances the pH of skin which helps to deter fleas. It can also be used as an effective cleaning agent to eliminate fleas and flea eggs from the home.
Essential Oils

Ceder, Citronella and Geranium oils all work together as natural insecticides. Lavender can also help relieve itchy and irritated skin from insect bites.
100% Natural, No Compromises

We provide a range of 100% natural treats, supplements and hygiene products to help keep pets feeling healthy from the inside out!

Absolutely Amazing!!!

My dog has suffered with his anal glands for around 8 months now. We have tried a lot with no joy, until I came across Pets Purest! - Lauren (June 2023)

Over One Million Happy Pets

We're passionate about pet wellbeing and our promise is to support pet owners (and their pets) on a journey of daily wellness and lifelong happiness!
Frequently Asked Questions
Is it safe to use in a bird cage?

Flea Pro can be used on birds.
Can this be used on carpets, bedding and such as well as my kitten?

Yes, it can be used on furniture, bedding and carpets. We always recommend a patch test first though.
Does this work for ticks on cats?

Yes, the product works for fleas, ticks, lice & mites. It is suitable for cats, dogs and all pets.
What makes our products unique?

We show clearly what ingredients we include across our entire range, making it simple for pet owners to understand exactly what the product is and does.