Support your pet's joins & mobility with our easy-to-use 100% Natural Joint Support Drops. Fast-acting and long-lasting, this product is ideal for pets of all ages, especially older and/or senior pets.
Regular price
Sale price
£15.99
Unit price
per
Sale
Sold out
Why choose this product?

Our easy-to-use Natural Joint Support Drops aid your pet's mobility and flexibility, whilst helping to prevent the symptoms of arthritis and other joint issues before they've even started. Using 100% natural ingredients, our formula is fast-acting and long-lasting, helping to support your pet's hip and joint mobility at all stages of life.

Use alongside our Joint and Mobility Supplemental Treats and Turmeric Curcumin Capsules for even better results.

How do I use it?

Simply add to food, water or directly into your pet's mouth. With no hard pills or tablets to swallow, it couldn't be easier to use.

Daily Amount: 1 drops per 1kg of body weight.

Suitable for any breed of dog, cat, rabbit, horse or ferret over 8 weeks old. It is not suitable for pregnant or lactating animals.

This product is particularly suitable for senior dogs or dogs experiencing issues with their joints and mobility.

Dogs that are more prone to hip and joint issues, such as hip dysplasia, may include breeds such as Labrador Retrievers, German Shepherds, Rottweilers, Newfoundlands, St. Bernards, Great Danes, and Dachshunds.

Our products are gentle on tummies, specially formulated for everyday use. For best results, use daily as part of your pet's daily wellness routine.
What's in it?

Turmeric
Scutellaria Biacalensis (Baikal skullcap)
Uncaria (Catsclaw)
Boswellia

That's it!
Shipping and Delivery

FREE Standard Tracked Delivery (3-5 working days) on all UK orders over £25.00.

For orders under £25.00 there is a flat charge of £3.99 for Standard Tracked Delivery (3-5 working days).

UK Next Day Tracked Delivery (1-2 working days) has a fee of £4.99.
View full details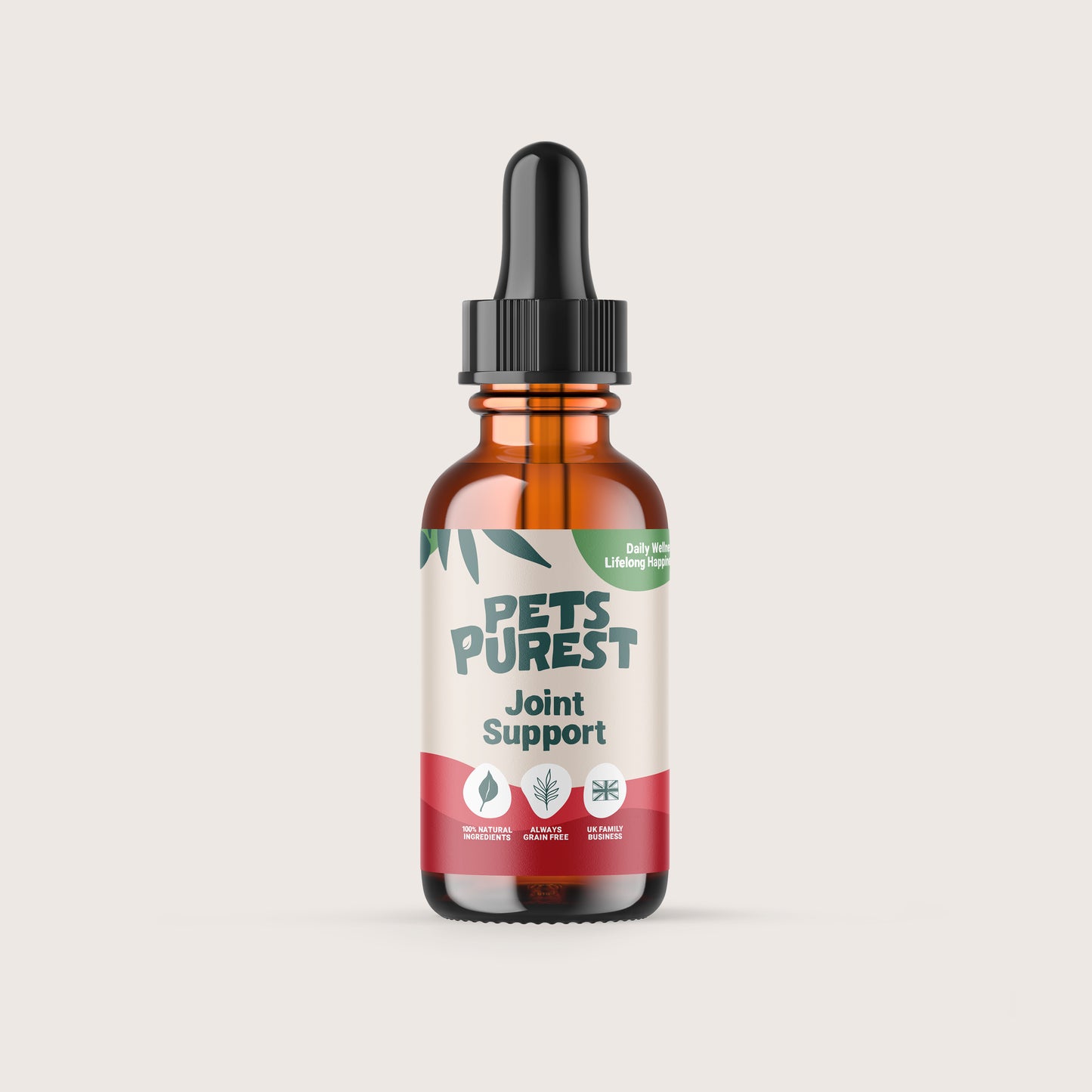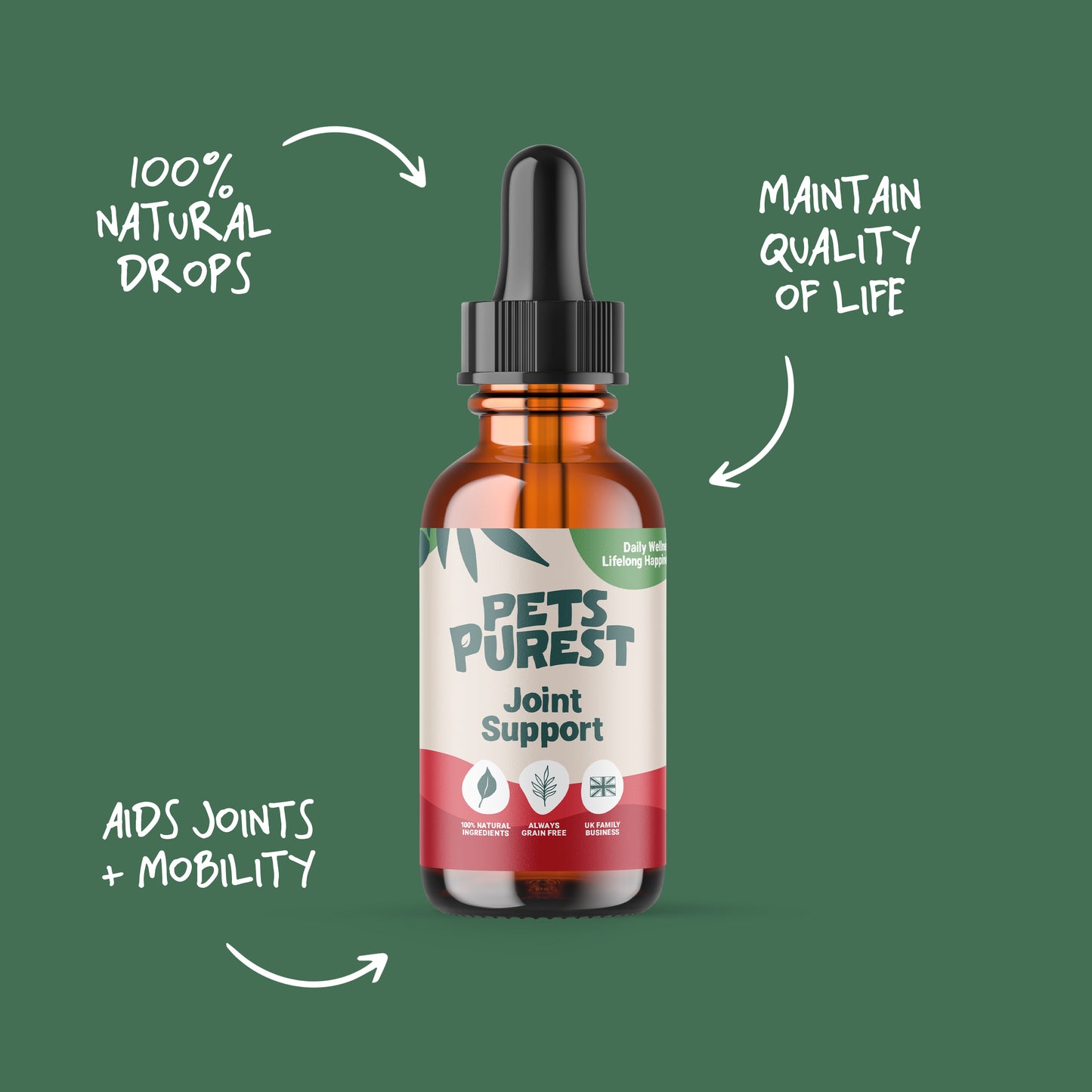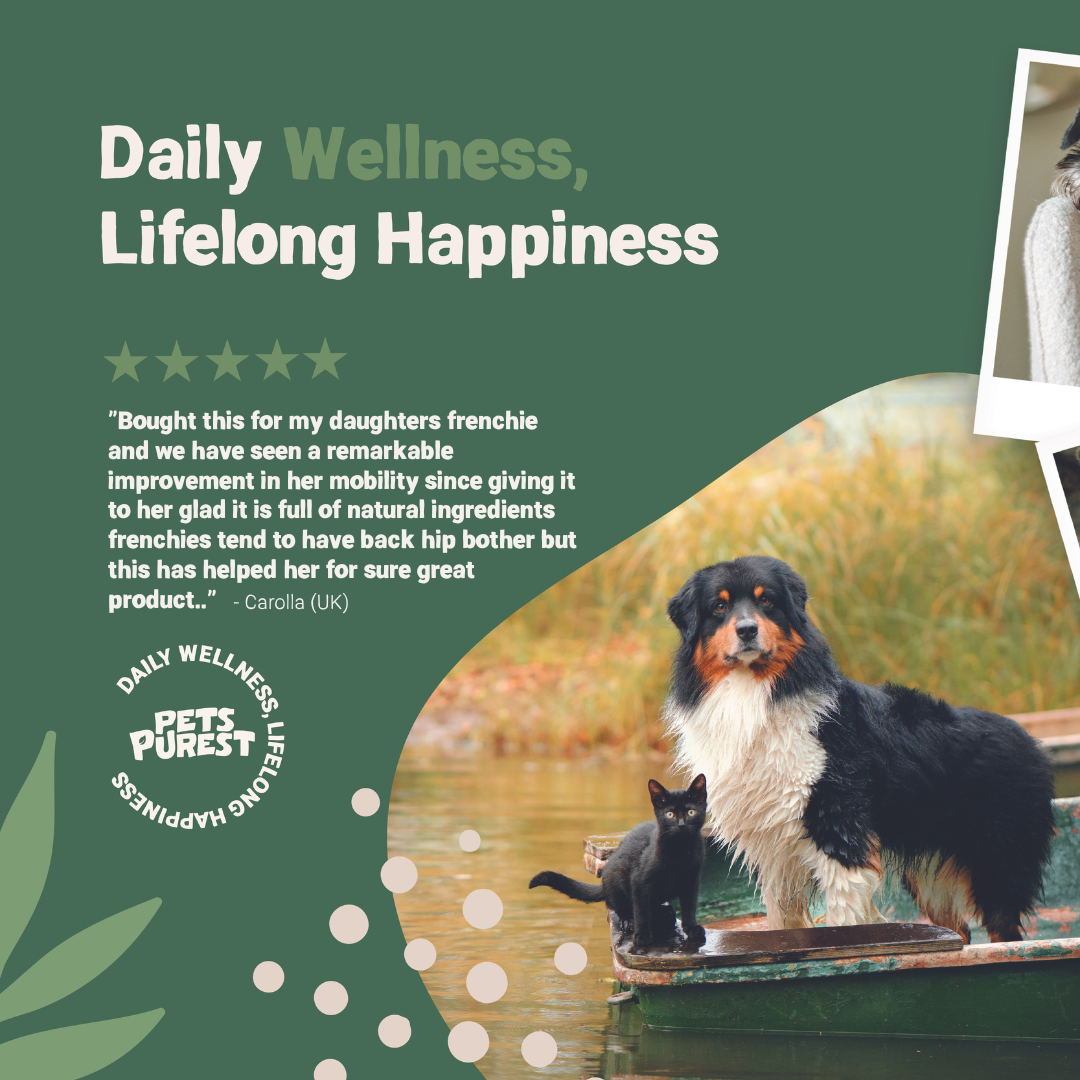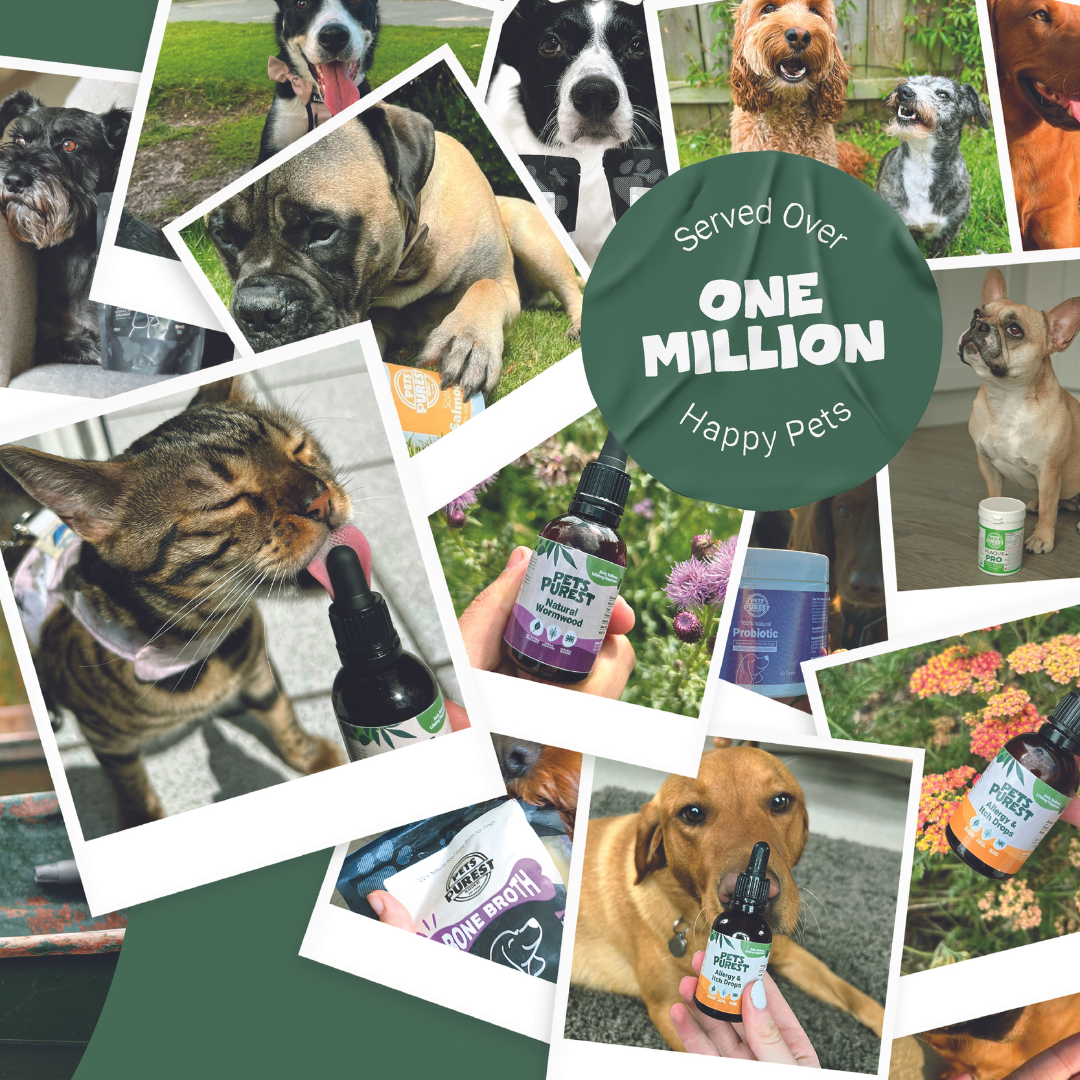 pdp-benefits

Maintains Quality Of Life
Collapsible content
Turmeric

Curcumin is the main active ingredient in turmeric and has powerful anti-inflammatory properties. It can help reduce inflammation in joints, which aids mobility and relieves stiffness. This makes turmeric a useful ingredient to help ease the symptoms and pains caused by arthritis.
Scutellaria Biacalensis (Baikal skullcap)

Scutellaria Biacalensis has been shown to reduce the deterioration of cartilage and bone tissue caused by arthritis, as well as helping to reduce pain and inflammation. All of these properties mean that this plant can help to significantly slow the progression of arthritis.
Uncaria (Catsclaw)

Otherwise known as Cat's Claw, this ingredient acts as an antioxidant. Antioxidants neutralise free radicals, which cause damage to cells – such as the ones in cartilage surrounding joints. Through doing this, Uncaria can help reduce joint damage and associated negative effects.
Boswellia

Boswellia is known to improve cartilage health, which in turn aids mobility. It can also help to alleviate joint pain and inflammation.
100% Natural, No Compromises

We provide a range of 100% natural treats, supplements and hygiene products to help keep pets feeling healthy from the inside out!

Absolutely Amazing!!!

My dog has suffered with his anal glands for around 8 months now. We have tried a lot with no joy, until I came across Pets Purest! - Lauren (June 2023)

Over One Million Happy Pets

We're passionate about pet wellbeing and our promise is to support pet owners (and their pets) on a journey of daily wellness and lifelong happiness!
Frequently Asked Questions
How much is supplied?

There is 50ml in the bottle which should last over 3 months for a medium sized pet.
Is this suitable for kittens (9-12 months)?

Yes, this can be used on kittens at age 9-12 months. It will support healthy joints and aid mobility.
Can this be used with Galliprant?

There is nothing in our product that would be harmful to your pet. However, we always recommend consulting with your vet.
What makes our products unique?

We show clearly what ingredients we include across our entire range, making it simple for pet owners to understand exactly what the product is and does.