Regular price
Sale price
£11.99
Unit price
per
Sale
Sold out
Why choose this product?

Our 100% Natural Thuja Cream helps target abnormal skin growths like warts and sarcoids, possessing natural anti-microbial, anti-fungal and anti-inflammatory properties. Free from any nasty artificial chemicals, you can soothe skin irritation on even the most sensitive of pets. Our formula may be gentle, but we never compromise on effectiveness. You can expect to see results after just one month of use.
How do I use it?

Simply apply directly to affected areas up to twice daily. It's that easy!

Suitable for any age, size and breed of dog, cat and horse.

Some dog breeds are more prone to warts, such as Shar-Peis, Cocker Spaniels, Miniature Schnauzers, Kerry Blue Terriers, and Pugs.

Use alongside our Salmon Oil for long-term skin and coat benefits.

Our products are gentle on skin, specially formulated for everyday use. For best results, use regularly as part of your pet's wellness routine.
What's in it?

Thuja Occidentalis Fol
Calendula Officinalis (Pot marigold)
Prunus Amygdalus (Almond)
Ricinus Communis
Glyceryl Stearate SE
Hypericum Perforatum
Hamamelis Viginiana (witch-hazel)
Glycerine
Cetearyl Alcohol
Tocopherol
Sodium Carbomer
Phenoxyetnanol
Benzyl Alcohol
Potassium Sorbate

Unlike a lot of our other products, this one has a lot of ingredients, but don't worry, they're all natural!
Shipping and Delivery

FREE Standard Tracked Delivery (3-5 working days) on all UK orders over £25.00.

For orders under £25.00 there is a flat charge of £3.99 for Standard Tracked Delivery (3-5 working days).

UK Next Day Tracked Delivery (1-2 working days) has a fee of £4.99.
View full details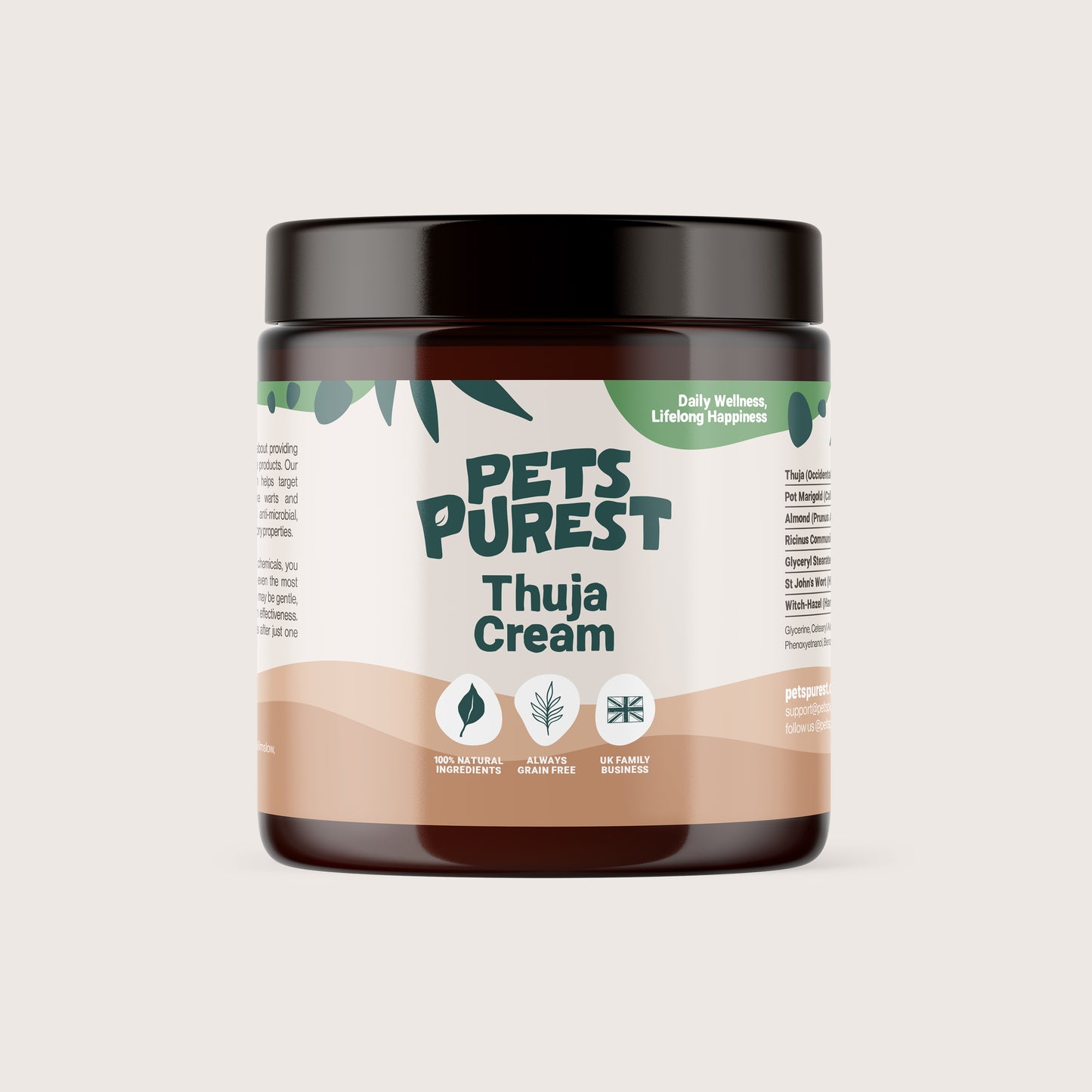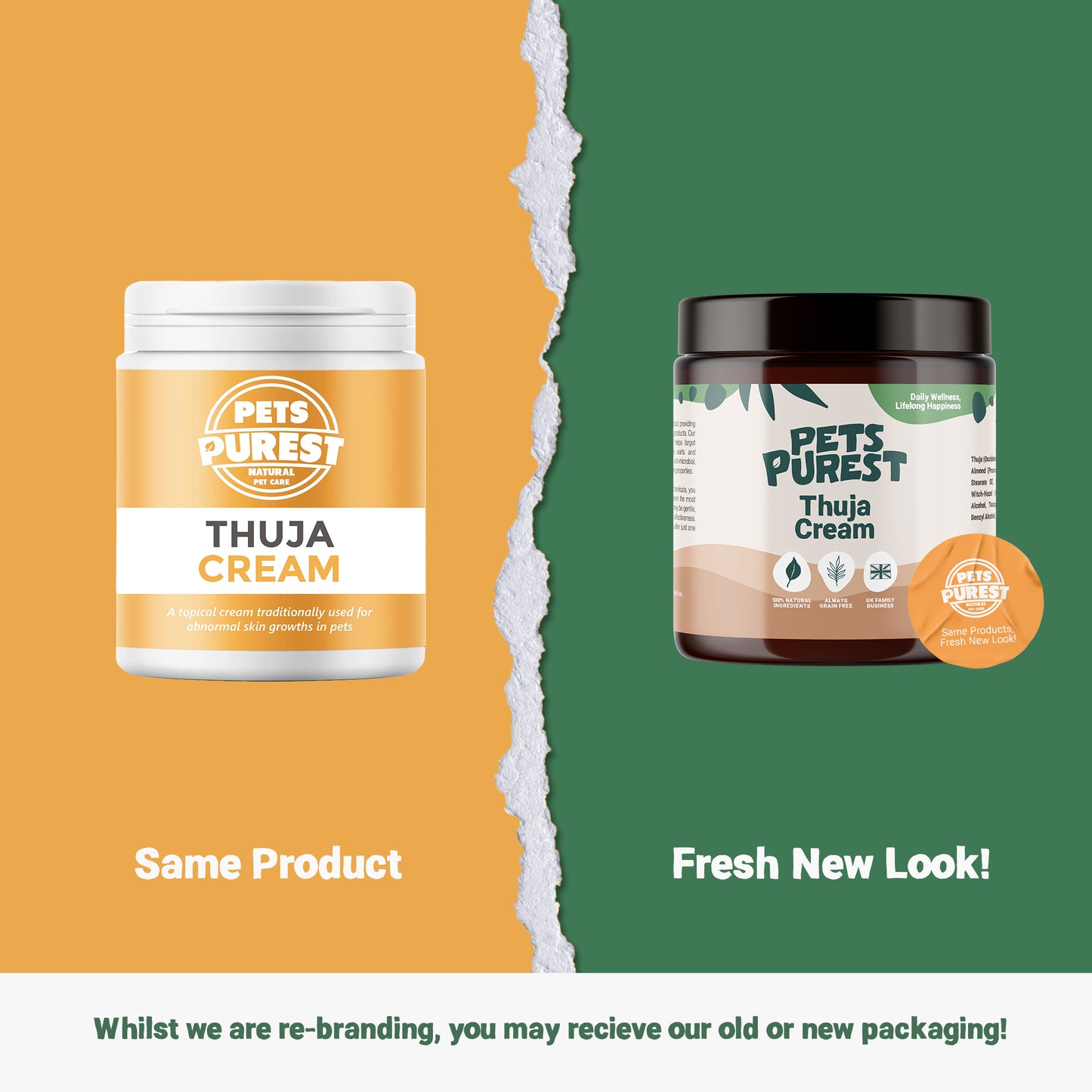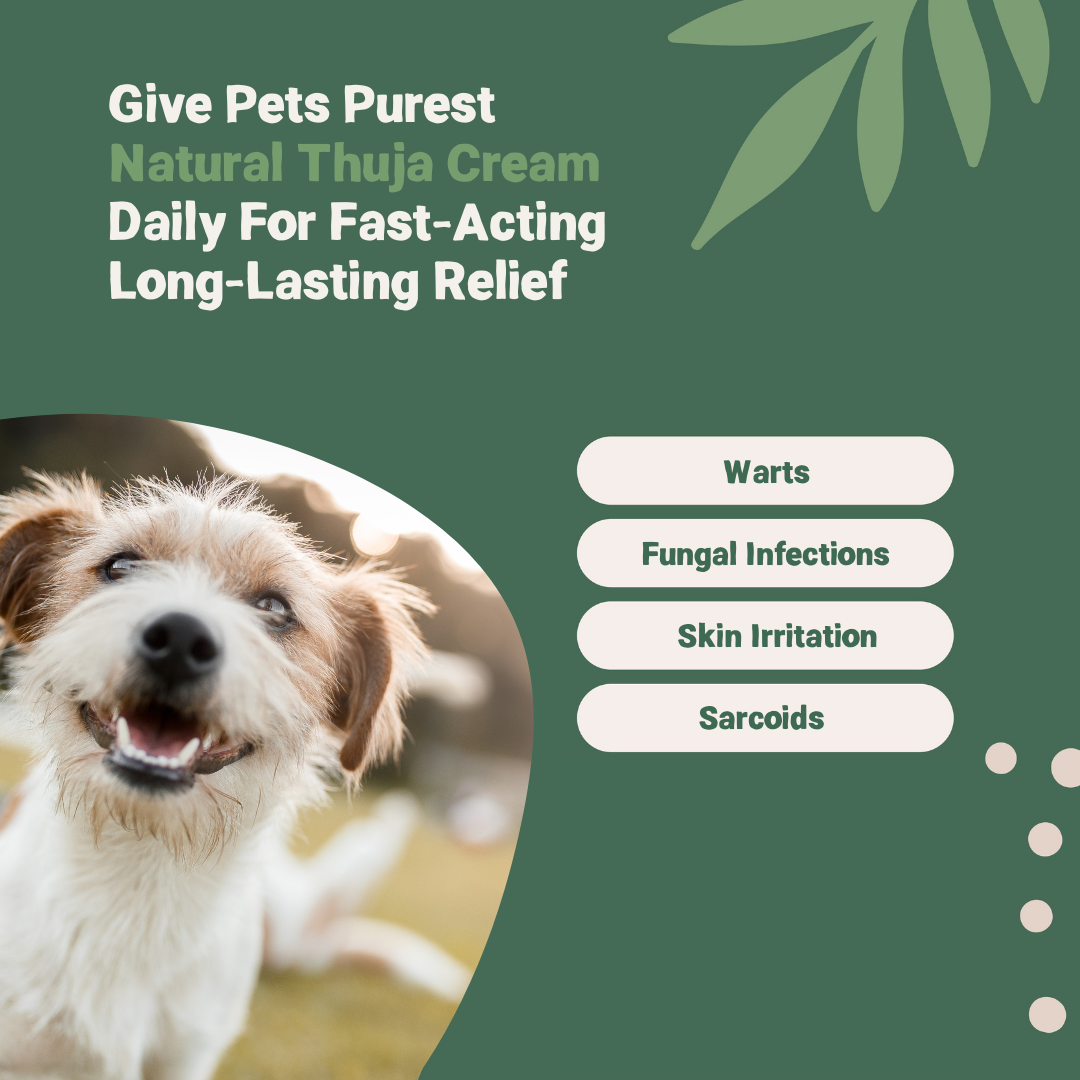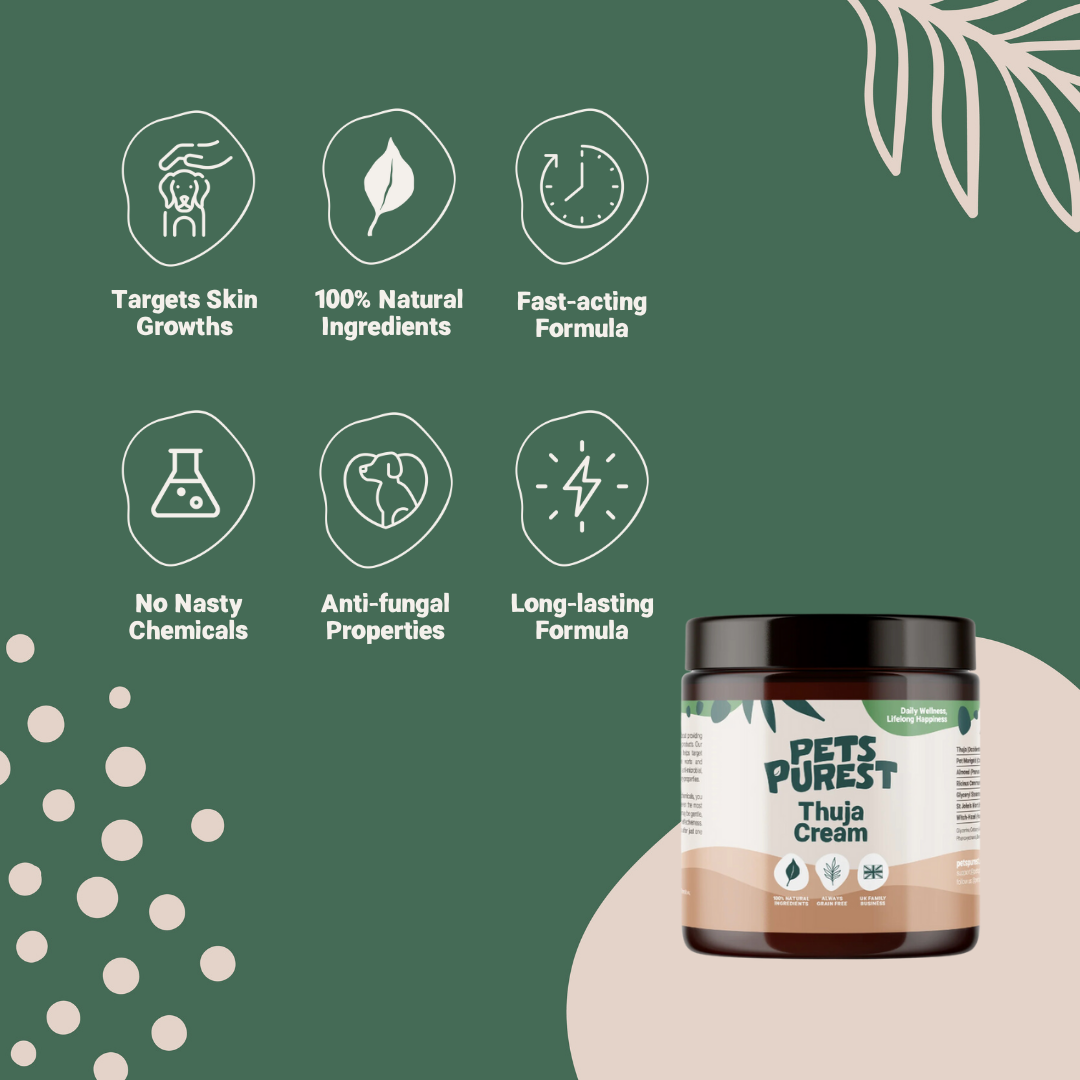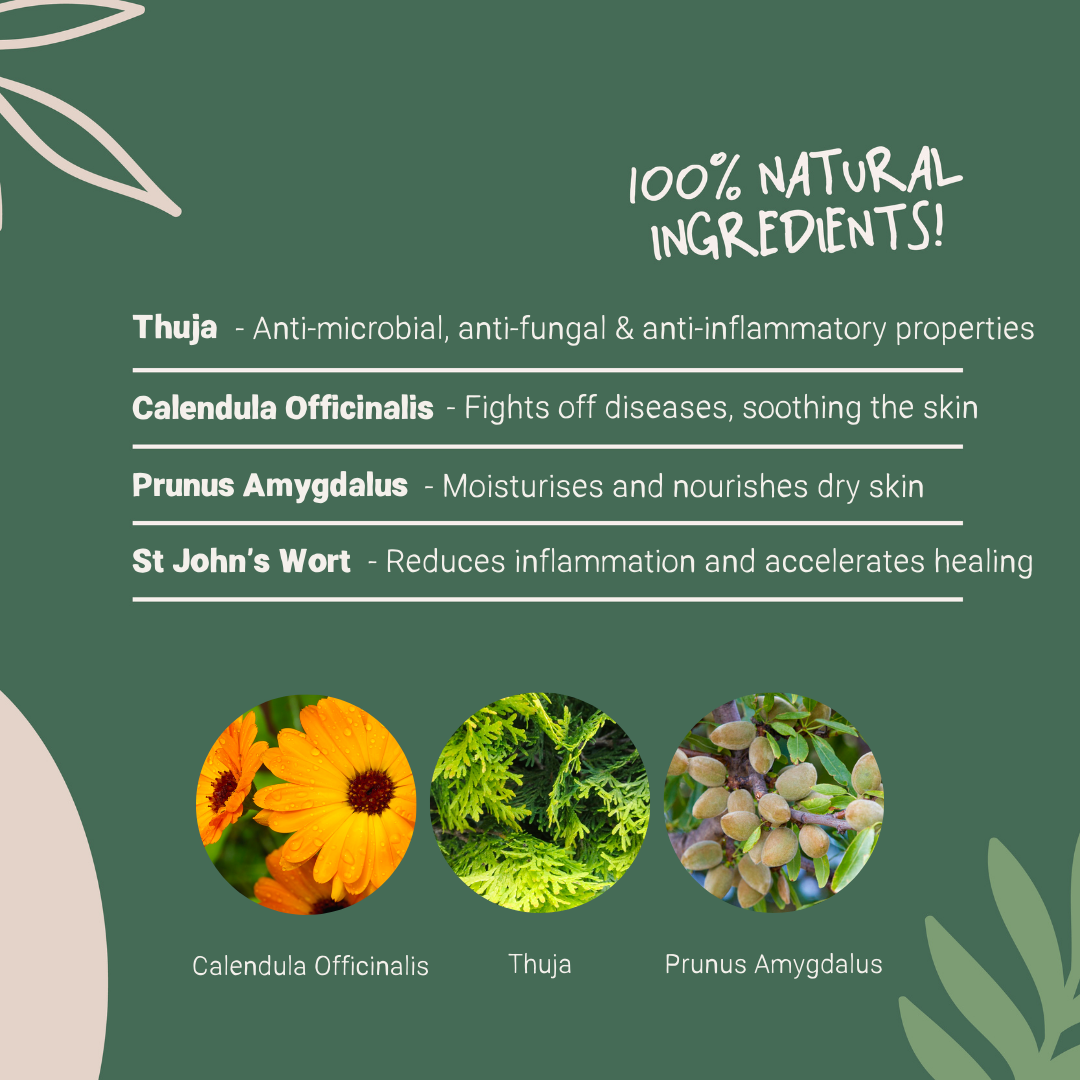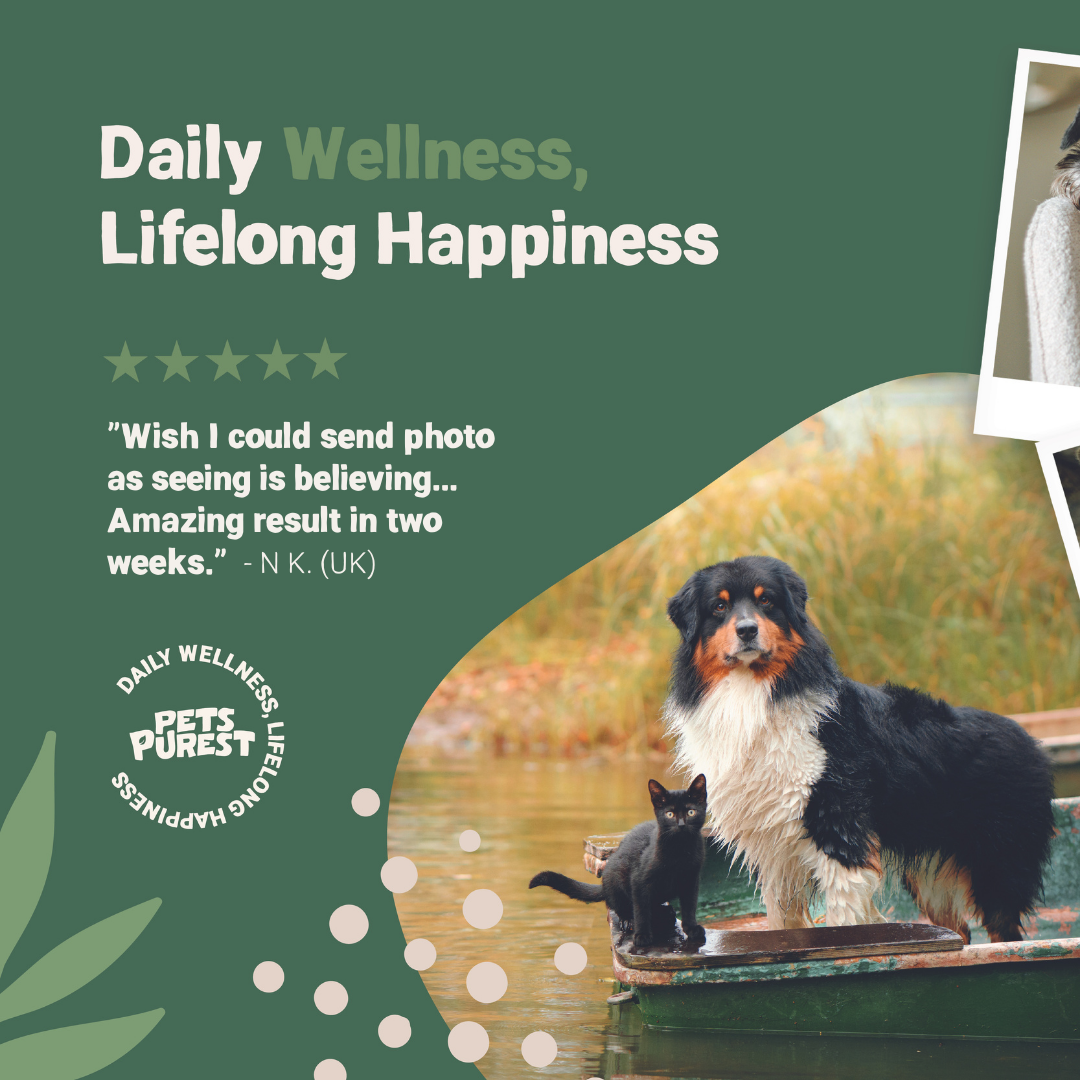 Collapsible content
Thuja

Thuja contains natural anti-microbial, anti-fungal and anti-inflammatory properties. It can help combat infections and alleviate adverse skin conditions. It can also be used to soothe and replenish the skin.
Calendula Officinalis (Pot marigold)

Pot Marigold is rich in beta-carotene, which helps fight off disease. Also known as Calendula Officinalis, it soothes irritated and inflamed skin, reduces dryness, relieves itchiness and supports the skin's natural healing function.
Prunus Amygdalus (Almond Oil)

Packed full of fatty acids, minerals and vitamins, Almond Oil can be used to moisturise and nourish dry skin. It soothes irritation and inflammation, improving the overall texture and appearance of the skin.
St John's Wort & Witch-Hazel

St John's Wort and Witch-Hazel both help to reduce inflammation, soothe irritation and accelerate healing. Witch-Hazel also tightens pores and cleanses excess oils from the skin.
Tocopherol

Tocopherols are antioxidants that help prevent cell damage, reducing premature ageing and moisturising the skin.
Phenoxyethanol, Benzyl Alcohol, & Potassium Sorbate

Natural preservatives and antimicrobials that halt the growth of bacteria and fungi, helping to maintain our product's effectiveness over time.
100% Natural, No Compromises

We provide a range of 100% natural treats, supplements and hygiene products to help keep pets feeling healthy from the inside out!

Absolutely Amazing!!!

My dog has suffered with his anal glands for around 8 months now. We have tried a lot with no joy, until I came across Pets Purest! - Lauren (June 2023)

Over One Million Happy Pets

We're passionate about pet wellbeing and our promise is to support pet owners (and their pets) on a journey of daily wellness and lifelong happiness!
Frequently Asked Questions
How do you apply this cream?

You simply apply the Thuja Cream daily and topically onto the affected parts of the skin once or twice a day using your finger.
What is the returns policy?

Our returns policy lasts for 30 days. If 30 days have passed since your purchase, we are unable to offer a refund or exchange. To be eligible for a return, your item must be unused and in the same condition as when you received it. Additionally, it must be in the original packaging.
How we got started?

Founded in 2017, our vision was to be the UK's first 100% natural pet supplement brand, providing healthy, natural alternatives to many mass-produced pet products.
What makes our products unique?

We show clearly what ingredients we include across our entire range, making it simple for pet owners to understand exactly what the product is and does.