Popular with pet owners whose pets often experience constipation, diarrhoea, indigestion, upset stomachs, wind and nausea.
 **NOTE: product was previously called Barks Powder**
Why choose this product?

Our Natural Digestive Support Powder is popular with pet owners whose pets often experience IBS, constipation, diarrhoea, indigestion, upset stomachs, wind and nausea. It contains no nasty chemicals, so you can safely use it daily for pets with even the most sensitive of stomachs.

Use after our Tummy Settler and follow with our Pre and Probiotic Powder for even better results.
How do I use it?

Simply add as a topper to your pet's food - it couldn't be easier to use. As our product is 100% natural, the amount used can be safely increased to suit your pet's needs.

Daily Amount: ½ teaspoon per 5kg of bodyweight.

Suitable for any breed of dog over 8 weeks old

This product is particularly suitable for dog breeds that commonly develop digestive issues, including Scottish Terriers, Great Danes, Retrievers, Miniature Schnauzers, Chinese Shar-Peis, Yorkshire Terriers, German Shepherds, Shih Tzus, Irish Setters, Boxers, Poodles, Collies, Dobermans, Akitas and Weimaraners.

Our products are gentle on tummies, specially formulated for everyday use. For best results, use daily as part of your pet's daily wellness routine.
What's in it?

White Poplar Bark
Slippery Elm Bark
Marshmallow Root

That's it!
Shipping and Delivery

FREE Standard Tracked Delivery (3-5 working days) on all UK orders over £25.00.

For orders under £25.00 there is a flat charge of £3.99 for Standard Tracked Delivery (3-5 working days).

UK Next Day Tracked Delivery (1-2 working days) has a fee of £4.99.
View full details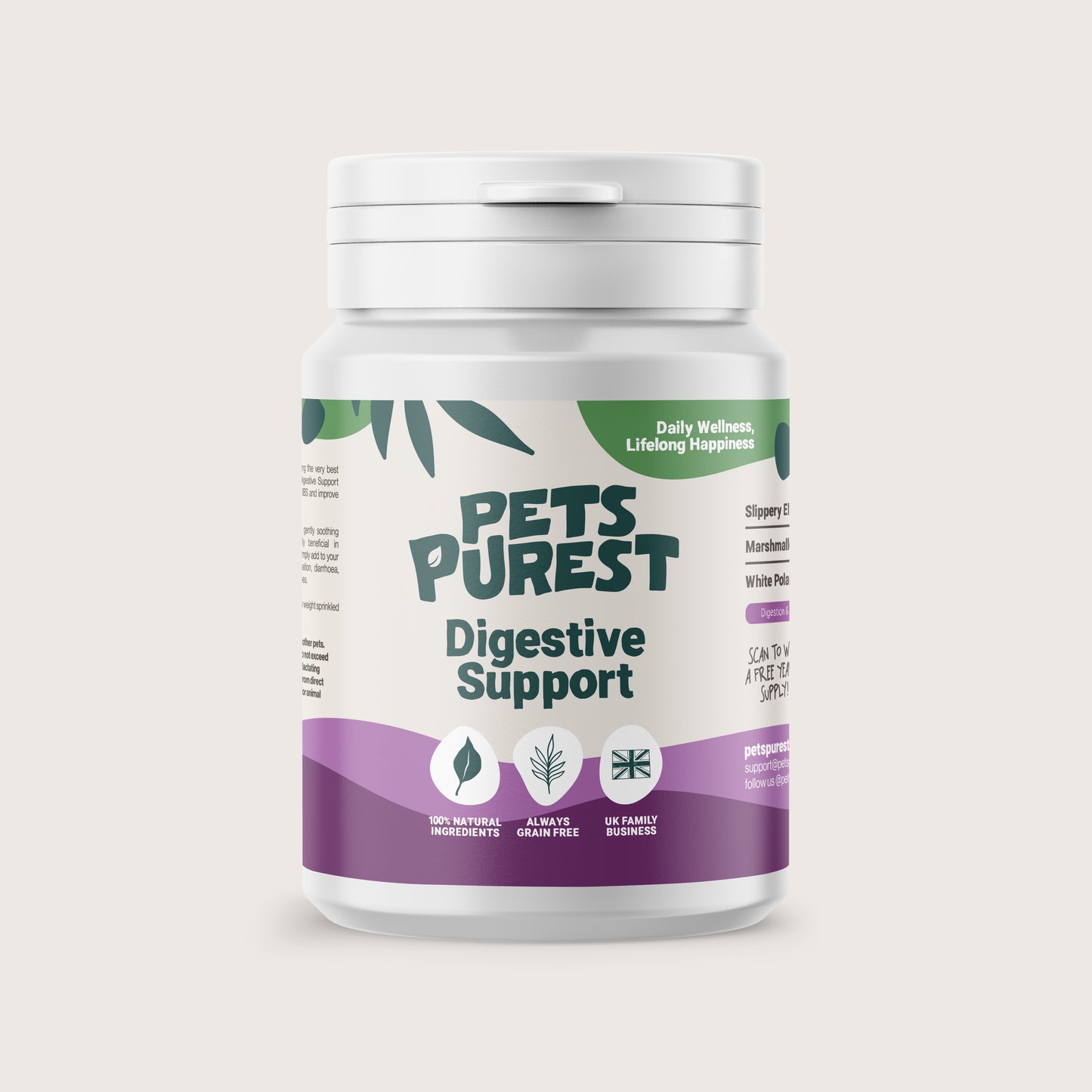 pdp-benefits

Maintain Healthy Digestion

pdp-benefits

Healthy Stool Consistency
Collapsible content
White Poplar Bark (Quercus albacore)

Supports healthy digestive function, reduces the risk of digestive issues arising and helps increase your pet's appetite.
Slippery Elm Bark

Slippery Elm Bark increases mucus production in the gastrointestinal tract, helping to maintain optimal digestive health.
Marshmallow root

Marshmallow Root helps maintain gut health by forming a protective layer in the digestive tract.
100% Natural, No Compromises

We provide a range of 100% natural treats, supplements and hygiene products to help keep pets feeling healthy from the inside out!

Absolutely Amazing!!!

My dog has suffered with his anal glands for around 8 months now. We have tried a lot with no joy, until I came across Pets Purest! - Lauren (June 2023)

Over One Million Happy Pets

We're passionate about pet wellbeing and our promise is to support pet owners (and their pets) on a journey of daily wellness and lifelong happiness!
Frequently Asked Questions
What are the ingredients?

Slippery elm bark, marshmallow root and White poplar bark
Give when needed, 1x teaspoon per 10g of body weight
What is the returns policy?

Our returns policy lasts for 30 days. If 30 days have passed since your purchase, we are unable to offer a refund or exchange. To be eligible for a return, your item must be unused and in the same condition as when you received it. Additionally, it must be in the original packaging.
How we got started?

Founded in 2017, our vision was to be the UK's first 100% natural pet supplement brand, providing healthy, natural alternatives to many mass-produced pet products.
What makes our products unique?

We show clearly what ingredients we include across our entire range, making it simple for pet owners to understand exactly what the product is and does.