Helps to relieve irritating coughs and soothe sore chests and throats. Using only 100% natural ingredients, these drops help alleviate both short-term and long-term respiratory issues.
Regular price
Sale price
£12.99
Unit price
per
Sale
Sold out
Why choose this product?

Our Natural Cough Drops help relieve irritating coughs and soothe sore chests and throats. Using only 100% natural ingredients, these drops can be added to your pet's daily wellness routine to relieve the symptoms of both short-term and long-term respiratory issues. Our easy to use formula also boosts the immune system, helping to put a stop to nasty coughs before they even start.
How do I use it?

Simply add to food, water or directly into your pet's mouth. With no hard pills or tablets to swallow, it couldn't be easier to use.

For a dry cough, give to your pet every few hours, up to six times per day.

Daily Amount: 3 drops per 5kg of body weight.

Suitable for any pet over 8 weeks old. It is not suitable for pregnant or lactating animals.

Please note: if your pet has a dry, persistent cough, it may be a symptom of a more severe problem. If there has been little to no improvement after three days of usage, you must speak to your vet.

This product is particularly suitable for senior dogs or those with weaker immune systems.

Dogs that are more prone to immunodeficiency disorders may include breeds such as Basset Hounds, Cardigan Welsh Corgis, Jack Russell Terriers, Beagles, German Shepherds, Chinese Shar-pei, Doberman Pinschers, Dwarf Weimaraners, Grey Collies, and Irish Setters.

Our products are gentle on tummies, specially formulated for everyday use. For best results, use daily as part of your pet's daily wellness routine.
What's in it?

Mullein
Coltsfoot (Tussilage Farfara)
Wild Thyme
Liquorice Root
Wild Cherry Bark
White Horehound (Marrubium Vulgare)

That's it!
Shipping and Delivery

FREE Standard Tracked Delivery (3-5 working days) on all UK orders over £25.00.

For orders under £25.00 there is a flat charge of £3.99 for Standard Tracked Delivery (3-5 working days).

UK Next Day Tracked Delivery (1-2 working days) has a fee of £4.99.
View full details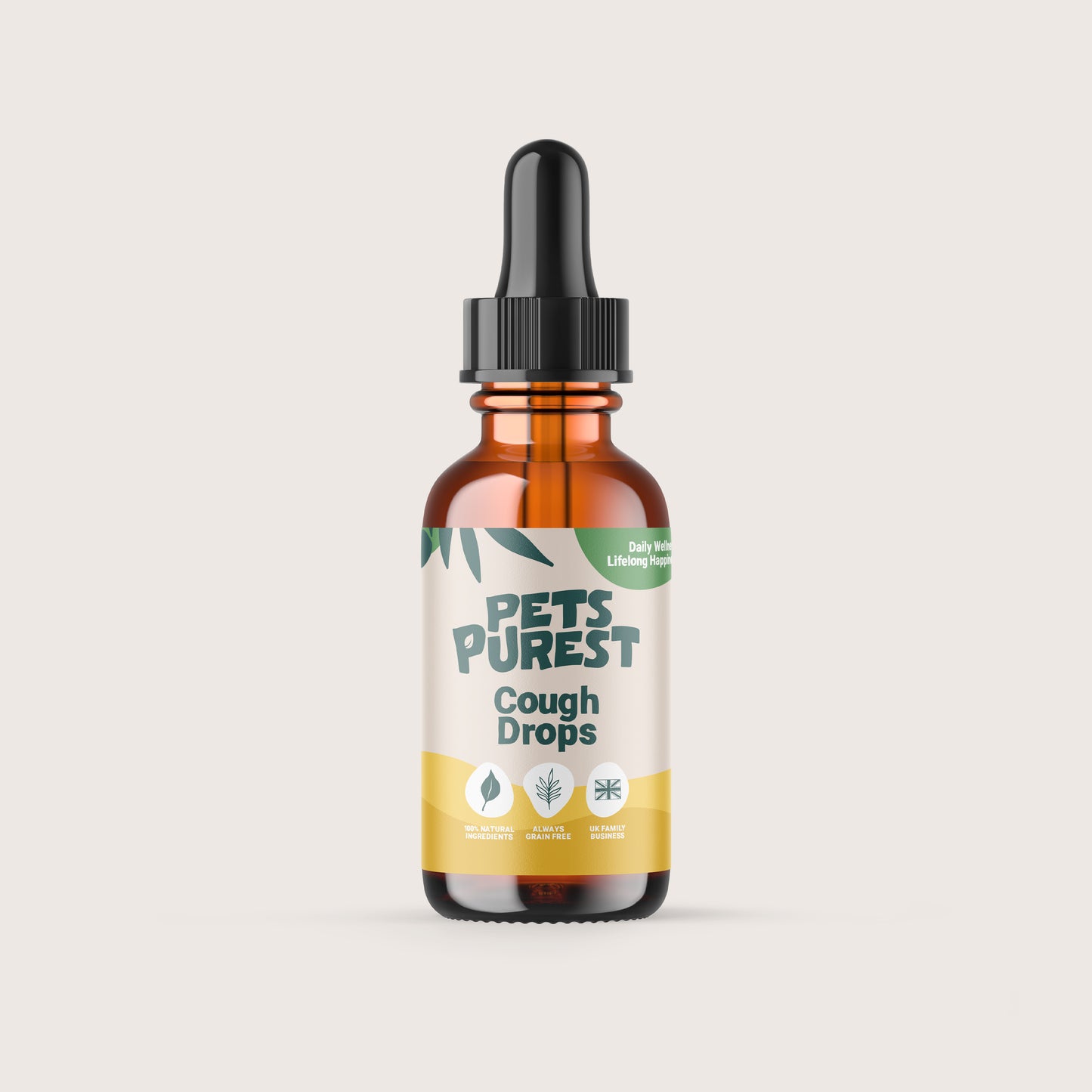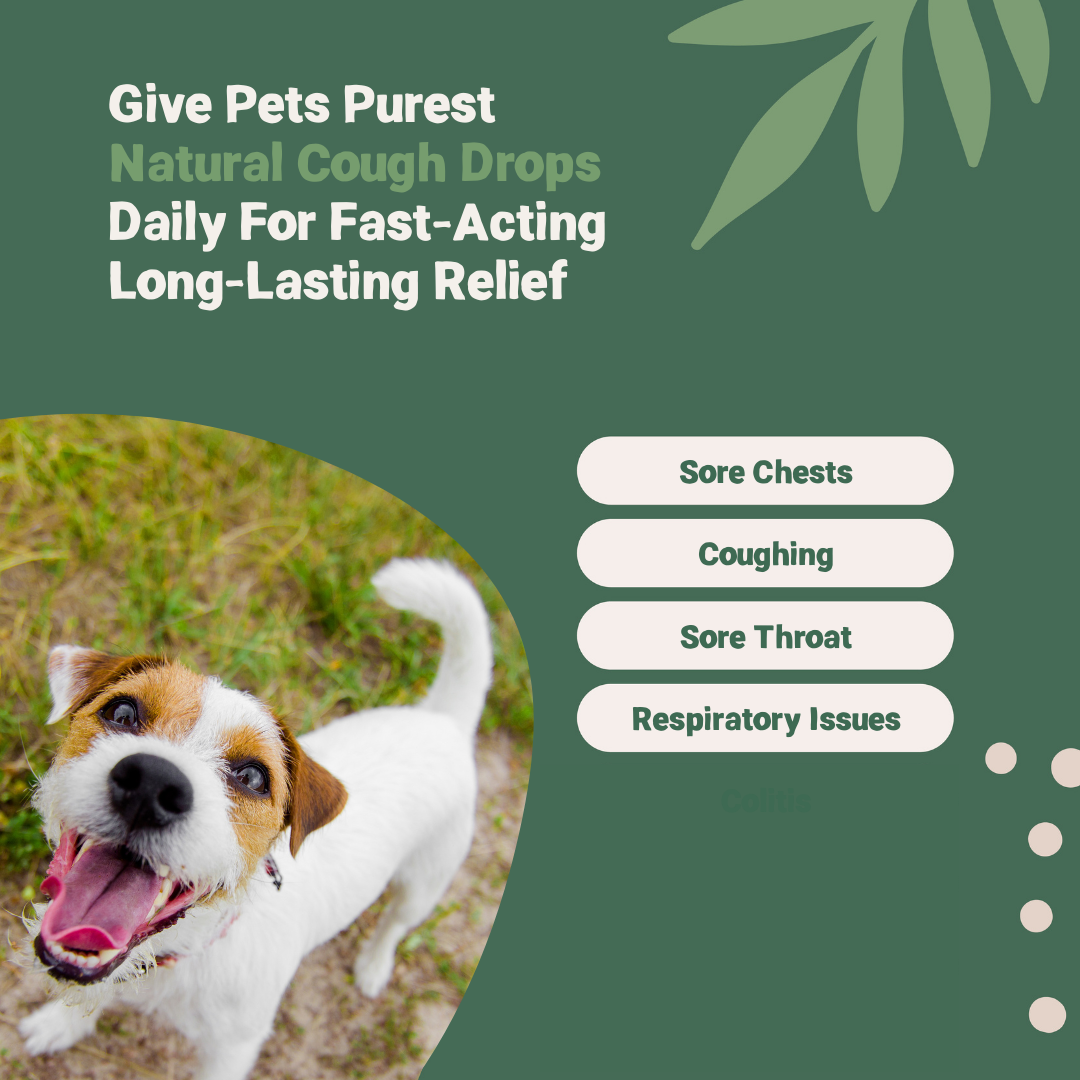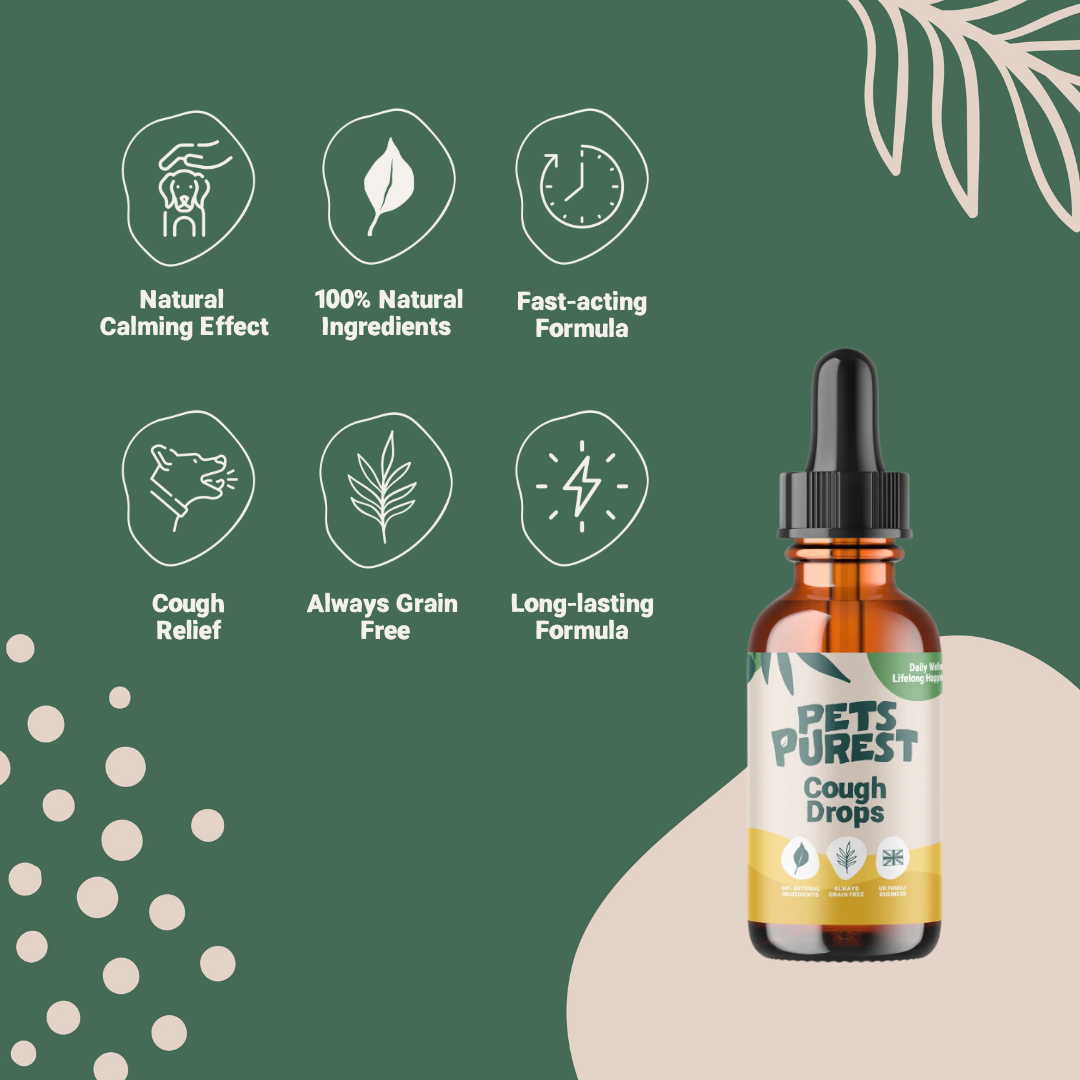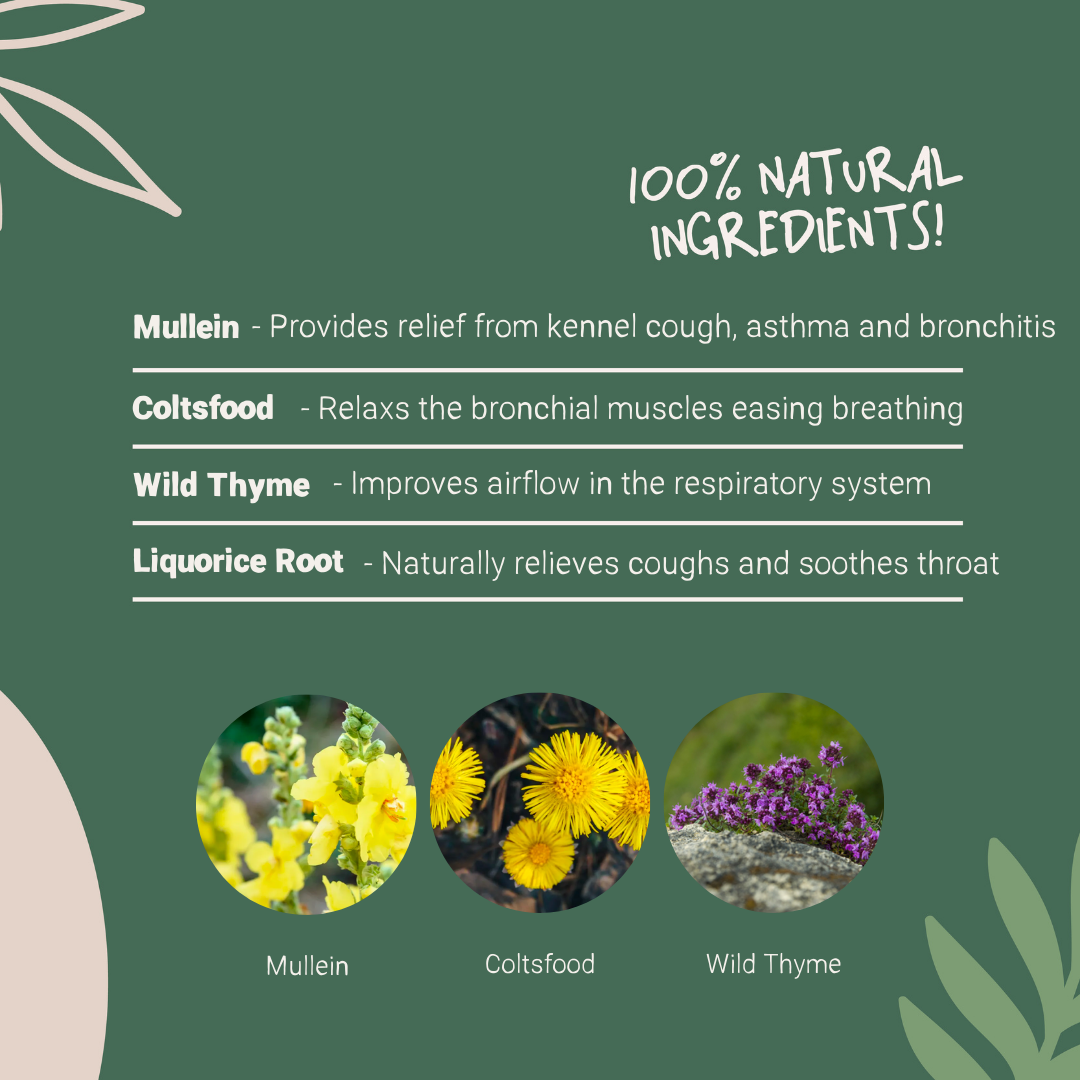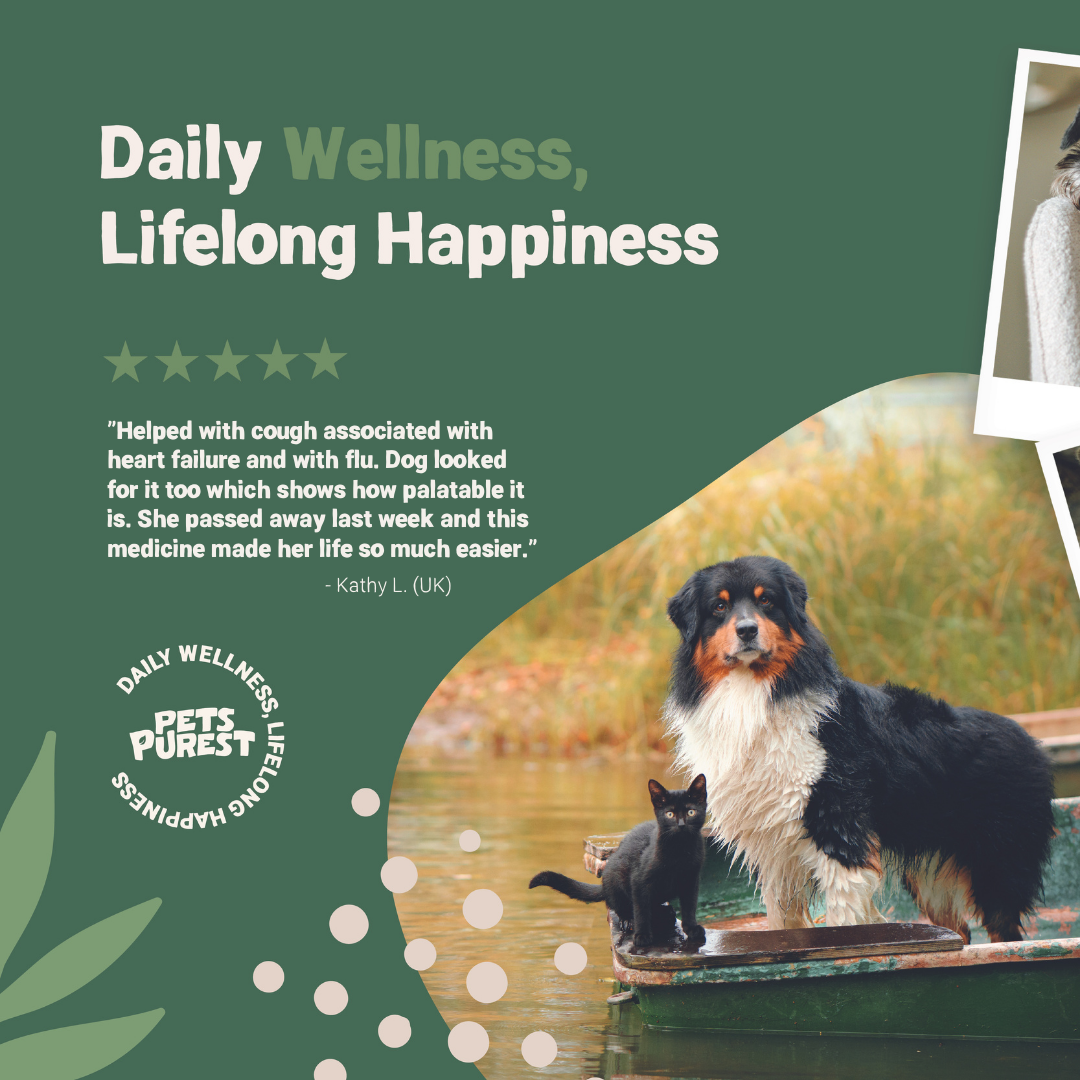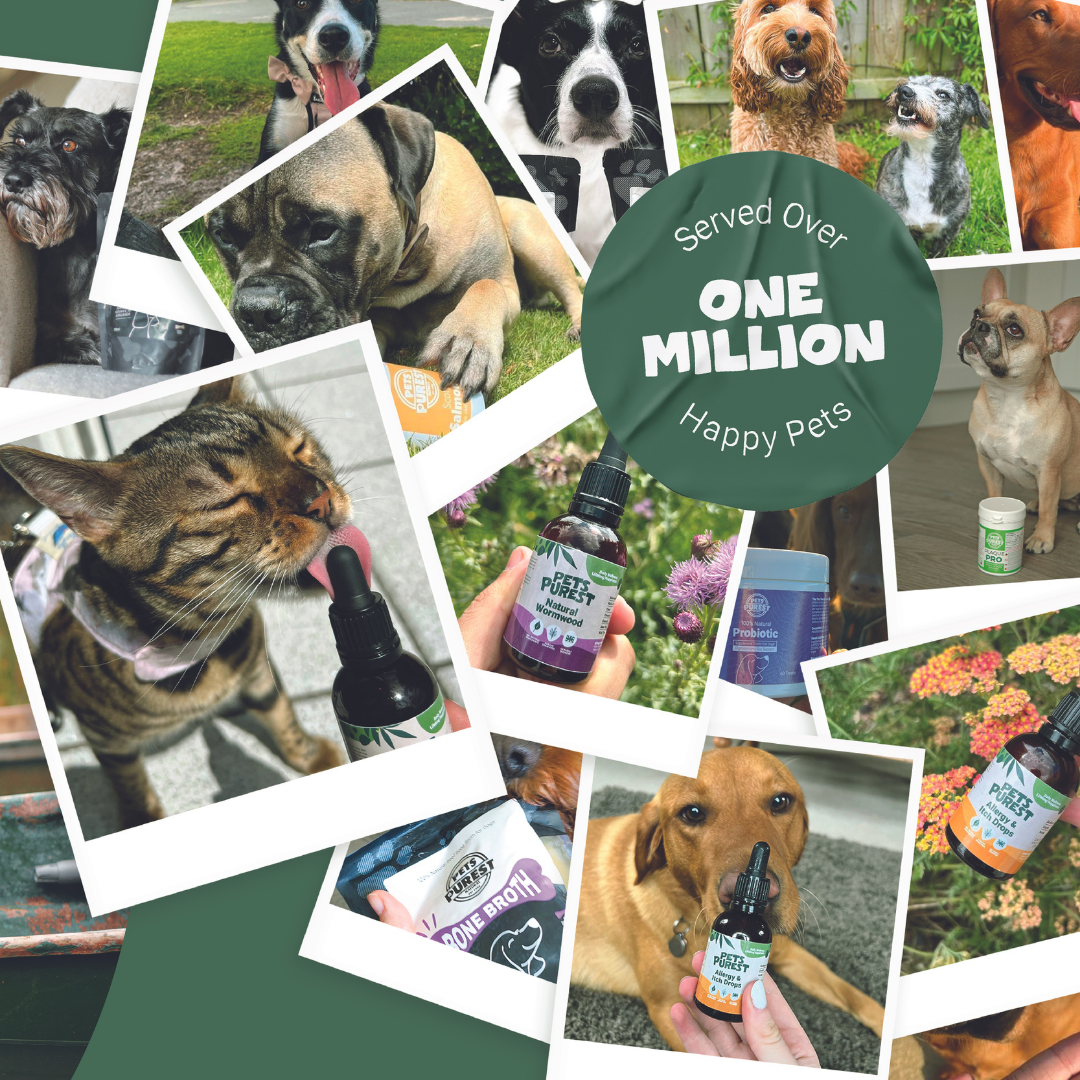 Collapsible content
Mullein

A natural anti-inflammatory which helps to reduce irritation, providing ongoing relief from conditions such as kennel cough, asthma, bronchitis and various allergies.
Coltsfoot (Tussilage Farfara)

This plant helps clear the airways by relaxing the bronchial muscles, which also eases breathing. Coltsfoot has natural antibacterial properties that can help to soothe irritated respiratory tissues.
Wild Thyme

Often used in both human and animal remedies to improve airflow in the respiratory system, this commonplace plant also possesses antiviral and antibacterial properties.
Liquorice Root

Licorice Root is known to naturally relieve coughs by loosening mucus in the lungs. It can also help to soothe irritation in the throat.

Wild cherry bark

A natural cough suppressant, it has also been known to help dry mucus, relieve irritation from coughing and open airways for better breathing.
White horehound

This expectorant helps loosen and eliminate mucus, making it easier to clear the airways and aid breathing.
100% Natural, No Compromises

We provide a range of 100% natural treats, supplements and hygiene products to help keep pets feeling healthy from the inside out!

Absolutely Amazing!!!

My dog has suffered with his anal glands for around 8 months now. We have tried a lot with no joy, until I came across Pets Purest! - Lauren (June 2023)

Over One Million Happy Pets

We're passionate about pet wellbeing and our promise is to support pet owners (and their pets) on a journey of daily wellness and lifelong happiness!
Frequently Asked Questions
What are the directions for administration to my dog?

Simply add to your pets favourite food. Suitable for animals over 8 weeks of age.

Give 2-3 times per day. For dry coughs give every couple of hours up to six times per day.

WARNING: A dry persistent cough can be indicative of more severe problems. If no improvement is seen within three days, consult your vet.

PET SIZE AMOUNT
Extra Small (0-5kg) 1-5 drops
Small (5-10kg) 5-7 drops
Medium (10-20kg) 7-10 drops
Large (20kg+) 15 drop
What are the ingredients please?

The ingredients for our cough liquid are Mullein, Coltsfoot, Wild Thyme, Liquorice Root, Wild Cherry Bark, White Horehound.
How we got started?

Founded in 2017, our vision was to be the UK's first 100% natural pet supplement brand, providing healthy, natural alternatives to many mass-produced pet products.
What makes our products unique?

We show clearly what ingredients we include across our entire range, making it simple for pet owners to understand exactly what the product is and does.