Regular price
Sale price
£9.99
Unit price
per
Sale
Sold out
Why choose this product?

Relieve dry, sore, itchy and watery eyes with our 100% Natural Eye Wash. Free from artificial chemicals, you can feel safe washing even the most sensitive of pet's eyes. Gentle but effective, you should see results in just 3 days.

How do I use it?

Bathe eyes at least three times a day with cotton wool until clear. To prevent cross-contamination, do not use the same cotton wool for both eyes. Suitable for regular long-term use to help prevent recurring eye issues.

Suitable for any size, age and breed of dog, cat, horse, ferret, rabbit, reptile or bird.

This product is particularly suitable for dogs prone to eye problems or infections, including breeds with shortened snouts and bulging eyes, which can be prone to corneal issues. Similarly, breeds with drooping skin are more at risk of developing eyelid problems that cause irritation. Due to their facial features, some breeds are also more susceptible to debris and airborne irritants, which can also cause eye issues.

Examples of these breeds include: Shar-Peis, Bulldogs, Mastiffs, Shih Tzus, Pugs, Hounds, Retrievers, Poodles, Pekingese, and Cocker Spaniels.

Our products are gentle on eyes and skin, specially formulated for everyday use. For best results, use regularly as part of your pet's wellness routine.
What's in it?

Aloe vera
Purified water
Camomile water
Calendula water
Sodium chloride

That's it!
Shipping and Delivery

FREE Standard Tracked Delivery (3-5 working days) on all UK orders over £25.00.

For orders under £25.00 there is a flat charge of £3.99 for Standard Tracked Delivery (3-5 working days).

UK Next Day Tracked Delivery (1-2 working days) has a fee of £4.99.
View full details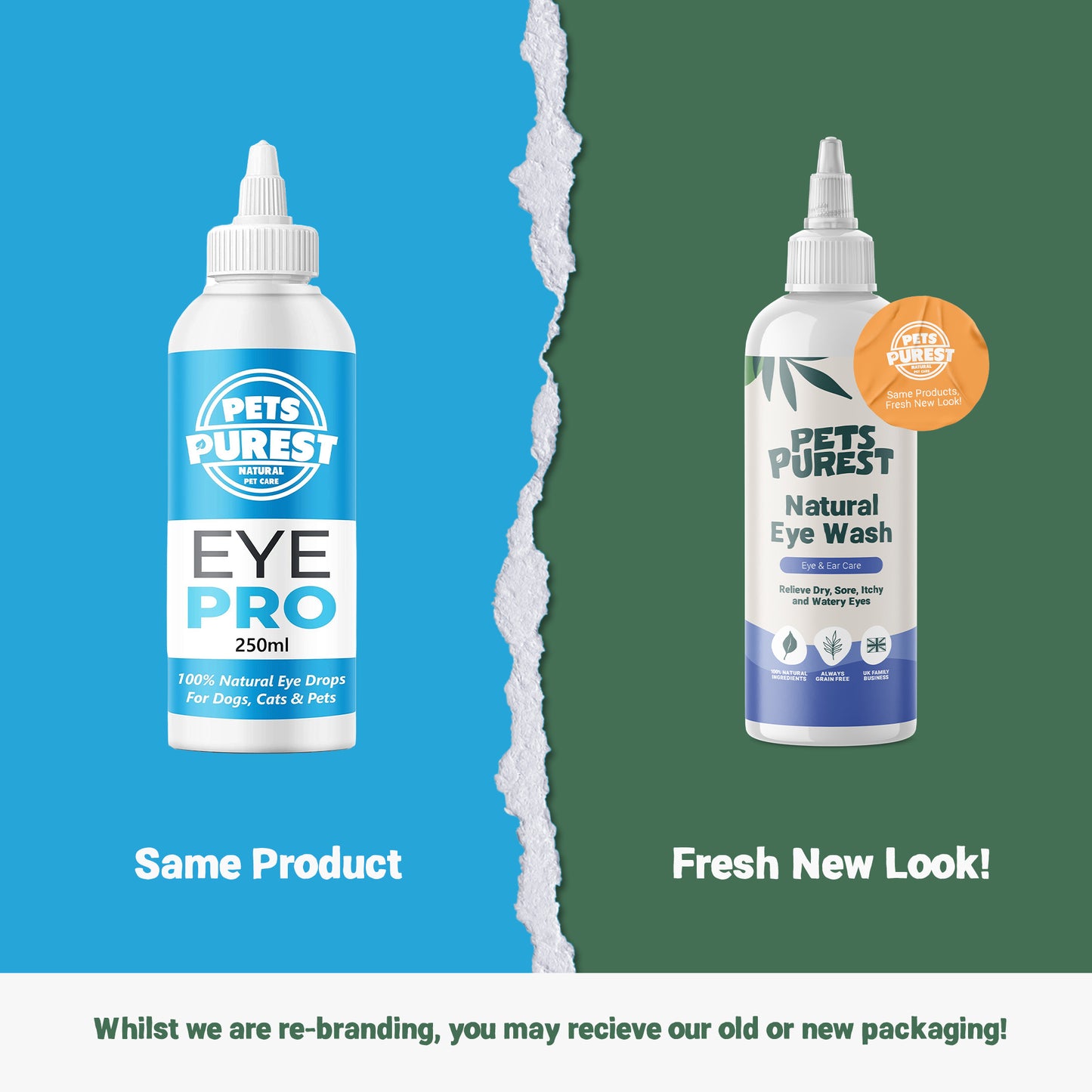 Collapsible content
Aloe vera

Aloe Vera reduces inflammation and dryness, speeding-up healing. Its cooling effect also helps to relieve swelling. It also has antimicrobial properties, helping to prevent infection.
Purified water

Free of chemicals that can cause irritation when used to cleanse around the eyes.
Camomile water

A natural antibacterial which helps relieve and prevent eye infections. It also contains flavonoids, which can reduce inflammation.
Calendula water

Calendula Water is rich in beta-carotene, which can improve vision, prevent cataract formation and fight off disease.
Sodium chloride

Tears are naturally saline, so we use saline to help prevent any further irritation. Sodium chloride reduces swelling and improves vision by drawing out water from the cornea.
100% Natural, No Compromises

We provide a range of 100% natural treats, supplements and hygiene products to help keep pets feeling healthy from the inside out!

Absolutely Amazing!!!

My dog has suffered with his anal glands for around 8 months now. We have tried a lot with no joy, until I came across Pets Purest! - Lauren (June 2023)

Over One Million Happy Pets

We're passionate about pet wellbeing and our promise is to support pet owners (and their pets) on a journey of daily wellness and lifelong happiness!
Frequently Asked Questions
Does Eye Pro cleaner need to be diluted before using?

We updated the formula and now provide a 250ml bottle that does not need to be diluted.

We listened to our customers and improved the product to be easier to use. You can now use our Eye Pro directly from the bottle.
Which chamomile is used?

The product uses German Chamomile (Matricaria recutita).
Is it suitable for 2 weeks old kitten

Eye Pro can be used from 6-8 weeks of age.
What makes our products unique?

We show clearly what ingredients we include across our entire range, making it simple for pet owners to understand exactly what the product is and does.