Why choose this product?

Our treats are hypoallergenic, grain, gluten & lactose-free and produced using a traditional chemical-free air-drying process meaning they are perfect for any diet.

Know exactly what you are feeding your dog and avoid problems such as itching, digestive pain, obesity and allergic reactions associated with unhealthy treats.
How do I use it?

Rabbit ears can be fed as a treat to dogs, where treats should make up around 10% of the dog's diet. Do not feed more than one per day. You should supervise your puppy or dog when they are eating. They can be fed to puppies from 8 weeks old.
Shipping and Delivery

FREE Standard Tracked Delivery (3-5 working days) on all UK orders over £25.00.

For orders under £25.00 there is a flat charge of £3.99 for Standard Tracked Delivery (3-5 working days).

UK Next Day Tracked Delivery (1-2 working days) has a fee of £4.99.
View full details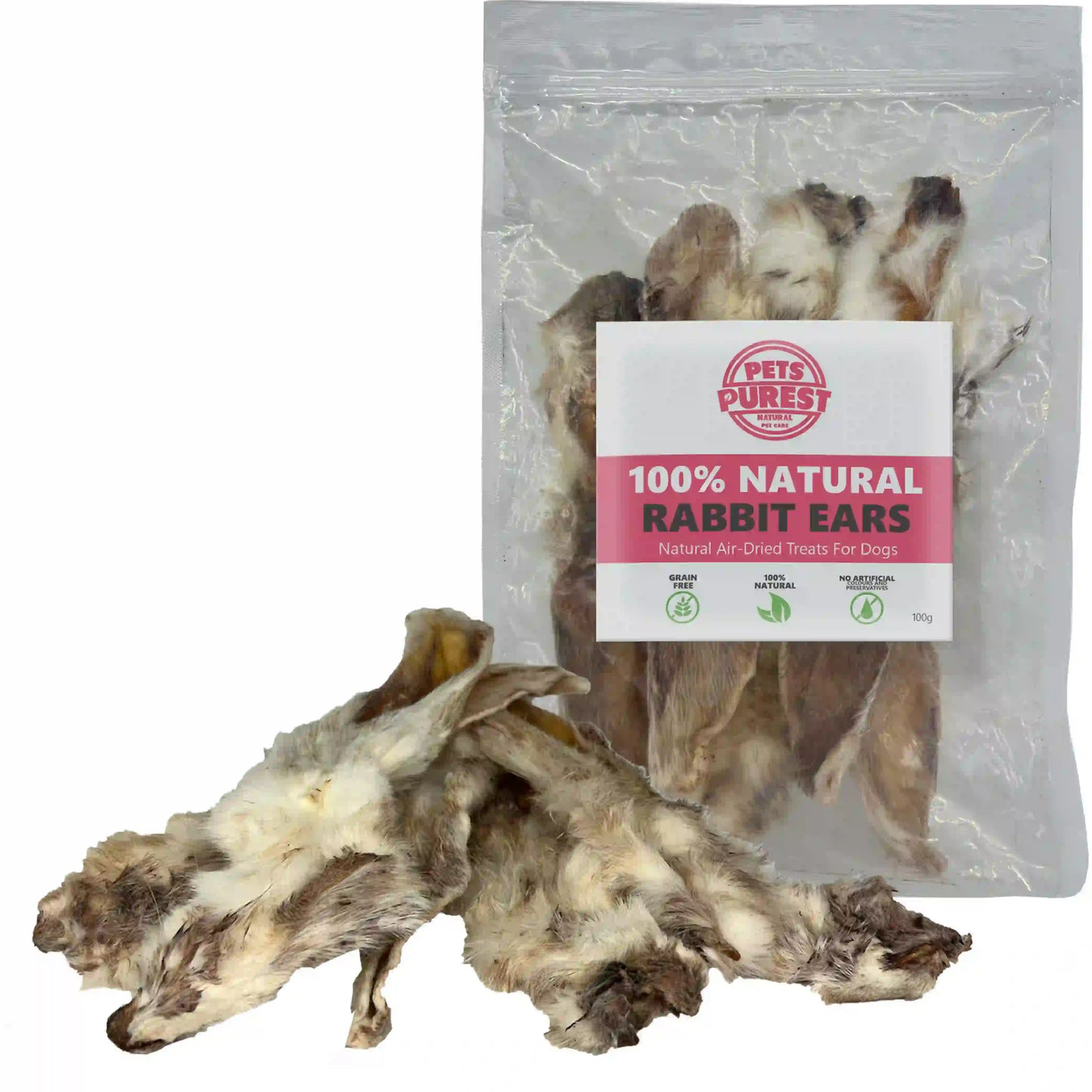 pdp-benefits

Supports intestinal Health
Collapsible content
Rabbit Ears

Rabbit ears have many unique benefits for dogs, as well as being a yummy snack.

They have natural deworming properties, aid digestion and can reduce stress and anxiety in your dog.

Due to their texture and hair, they act as a natural toothbrush and improve oral health.
100% Natural, No Compromises

We provide a range of 100% natural treats, supplements and hygiene products to help keep pets feeling healthy from the inside out!

Absolutely Amazing!!!

My dog has suffered with his anal glands for around 8 months now. We have tried a lot with no joy, until I came across Pets Purest! - Lauren (June 2023)

Over One Million Happy Pets

We're passionate about pet wellbeing and our promise is to support pet owners (and their pets) on a journey of daily wellness and lifelong happiness!
Frequently Asked Questions
Are these from the uk? as in the rabbits have been ethically raised in the UK?

We pride ourselves in using high quality ingredients in all of our products here at Pets Purest.

We have done a lot of research to ensure we supply the best quality rabbit ears, as our dogs only deserve the best. On this occasion, the best welfare options for the rabbit ears were from a European source as British sources are very limited.
How many ears are in a pack?

Our Rabbit Ears are packed based on weight. Therefore, the amount of Rabbit Ears in a pack varies from 5-7 as some can contain larger rabbit ears or smaller but they every pack ends up being the same weight.
What is the percentage of crude fat?

There is 23.4% Crude Fat in our Rabbit Ears.
What makes our products unique?

We show clearly what ingredients we include across our entire range, making it simple for pet owners to understand exactly what the product is and does.